BEST PANTRY ITEMS TO STOCK UP ON & STORAGE TIPS
This post contains my recommendations and tips on what are the best pantry items to stock up on and storage tips. It includes foods and ingredients that I recommend purchasing, how to store them correctly and also provides recipe suggestions so you can continue to make all your favourite healthy recipes.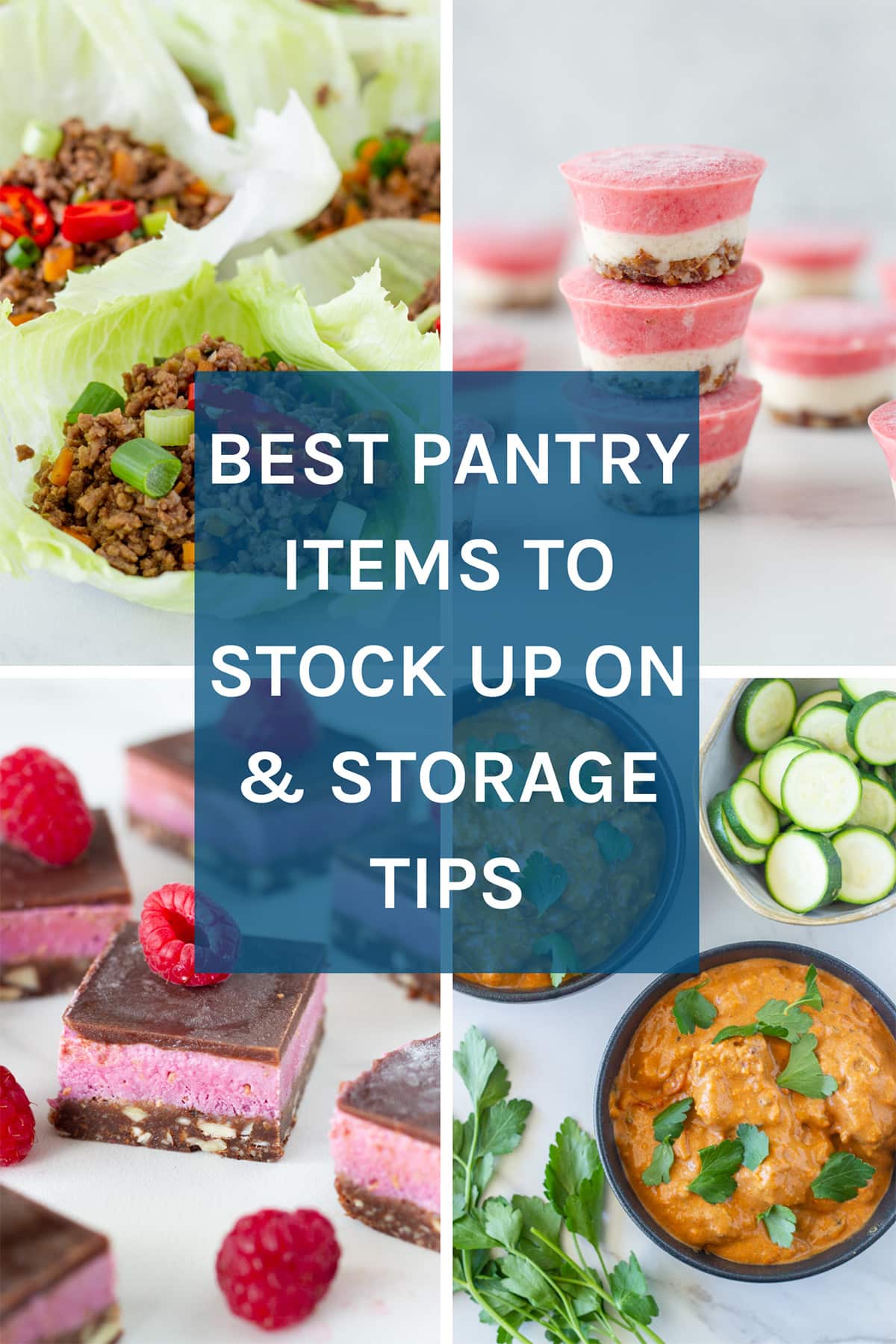 Whether to stock up on food is a contentious topic at the moment.
I am of the belief that it is better to be cautious and I have purchased enough food to last around 2-3 weeks, especially as it looks like Australia is heading into a lockdown.
I have gone to all the major supermarkets and there is such limited stock of so many items, mainly toilet paper, medicine, hand soap & sanitizer, canned foods, pasta & rice, frozen meals, frozen fruit and meat.
I know that the supermarkets are doing their very best to replenish stock. They seem to be replenishing stock at different times of the day, so I suggest finding out when your shops are stocking up or even being a part of a community group (eg Facebook) in your area as people are advising in these groups when they have seen stock available again.
When it comes to food, it is a good idea to buy food that that has a long shelf life that you can keep in your pantry or you can freeze or store in the refrigerator for a decent amount of time.
You may also need to play Tetris with your pantry, refrigerator and freezer to make sure everything fits.
It is also a good time to go through and remove anything that has passed its used by date.
FRUIT & VEGETABLES
There seems to be a lot of fresh fruit and vegetables in the shops, so take advantage of that and buy what you need.
Fresh Fruit
You can store apples and oranges for 2-3 weeks in the refrigerator.
Other fruit, like grapes, blueberries, strawberries, raspberries and cherries are best to be stored in re-suable plastic bags. If they have vents, they will last even longer as they are releasing moisture.
Rest assured you can still make your favourite raw treats that use fresh fruit. no bake strawberry and lemon cheesecake bites are at the top of my list!
You can also freeze fresh fruit by following these tips:
Peel (if required) and cut into your required size
Then freeze by placing on a baking tray lined with baking paper. Make sure you space the fruit out so that they don't stick together and freeze until they are solid.
Then you can place in freezer bags or air tight containers. Make sure you put the date on them.
You can store fruit in the freezer for up to 1 year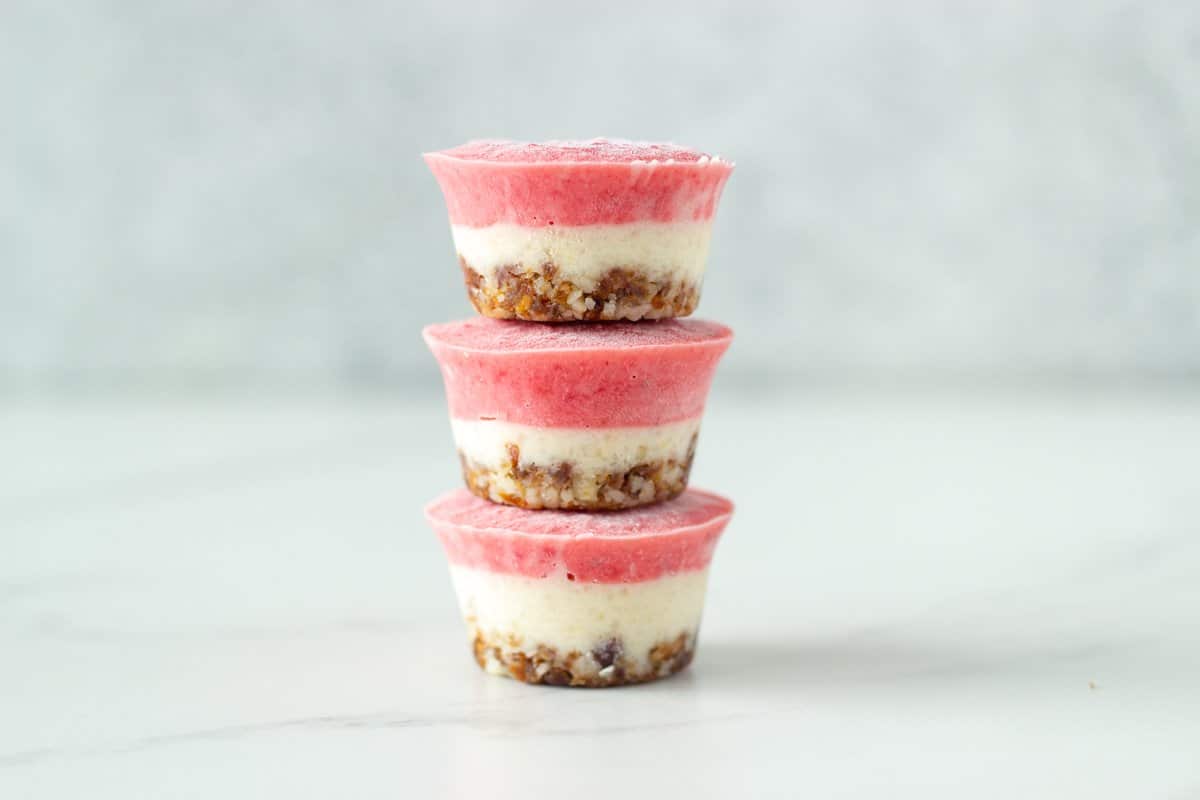 Vegetables
Vegetables all have varying times that they should be kept in your pantry and/or refrigerator for.
Vegetables like potato, sweet potato, pumpkin can last up to 2-3 weeks in your pantry. Onions can last a couple of months. But other vegetables will only last a few days in your refrigerator.
For guidelines on how long to store fruit and vegetables for in the pantry and/or refrigerator, please check out Real Simple.
A good option would be to freeze them if you don't plan on using them straight away or within the recommended fridge and pantry storage guidelines.
You can freeze fresh vegetables by following these tips:
Peel (if required) and cut vegetables into your required size and blanch them by placing in boiling water for 1-3 minutes (depending on the vegetable). The firmer the vegetable the longer you would need to blanch.
Remove with a slotted spoon and plunge into cold water to stop the cooking.
Then freeze by placing the vegetables on baking tray lined with baking paper. Make sure you space the vegetables out so that they don't stick together and freeze until they are solid.
Then you can place in freezer bags or air-tighter containers.
You can store vegetables in the freezer for up to 1 year.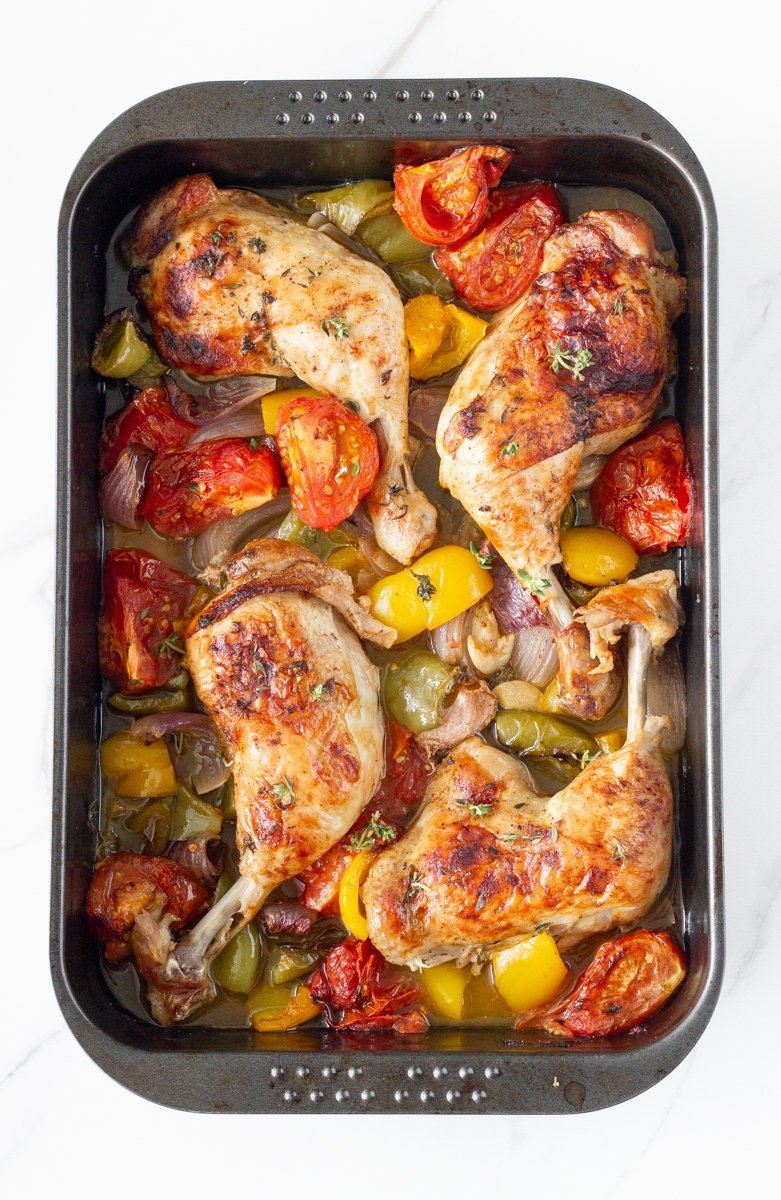 MEAT
You can portion meat out into serves either raw (so you can cook later ) or you cook it up and then portion out the meals, which you can reheat when you want to eat. The choice is yours and both options work.
If you are going to freeze meat then follow these guidelines:
Raw beef, veal or lamb can be kept in the freezer for 2-3 months and chicken and pork 1-2 months. Make sure you divide into your desired portion sizes that you are after and store in air-tight containers or freezer safe bags.
Cooked beef, lamb can be kept in the freezer for up to 6 months. Poultry and pork for up to 3 months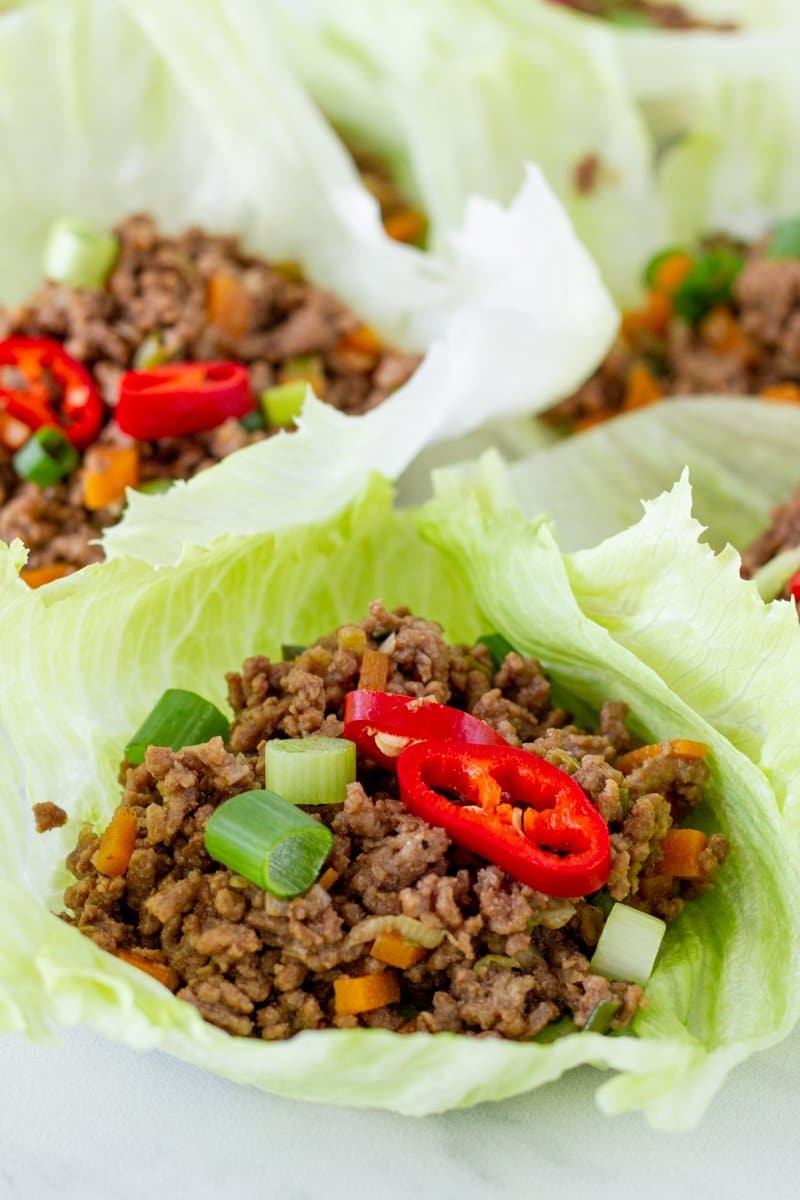 Mince meat
Mince meat can be turned into so many different recipes. Just add your preferred vegetables and spices. You can really change it up. My favourite beef mince recipe can be used to make Italian dishes, Mexican dishes or used to make lettuce wraps or cottage pie.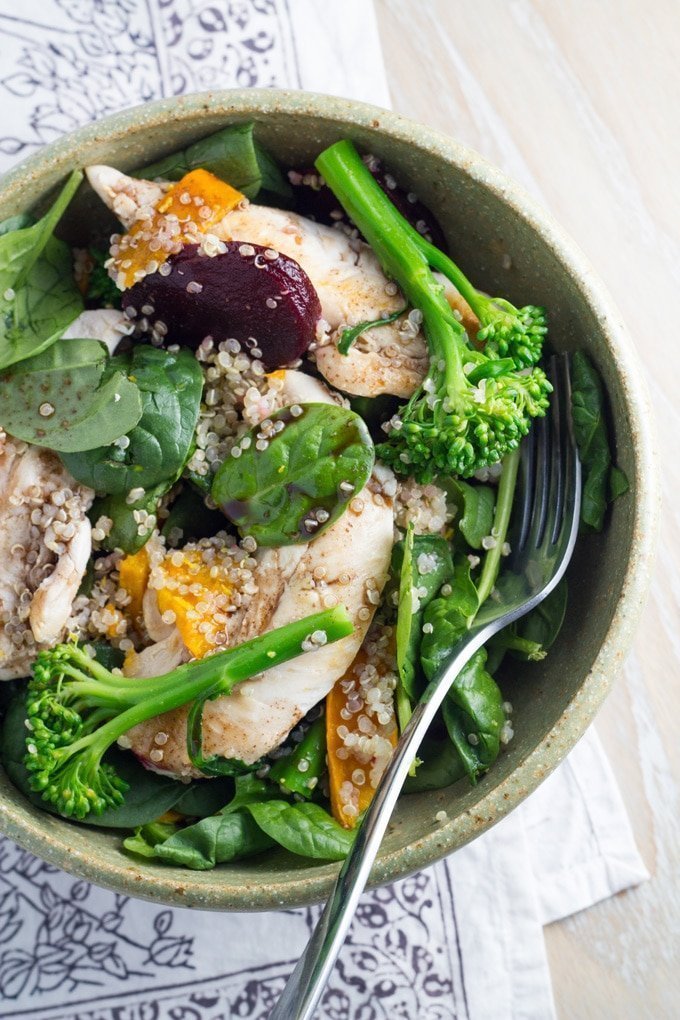 Whole Chicken
I like to roast a whole chicken, have some for dinner and then shred the rest of the meat and store. You can either use in sandwhiches or in a salad
OTHER MEAT RECIPES THAT I LOVE
PANTRY ESSENTIALS
Here is my list of pantry essentials that I recommend you have in your pantry.
If you can't get all of them at once, then add a few at a time when you go shopping. I also recommend getting what you can at Aldi. They have a great Organics range and the prices are pretty good.
Make sure you store everything correctly. Things that come in bottles or jars are fine but anything else I would store in airtight containers or at least use the little clips. They are not as good but will do if you don't have enough air tight containers on hand.
Make sure you keep all these items stored in a cool, dry place.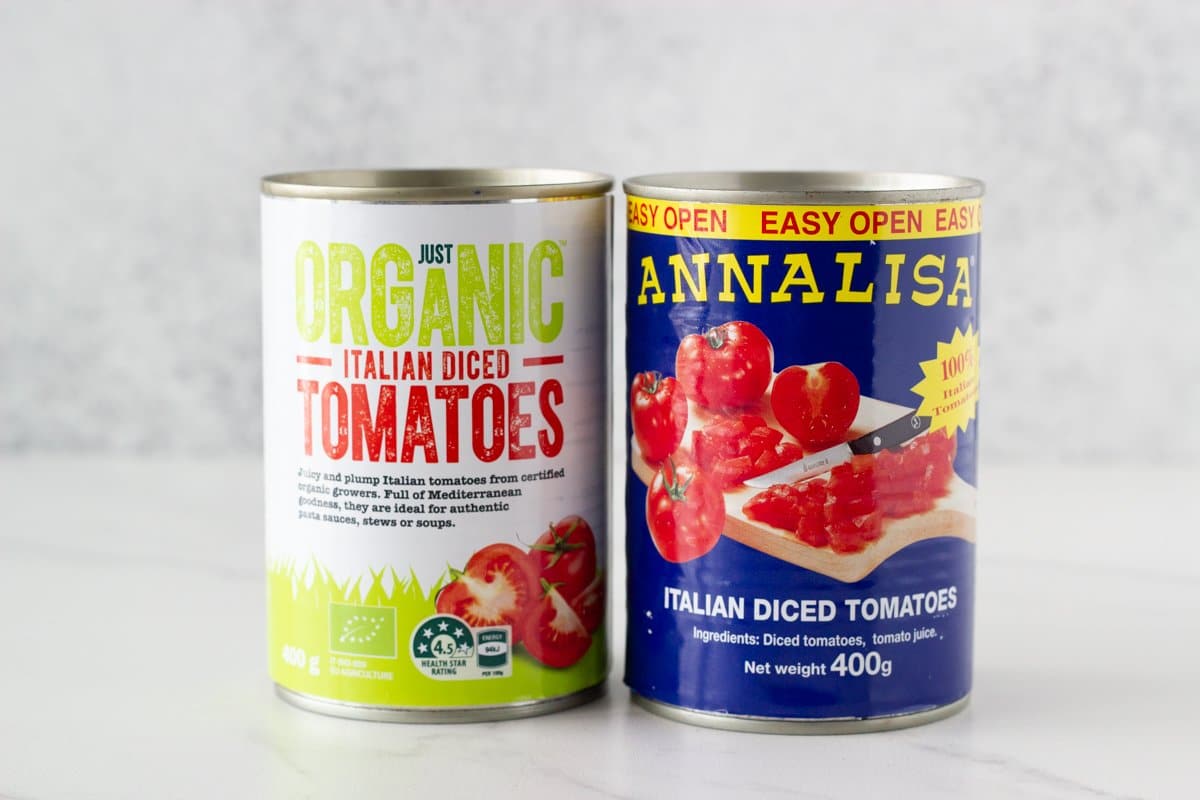 Here are the items to have in your pantry that are used in most of my recipes.
Olive oil and coconut oil – try and source organic options.
Spices – cinnamon, turmeric, curry powder, chilli, cumin, garam marsala, ginger, cardamom, garlic powder are all good ones to have one hand.
Sweeteners – Raw Honey, pure maple syrup & stevia.
Gluten free flours – almond flour/meal, coconut flour, tapioca/arrowroot flour. Aldi also sell gluten free flour and gluten free self-raising flour. I don't use that too often, but good to have on hand. You can make crackers from almond meal.
Shredded & Desiccated Coconut – organic preferably.
Raw Cacao Powder
Dates – medjool dates or normal dates are ok. I usually use the ration 1 medjool date = 2-3 dates when I make my raw desserts.
Gluten free oats – not something I use too much of. But handy to get anyway.
Long life Non-dairy milks – almond or coconut milk are great options. Not all milks are the same, many have added preservatives, so definitely check the label The brand that I recommend are Pure Harvest, Australia's Own,
Quinoa – great as a side in many casseroles or soups or in salads. Also make great quinoa fritters or as a quinoa breakfast option.
Chia seeds – great for adding to salads, smoothies or making chia seed pudding.
Nuts – so handy to have as a snack or to make granola or most raw treats. Cinnamon Macadamias are great to make and keep on hand.
Chocolate chips (normal, dairy free or sugar free) great to make cookie dough bliss balls or chocolate brownies.
Baking powder – essential for baking recipes.
Vanilla extract
Seed & Nut Butters – great to have with carrot sticks or for banana bread.
Sea Salt & pepper
Buckwheat – grouts or flour
Chick peas – make hummus or falafels.
Lentils – dry (store easier) or canned).
Red lentils – make my yummy soup.
Vinegar – Apple cider vinegar, coconut vinegar or any other organic vinegar.
Rice – brown or wild rice are good options.
Pasta – I like pasta that is made from beans and lentils.
Coconut aminos
Canned tomatoes – my preferred choices are Mutti and Annalisa. They do not contain any preservatives.
Tinned tuna – look for sustainable options.
Stock – I am a fan of the Maggie Beer range or make your own.
MORE RECIPES YOU CAN MAKE USING PANTRY STAPLES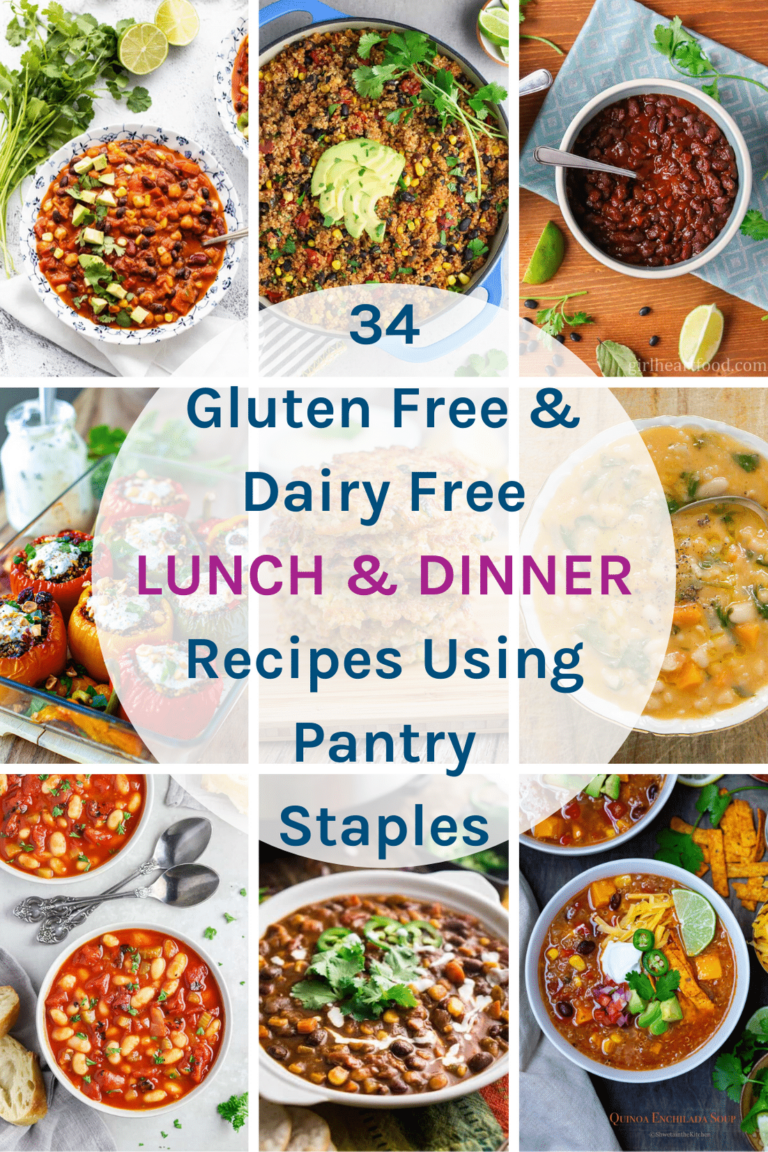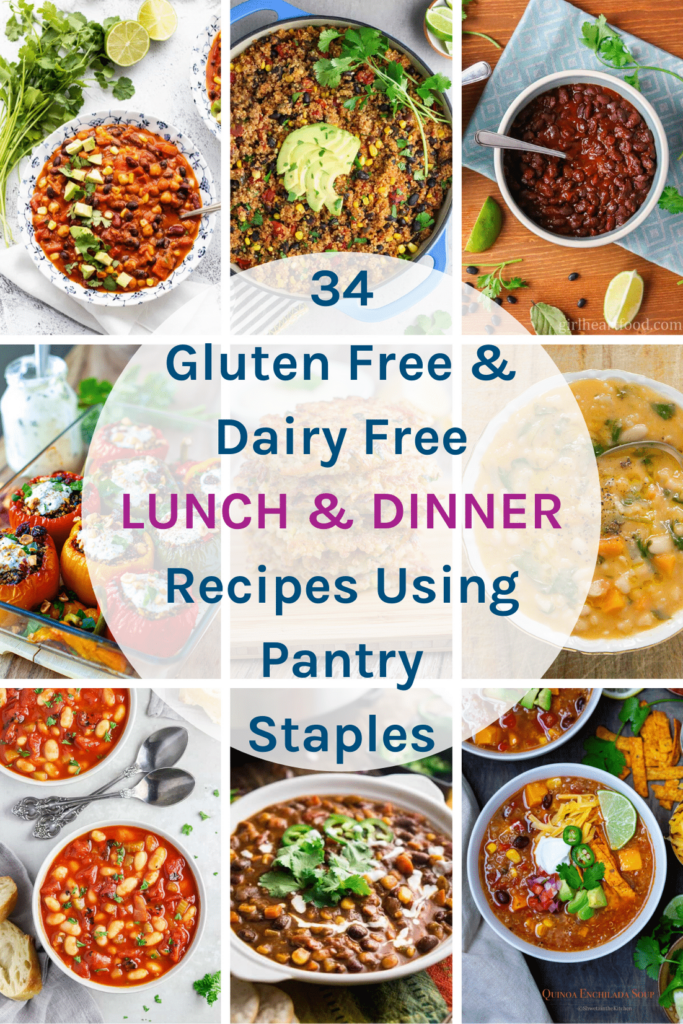 34 Gluten Free & Dairy Free Lunch and Dinner Recipes Using Pantry Staples
11 Gluten Free & Dairy Free Breakfast Recipes Using Pantry Staples
21 Sweet and Savoury Snack Recipes Using Pantry Staples
---
If you have any questions about the tips I have shared or the pantry list that I have put together, please comment below.
If you have suggestions of what I could add to my list or products that you have found that are clean and should be included, please let me know. I can always update the list.
Ness xo