Healthy loaded sweet potato fries: oven baked sweet potato fries topped with a beef & vegetable mince and avocado and cherry tomatoes. Super easy to make and ready in 45 minutes, this meal will become a regular in your household.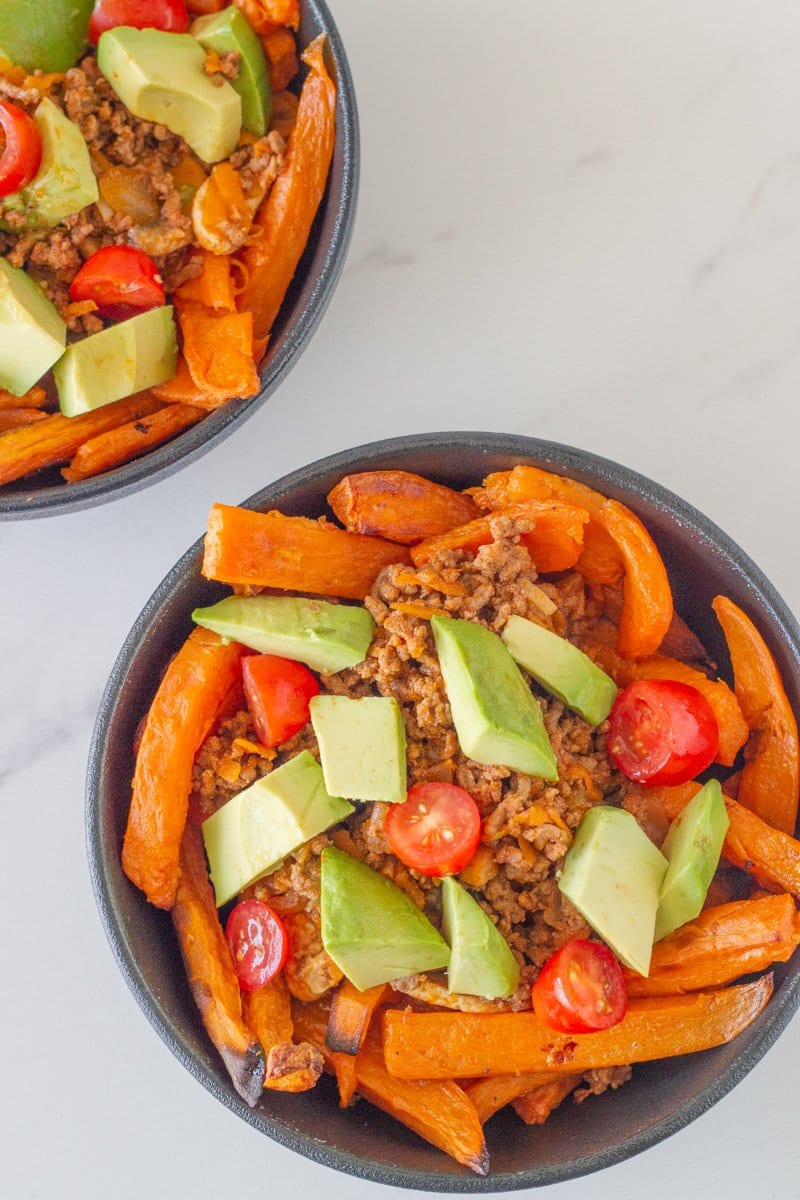 This easy to make healthy sweet potato fries are topped with a super simple beef mince that is loaded with vegetables.
You can change up the vegetables really easily too, so it makes a great meal to serve to your kids so that they get their veggie intake for the day.
These fries are simpler version of my baked garlic butter sweet potato fries topped with my beef & vegetable mince, plus some sliced avocado and cherry tomatoes. If you are a fan of loaded fries recipes, there is also my other loaded sweet potato fries that is topped with bacon, guacamole and cherry tomatoes.
All the ingredients are easy to get from any of your major supermarkets or local markets, whatever you prefer!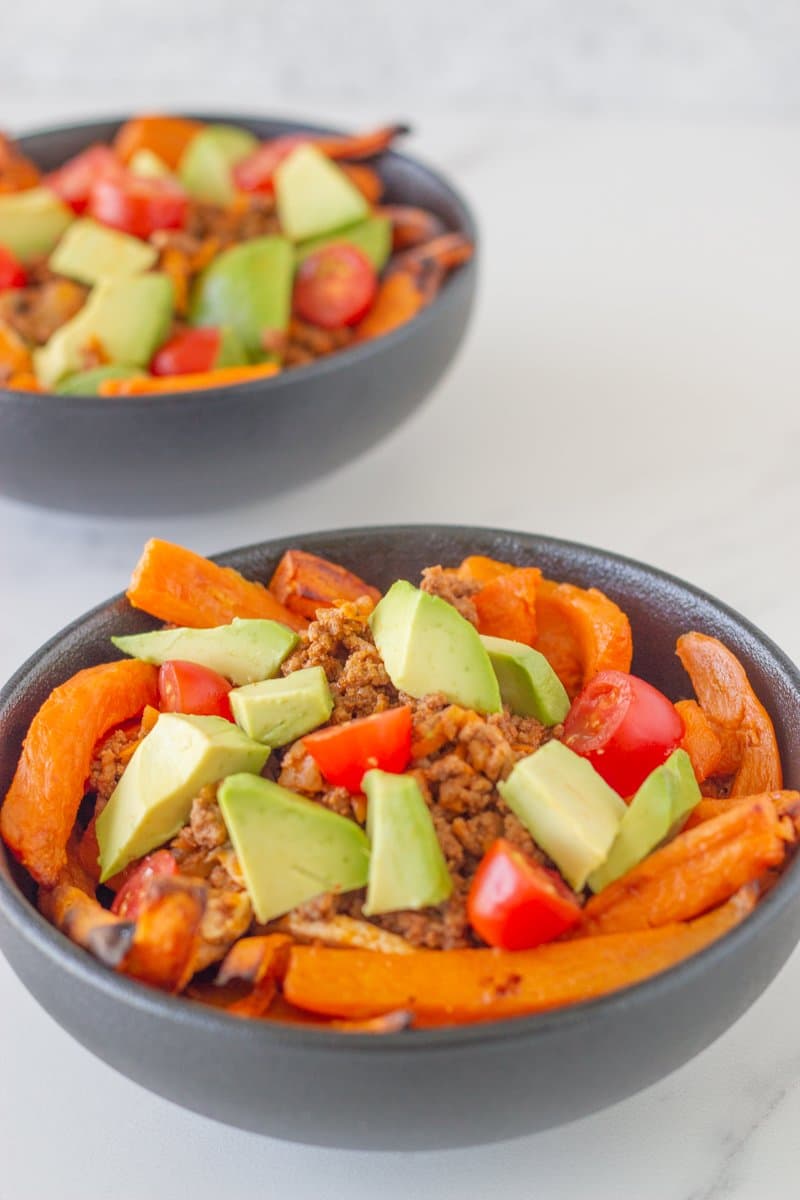 INGREDIENTS YOU NEED
Sweet potato
Grass fed/organic beef mince
Garlic
Brown onion
Carrot
Mushrooms
Olive oil
Tomato paste
Cumin
Chili powder
Salt
Pepper
Feel free to change up the vegetables, zucchini, spinach, celery, capsicum would work really well too!
HOW TO MAKE
First off, you need to bake the sweet potato in the oven, which would take approximately 35 minutes.
While the sweet potato is cooking, you cook up the beef and vegetable mince and slice the avocado and cherry tomatoes.
Once the sweet potato fries are ready, then you are ready to serve it up.
It also works well as leftovers, just make sure you store your avocado and tomato separately to the mince and fries, so you can easily reheat them.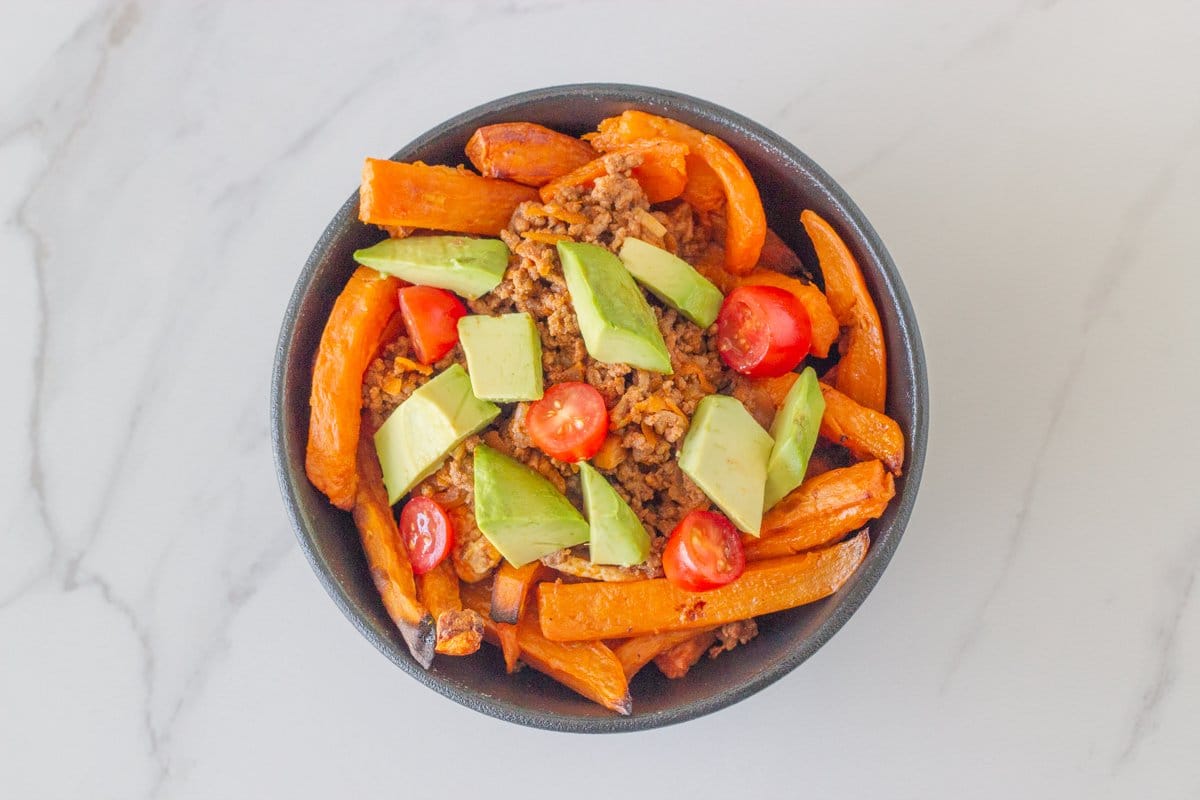 MORE EASY TO MAKE DINNER RECIPES
Zucchini & Sweet Potato Fritters