This gluten free Anzac slice is my adaptation of the popular biscuit made into a slice. The result is seriously tasty, chewy and it is gluten, dairy and refined sugar free!
RECIPE FEATURES
Gluten & Dairy Free - suitable for people with gluten and dairy/lactose intolerances.
Easy to Make - this recipe involves several simple steps and about 30 minutes to make.
Healthy wholefood ingredients - which are easy to find at any supermarket, health store, food markets or on-line store.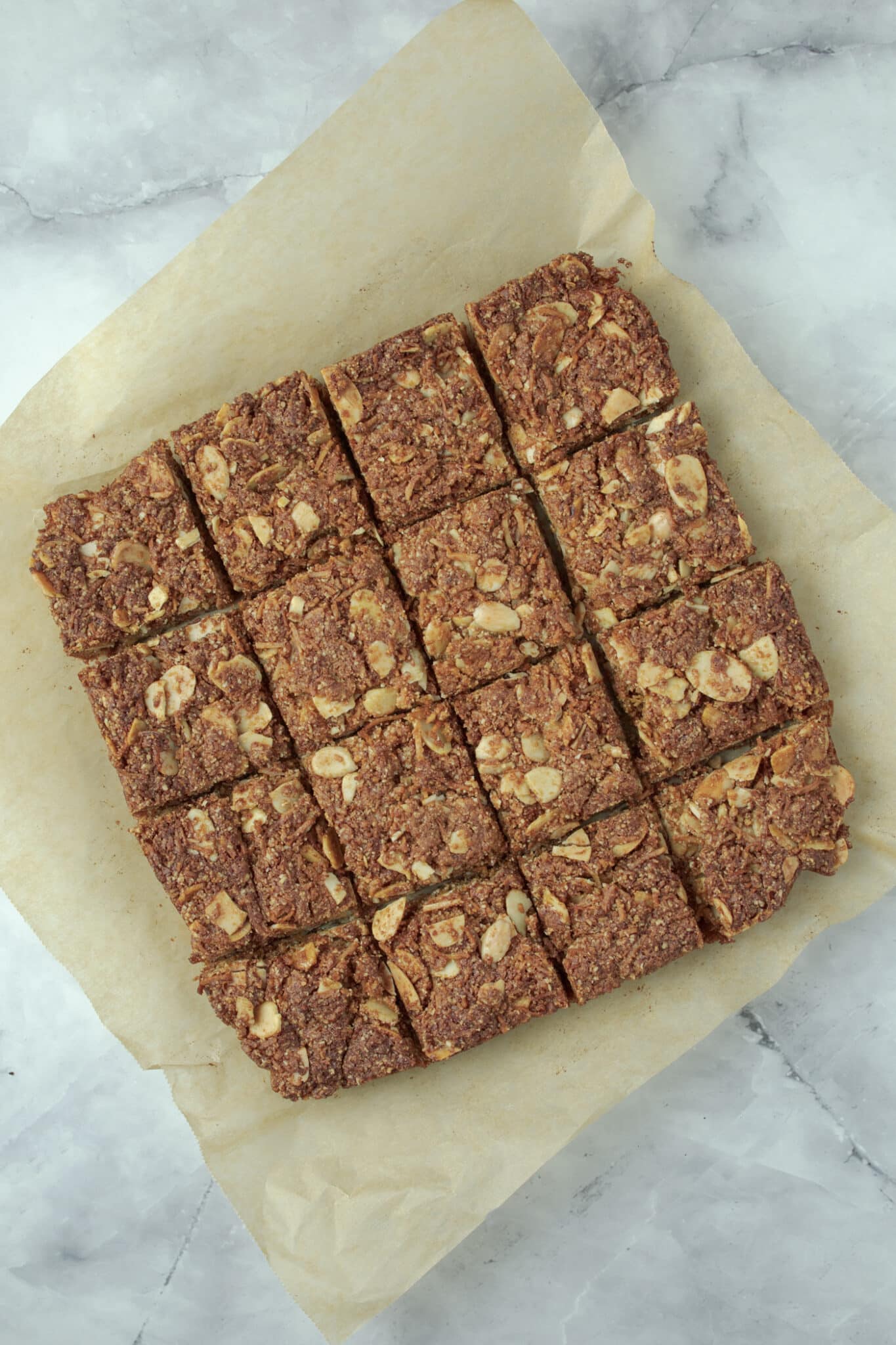 RECIPE INGREDIENTS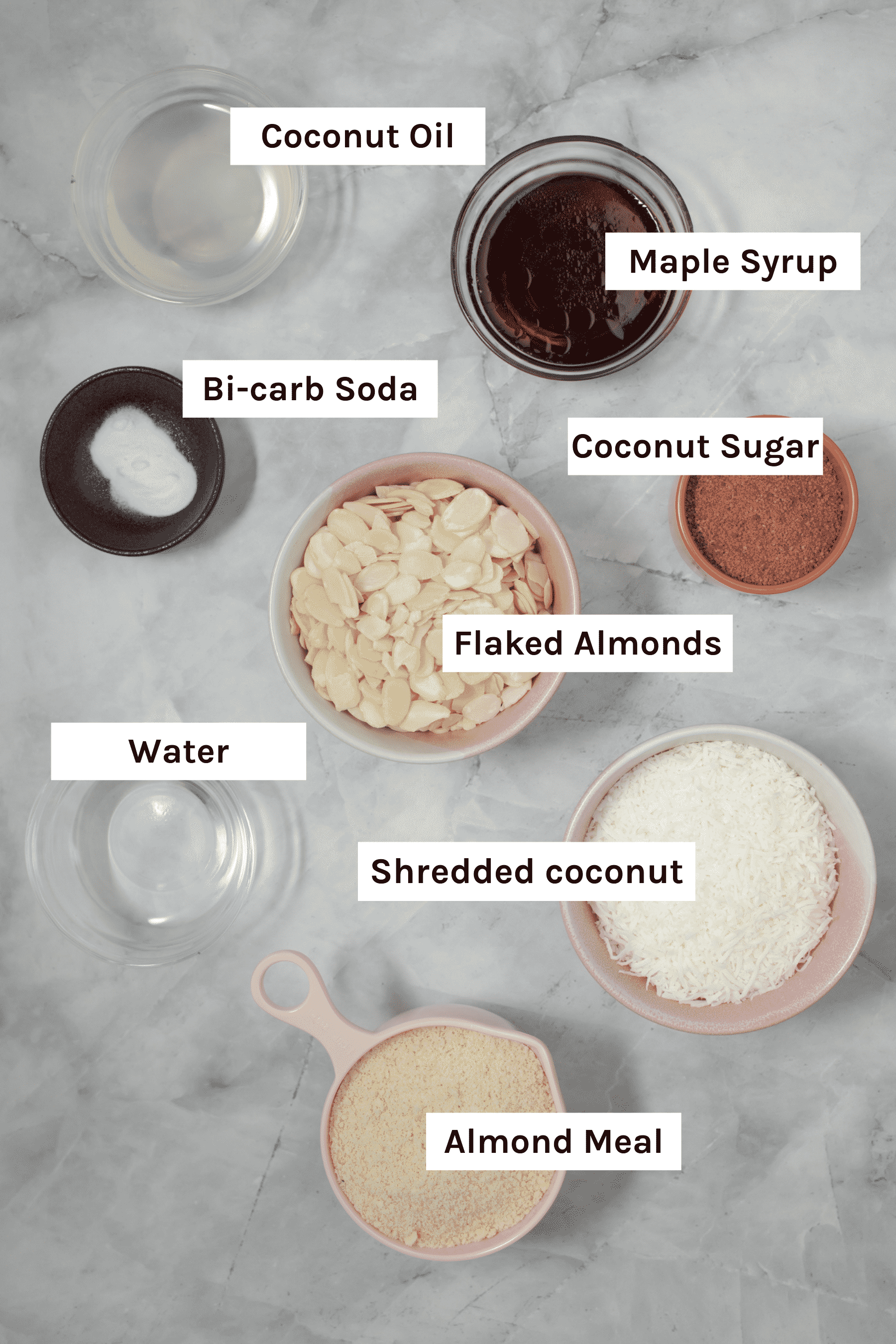 Almond Meal - you can use almond meal or almond flour to make this Anzac Slice. If you see any clumps just make sure you break them up when you are mixing the dry ingredients together.
Coconut Oil - it does not matter if the coconut oil is liquid or solid as you will be warming it up, when you mix together the maple syrup
Maple Syrup - you could substitute another sweetener if you don't have maple syrup, however I have not tried it. The key is to make sure it is mixed properly with the coconut oil.
HOW TO MAKE
1: Pre-heat oven. Pre-heat oven to 180 C | 355 F and lined a square baking tin with baking paper.
2: Prepare the wet ingredients. Warm the coconut oil and maple syrup in a small saucepan on low heat. Remove from the heat and whisk together. Then, whisk together the water and bi-carb soda in small bow. Then add to the maple syrup and coconut oil mixture and whisk to combine.
3: Prepare the dry ingredients. Add the almond meal, flaked almonds, shredded coconut and coconut sugar to a large mixing bowl and mix well to combine. Make sure you remove any clumps in the almond meal (if there are any).
4: Combine the wet and dry ingredients. Pour the liquid mixture in the mixing bowl with the dry ingredients and mix together really well.
5: Spoon the mixture into the baking pan. Add the Anzac mixture into the square baking pan and press down and smooth over with the back of a spoon or a wooden spoon.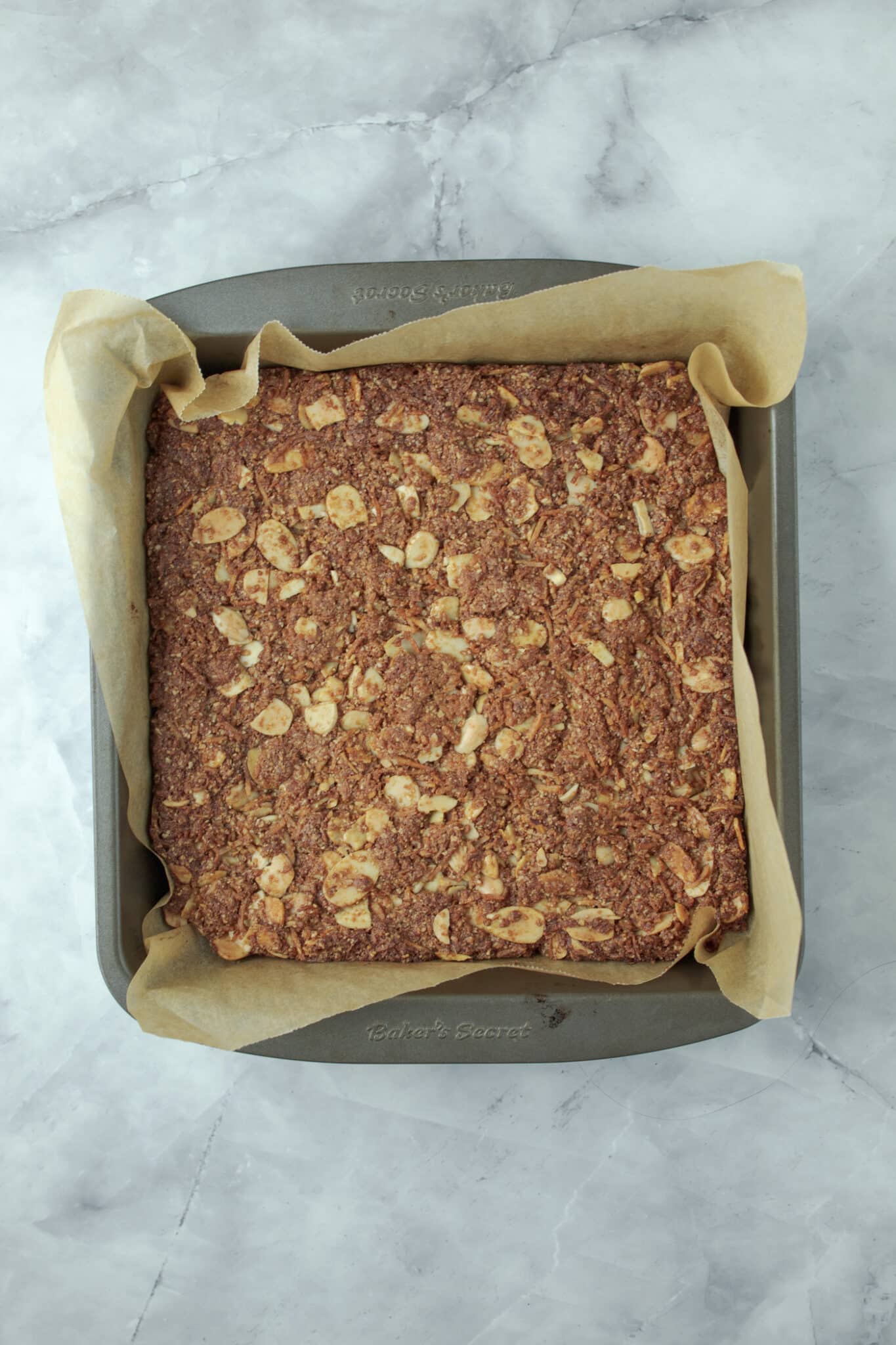 6. Place into the oven and cook for 25-30 minutes or until golden. Allow to cool completely in tin before slicing.
TIPS AND FAQS
How should I store this Anzac slice?
Store in an air-tight container (out of the fridge) for up to 5 days.
Can I substitute the maple syrup with another sweetener?
You could substitute with honey or rice malt syrup, however you need to make sure that the sweetener is mixed together well with the coconut oil.
Can I make Anzac biscuits using this recipe?
Yes, you can! You won't need to bake them for as long as you need to for the slice. I would recommend only cooking for approximately 15 minutes.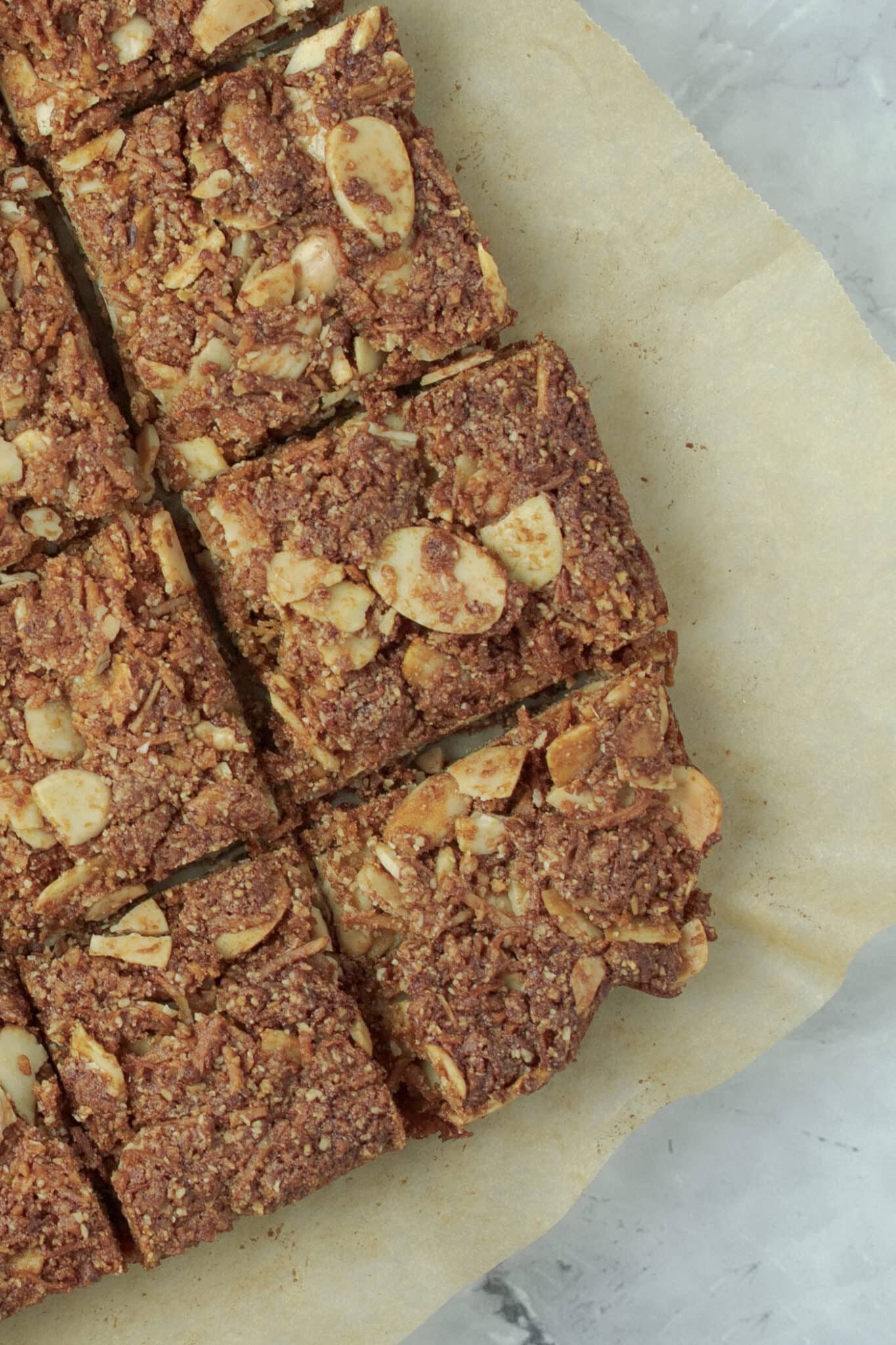 Looking for other baked desserts to make? Try these:
Gluten Free Raspberry Brownies
Flourless Orange and Almond cake
Chocolate Macadamia Fudge Brownies
Lastly, if you make this baked slice, then I would love to hear from you. You can either leave a comment and/or give this recipe a rating! If you do make this recipe, please tag me on Instagram! It really makes my day when I see your creations of my recipes.
Want More? Subscribe to my newsletter or follow me on Facebook, Pinterest or Instagram for all my latest recipes and updates.