These Loaded Sweet Potato Fries are guaranteed to be a regular meal in your household. It is a low cost meal which is super easy to prepare and it tastes so good!!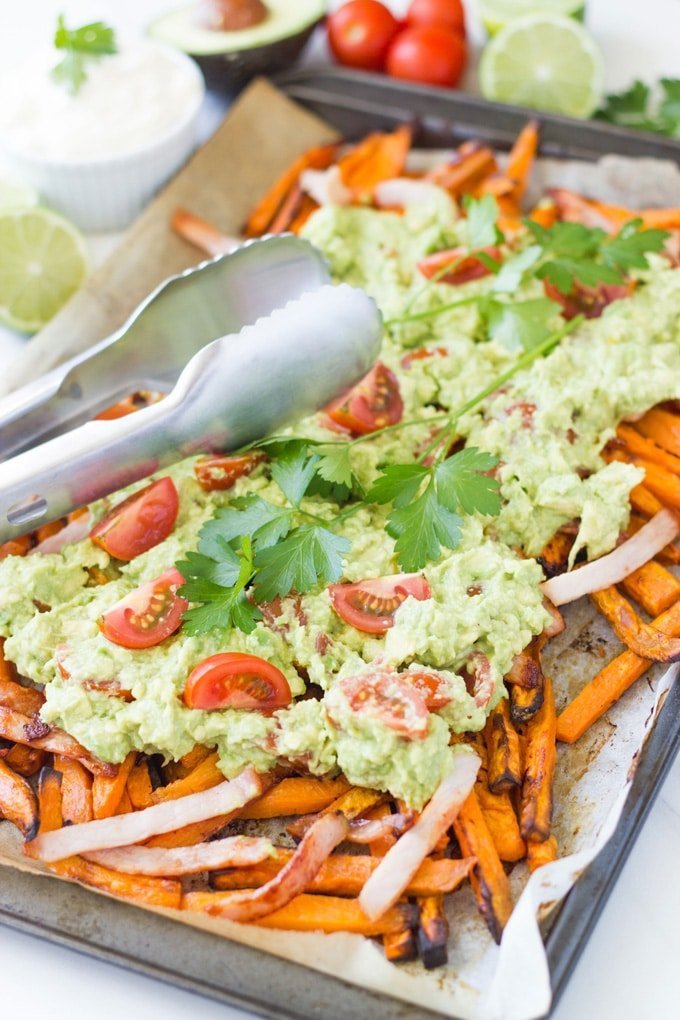 One afternoon, I looked in the refrigerator to see what I could make for dinner. There wasn't much!
All I had were some sweet potato, avocado, bacon and tomatoes. Oh and one egg!! I knew that I could make my garlic butter sweet potato fries as they have always been a winner, so I decided to jazz them up a bit and make them into a full meal.
This recipe has become a regular feature in my household and I have also made these Loaded Taco Fries.
WHY YOU WILL LOVE THIS RECIPE
Easy to Make - does not take long to make and is a perfect weeknight meal.
Gluten Free - suitable for people with gluten intolerances
Made with fresh wholefood ingredients - which are easy to find at any supermarket, health store, food markets or on-line store.
HOW TO MAKE
First, you need to prepare the sweet potato fries and put them in the oven to bake.
While the fries are cooking in the oven, cook up the bacon, prepare the guacamole and make the mayonnaise.
Once you are finished preparing everything and the sweet potato fries are ready, you then need to load up your bowl.
When ready to serve, place the fries at the bottom of the bowl (or plate), add the bacon, then spoon the guacamole and the mayonnaise over the top. 
RECIPE FAQS
Can I make these if I am vegan or vegetarian?
Yes, you absolutely can. When making the fries, substitute the butter with olive oil or coconut oil. And then you can omit the mayo and bacon. I love to make these fries just with the guacamole on top.
Can I make extra for leftovers?
This recipe works well as leftovers, just make sure you store your avocado, tomato and aioli separately to the fries, so you can easily reheat them.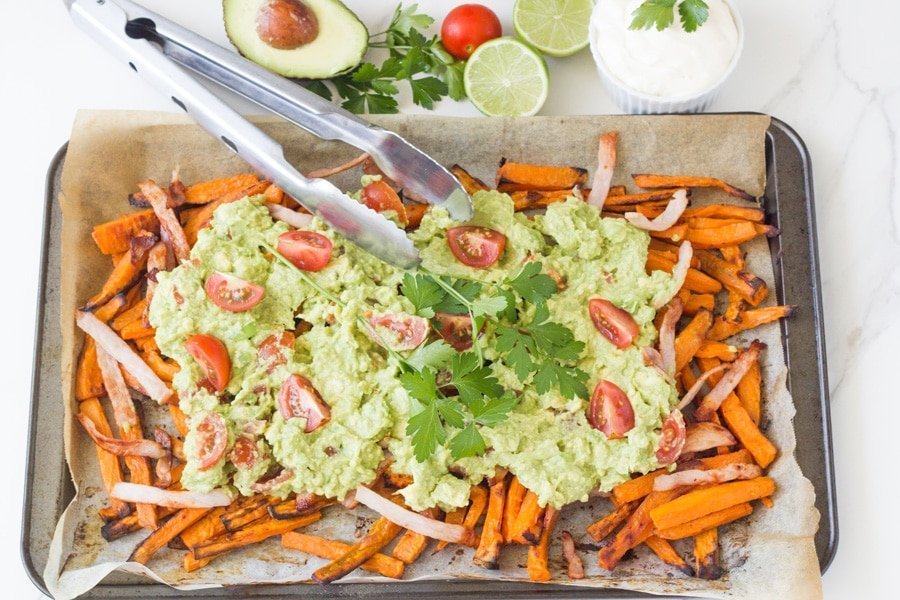 Looking for other easy to make dinner recipes? Try these:
Zucchini & Sweet Potato Fritters
One Tray Oven Baked Chicken and Vegetables
Lastly, I would love to hear from you if you make this recipe. You can either leave a comment and/or give this recipe a rating! If you do make this recipe, please tag me on Instagram! It really makes my day when I see your creations of my recipes.
Yield: Serves 2-4
Loaded Sweet Potato Fries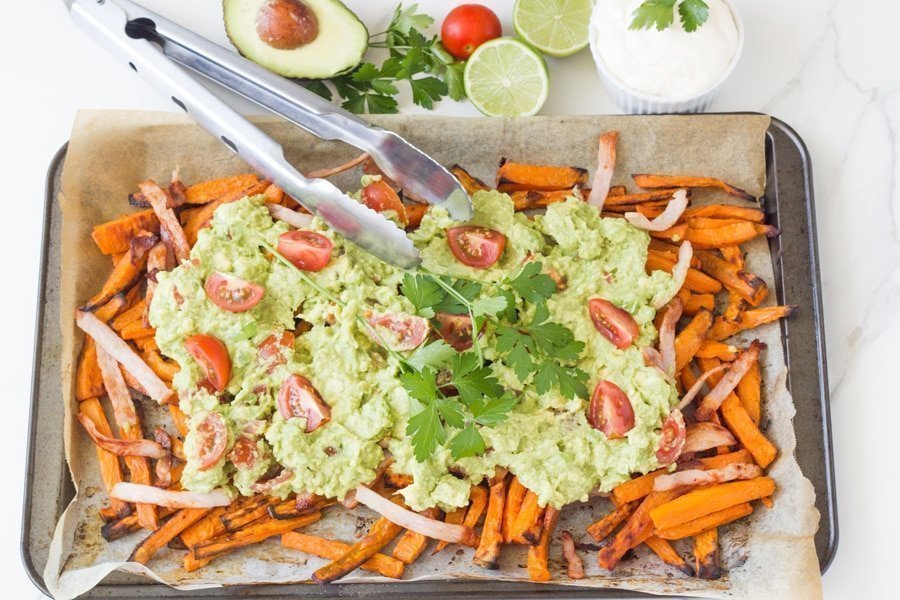 Loaded Sweet Potato Fries. Guaranteed to be a regular feature in your household. It is a low cost meal which is super easy to prepare and it tastes absolutely amazing.
Ingredients
2 large sweet potatoes, washed and peeled
3 tablespoons organic butter, melted
1-2 tablespoon garlic powder
8 rashers bacon (short cut or nitrate free), sliced thinly
2 large avocados
1 garlic clove, minced
2 tablespoons lime juice
¾ cup cherry tomatoes, halved or quartered (depending on size)
¼ teaspoon cumin
1 large egg
2 tablespoons lemon juice
½ teaspoon organic dijon mustard
1 cup mild olive oil
Sea salt
Instructions
Preheat oven to 220 C | 430 F
Slice sweet potatoes into fries and place on two lined baking trays in a single layer. Add butter, garlic powder and a few pinches of sea salt in a small bowl, mixing well to combine. Pour mixture over the fries.
Place the fries in the oven and cook for 30 minutes or until browned, turning over at the halfway mark.
While the fries are cooking, heat a non-stick frying pan over medium heat. Cook the bacon, stirring, for 4 minutes or until browned and crispy. Transfer to a plate lined with paper towel.
To make the guacamole, mash the avocado in a medium sized bowl. Add the garlic, lime juice, cherry tomatoes, cumin and a pinch of sea salt, mix to combine.
To make the mayonnaise, add the egg, lemon juice, dijon mustard and a pinch of sea salt to a high speed blender. Blend on low for 30 seconds. Then, while keeping the speed on low, add the olive oil in a slow steady stream until the mixture pales and thickens. Don't rush this bit!
Remove the fries from the oven.
To make the loaded fries, you can either use dinner plates, a serving tray or the tray the fries were cooked on. Keep the fries on the bottom, next, add the bacon, then the guacamole, followed by the mayonnaise.
Serve and enjoy.
Notes
Simply omit the bacon if vegetarian or vegan and swap the mayonnaise for garlic aioli.
This meal is best enjoyed as soon as the fries come out of the oven.
If you have any leftover mayonnaise, you can store in an airtight container for up to one week.
Nutrition Information:
Yield:
4
Serving Size:
1
Amount Per Serving:
Calories:

916
Total Fat:

86g
Saturated Fat:

19g
Trans Fat:

0g
Unsaturated Fat:

63g
Cholesterol:

101mg
Sodium:

814mg
Carbohydrates:

26g
Fiber:

7g
Sugar:

6g
Protein:

16g