This raw bounty slice is super healthy and is gluten, dairy and refined sugar free. It is one seriously epic raw dessert and comes with a date free base.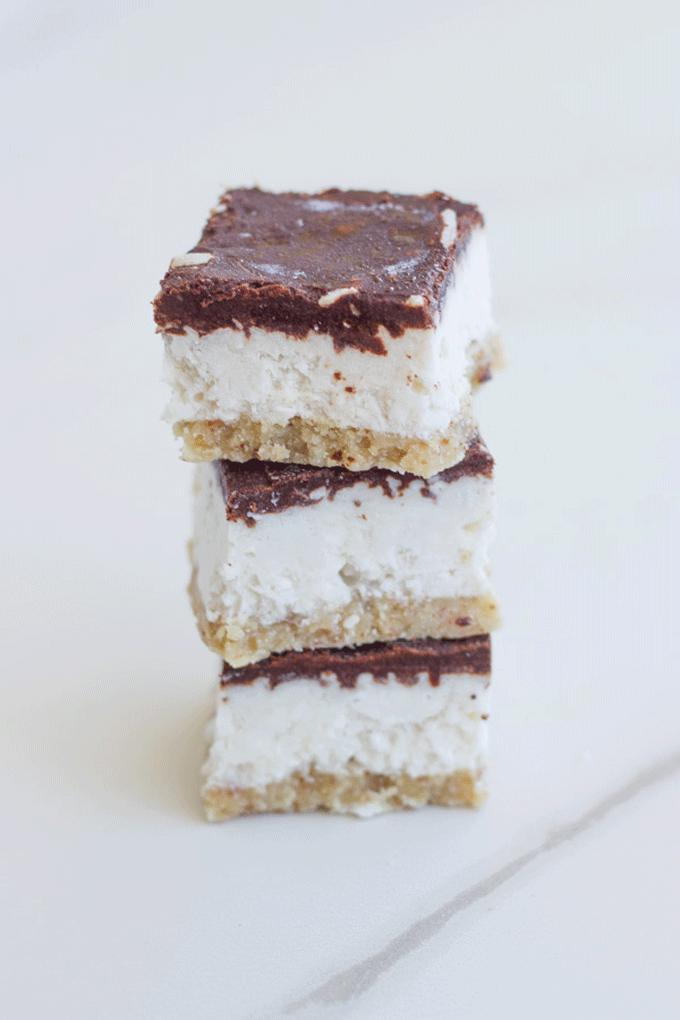 How yummy does my Raw Bounty Slice look?
The coconut filling which is from my raw bounty bites recipe, was the basis for making this dessert. It is so tasty!
I originally got the inspiration to make raw bounty bites from the classic chocolate bar - Bounty. I wanted to create a much healthier version which made with wholefood ingredients free from additives and preservatives.
The bars were such a hit with friends and especially my kids, I decided to make a raw bounty slice.
A RAW SLICE RECIPE WITH A DATE FREE BASE
I decided to make this slice with a date-free base as I have had a few requests for less dates in my recipes.
Typically the bases of raw slices have typically included nuts (cashew, macadamia or almonds), medjool dates and shredded coconut.
So to make the base of this raw bounty slice date free, I used the following ingredients:
Cashews or macadamias
Almond meal
Coconut oil
Maple syrup
You can use this base with some of my other raw slices, raw peppermint slice, raw chocolate raspberry slice and even my raw caramel slice bites. However, if you are making the slice bites, you may need to half the recipe.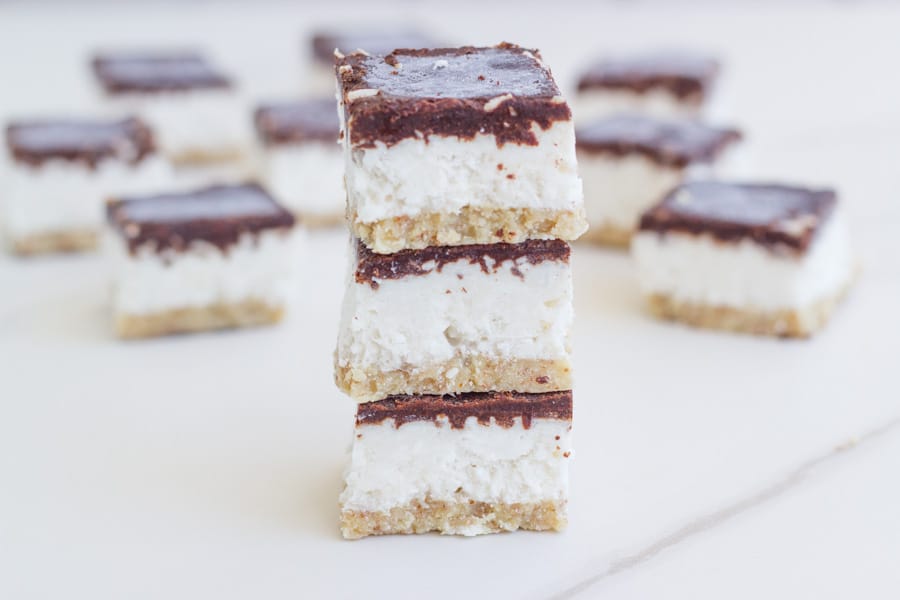 HOW TO SLICE IT CORRECTLY
Make sure that you allow it to freeze for 3-4 hours before you slice it, so that the coconut layer is completely frozen. Otherwise the chocolate layer may split when you slice it.
However, the slice can be hard to slice when it is completely frozen, so I suggest running the knife under hot water. That should help you to slice it.
The result is AMAZING and so worth the extra time to let it set!
MORE COCONUT DESSERT RECIPES: