This Instant pot butter chicken is going to be your new favourite instant pot recipe. It is low carb, gluten free, dairy free and will be ready to serve in 30 minutes.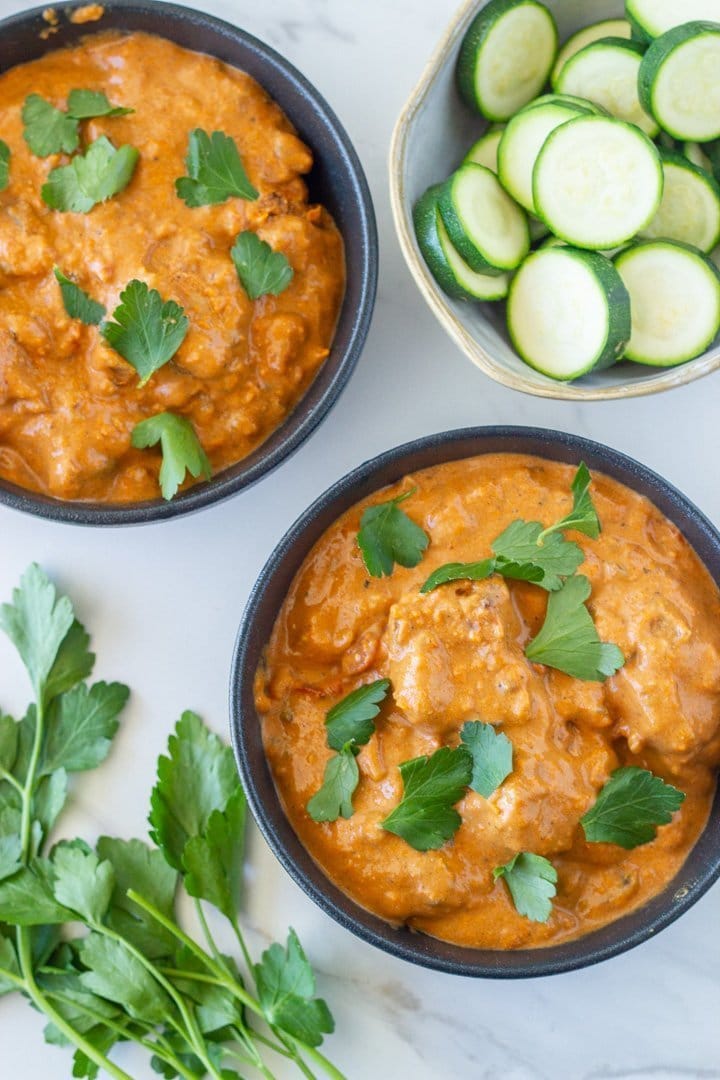 Butter chicken is one of my favourite meals ever and my slow cooker butter chicken is one of my most popular recipes.
I have always been a fan of slow cooker recipes but recently I purchased a multicooker (which is practically the same as an instant pot) and I decided that I needed to adapt my butter chicken recipe to suit my multicooker.
What is an Instant Pot
An Instant Pot is a pressure cooker, slow-cooker, rice cooker, and yogurt maker all in one machine.
Instant Pot is an actual brand, however your can purchase multi cookers from many other brands, but they can differ in the functions that they offer.
I own a Masterpro MultiCooker which can slow cook, saute, pressure cook, make yoghurt and cook rice and pasta.
The best thing that I am loving about my multicooker is that I can make my slow cooker recipes in a much quicker time using the pressure cooker function AND the quality is still the same!
Take low carb butter chicken for example!
Previously my slow cooker butter chicken recipe would take around 5 hours to cook in my slow cooker. Using an instant pot/multicooker speeds up the process and it takes around 30 minutes.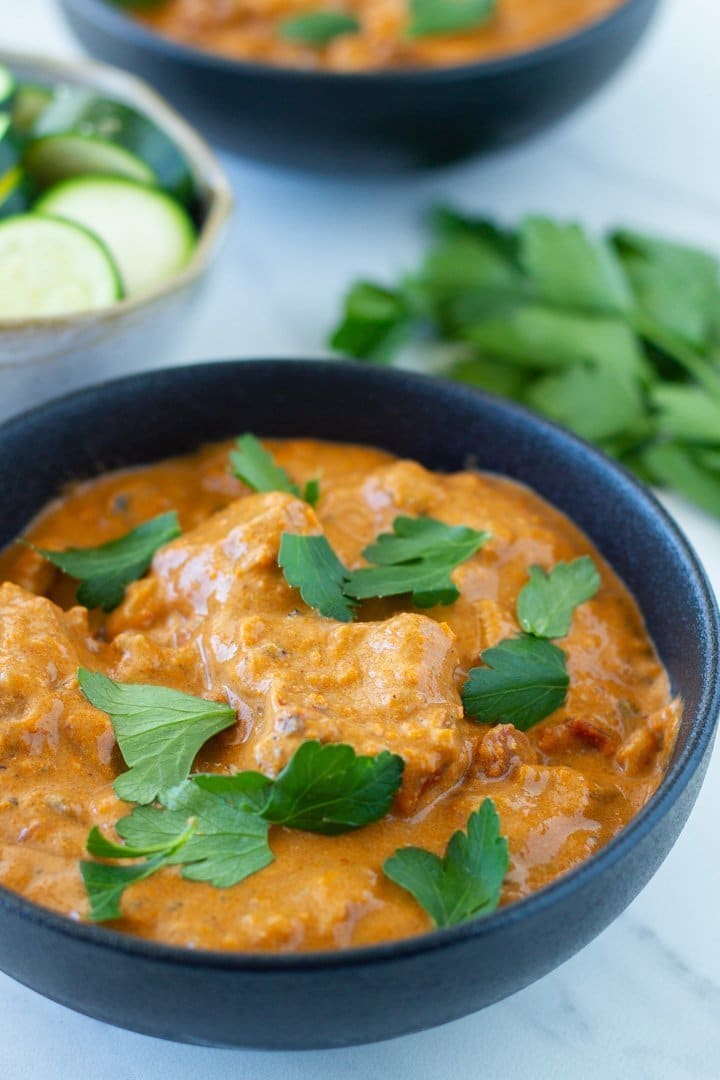 WHAT INGREDIENTS YOU NEED
Coconut oil
Garlic
Yellow onion
Coconut milk (coconut cream also works)
Tomato paste
Garam masala
Curry powder
Ginger powder
Chili powder
Sea salt and black pepper
Chicken thighs (or breasts)
Parsley
HOW TO COOK BUTTER CHICKEN USING AN INSTANT POT
First you need to set your Instant Pot/Multicooker to saute and add the coconut oil, garlic and onion and saute for 2 minutes until the onion has become translucent, then Turn off the saute function.
Then add the spices (garam marsala, curry powder, ginger powder, chili, salt and pepper) chicken, coconut milk and tomato paste.
Lock the lid in place and turn the pressure valve to seal it. Select the manual/high pressure/poultry function for 10 minutes
When done, allow the pressure to release naturally (should take around 10 minutes), then vent to immediately release any remaining pressure.
Then switch back to the saute function (with the lid off) for 3 minutes to thicken up the sauce a little.
Finally add some parsley and serve with your favourite side.
All done in 30 minutes.
MORE EASY LOW CARB DINNER RECIPES: