This Lemon Garlic Chicken Buddha Bowl is super simple to make and is packed full of delicious flavours. Use dinner leftovers to save more time!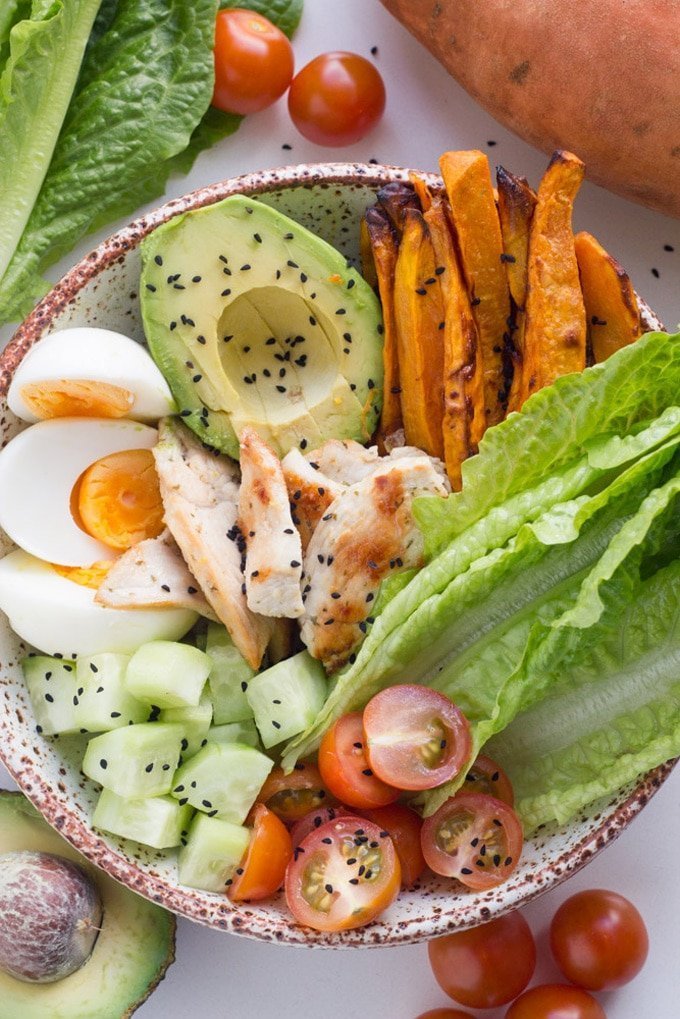 I have been drooling over Buddha bowls for quite some time now and recently shared my faves in the blog post 8 beautiful Buddha Bowls that you need in your life right now.
So, this week I decided that I better get in on the game and make my own.
I was playing around with flavours and came up with this Chicken Buddha Bowl which features my popular baked garlic butter sweet potato fries.
Other than cooking the lemon garlic chicken and the sweet potato fries, this salad is super simple to make and is packed full of delicious flavours.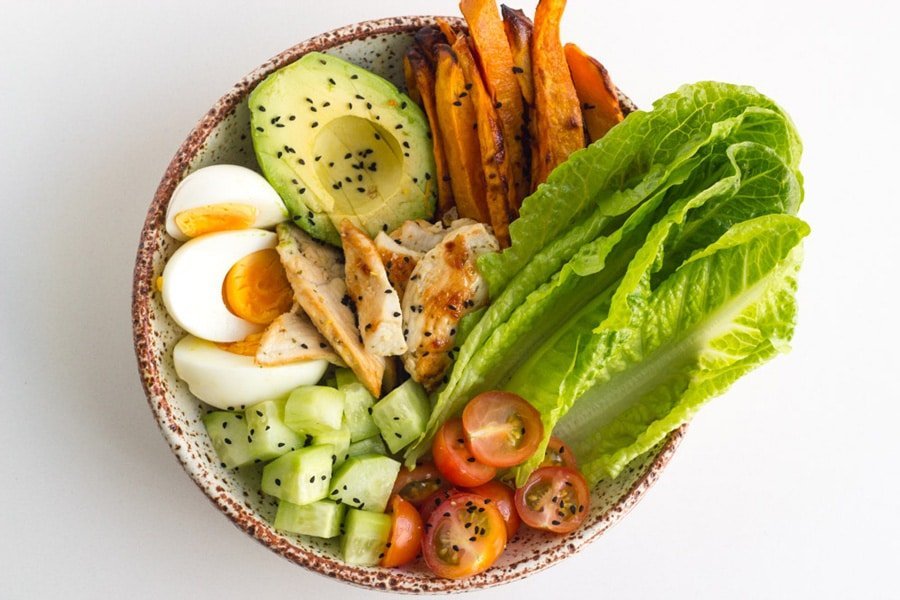 RELATED RECIPES
Quinoa Salad with Avocado, Cherry Tomato & Roast Pumpkin
Beetroot & Carrot Salad with Moroccan Dressing
11 Stunning & Scrumptious Super Salads
Pumpkin, Beetroot & Avocado Salad
Apple, Avocado, Cranberry & Walnut Salad
---
Want More? Subscribe to my newsletter or follow me on Facebook, Pinterest or Instagram for all my latest recipes and updates.
Yield: Serves 1
Lemon Garlic Chicken Buddha Bowl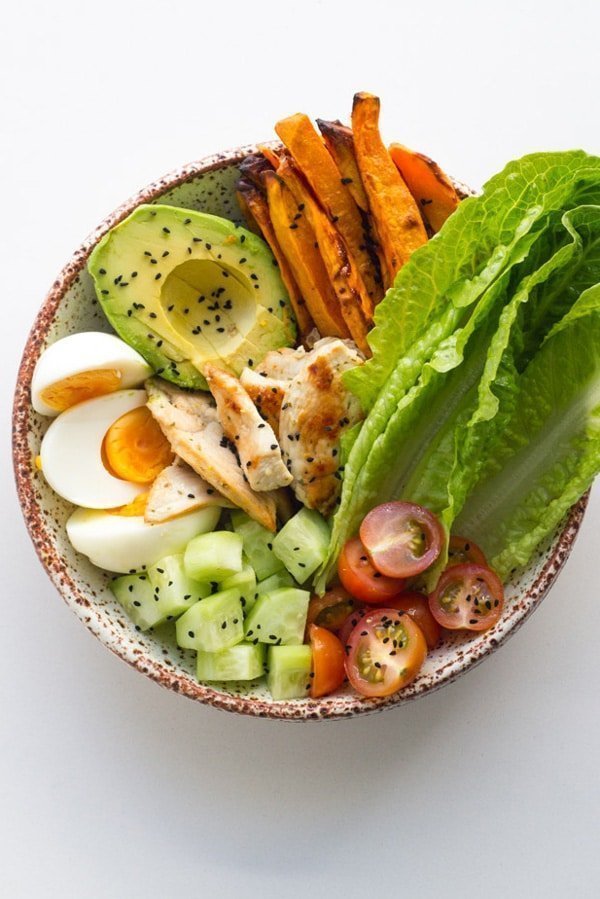 This Lemon Garlic Chicken Buddha Bowl  is super simple to make and is packed full of delicious flavours. Use dinner leftovers to save more time!
Total Time
1 hour
15 minutes
Ingredients
Lemon Garlic Chicken
100 grams (3.52oz) chicken breast, sliced thinly
1 clove garlic, minced
1/2 lemon, juiced
1/2 teaspoon parsley (fresh or dry)
1 teaspoon coconut oil, for cooking
Sweet Potato Fries
100 grams (3.52 oz) sweet potato, sliced into thin fries
1/2 tablespoon organic butter, melted ( or melted coconut oil)
1/2 teaspoon garlic powder
Pinch of sea salt
Rest
1 - 2 boiled eggs
1/2 avocado, sliced
5 cherry tomatoes, halved
1/2 cucumber, chopped
Handful of greens
Honey Mustard Dressing (optional)
1 tablespoons coconut vinegar 'balsamic' style
1 tablespoon honey
1/2 teaspoon dijon mustard
Pinch of sea salt and black pepper
Instructions
Marinate chicken. Add the chicken to a bowl with the garlic, lemon juice and parsley. Marinate in the refrigerator for 30-60 minutes.
Cook sweet potatoes. While the chicken is marinating, preheat oven to 220 degrees celcius and lightly grease a baking tray or sheet. Place sweet potato fries in a bowl. Next, add melted butter, garlic powder, sea salt and pepper in a small bowl and mix well. Pour over the fries, mixing well to combine. Place the fries in a single layer on the baking tray (or sheet) and place in the oven and cook for 25-30 minutes or until browned, turning over at the 15 minute mark.
Cook chicken. When you have turned over the fries, pre-heat a small fry pan on medium high heat, add 1 teaspoon of coconut oil and cook chicken until golden brown.
Make the dressing. To make the dressing, add the ingredients to a small bowl and whisk well to combine
Assemble the Buddha bowl. First add the greens, then the cherry tomato, cucumber, avocado, sweet potato fries. eggs and finally chicken. Then, pour over the dressing (if you are having) and enjoy.
Recommended Products
As an Amazon Associate and member of other affiliate programs, I earn from qualifying purchases.