Sweet Potato Rosti are made with only 4 ingredients and packed full of flavour.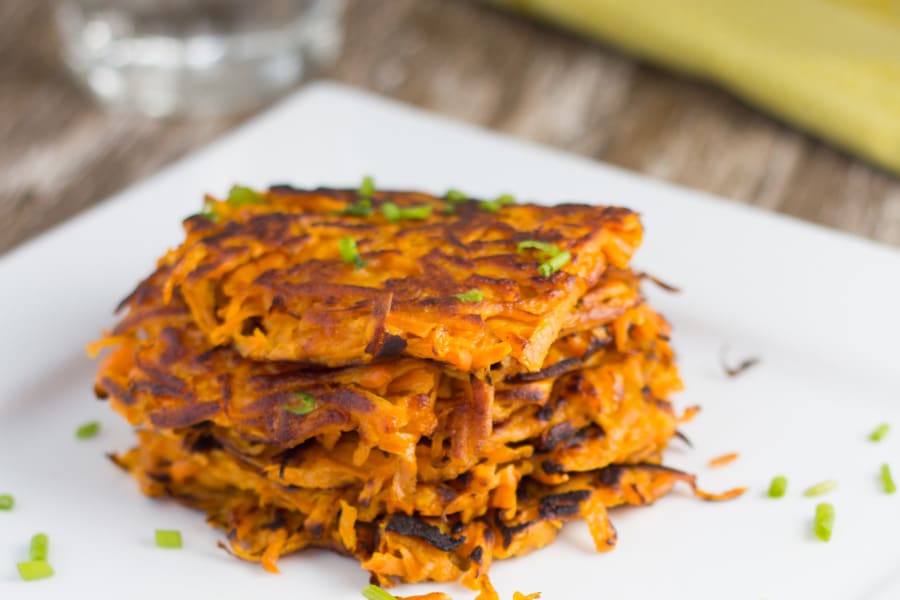 After making my Quinoa Fritters earlier on in the year, which has turned out to be one of my most popular recipes, I wanted to make another easy, light, snack-or-side type meal.
I've come up with something I think you'll really like – sweet potato rosti.
These rosti are really tasty and are made with only 4 ingredients. Well, five if you count the coconut oil to grease the frypan.
They can be a little fiddly to make, but once you get the hang of it they are really easy. When making them for the first time, I recommend scooping out a small quantity.
I use two soup spoons to lift out the mixture, then flatten the mixture in the pan using the back of one. If you notice that it is sticking, or the rosti isn't holding together when you attempt to flip it, you may need to increase the heat.
Once you have a feel for it, you should be fine!
Sweet Potato are a highly nutritious vegetable and are packed full of vitamins, minerals and antioxidants, including calcium, potassium, manganese, copper, and vitamins A, B3, B5, B6 and C.
They are very versatile, as they can be used in both sweet and savoury dishes.
Check out my recipes for Sweet Potato Brownies and Zucchini & Sweet Potato Slice.
Enjoy
Ness xo