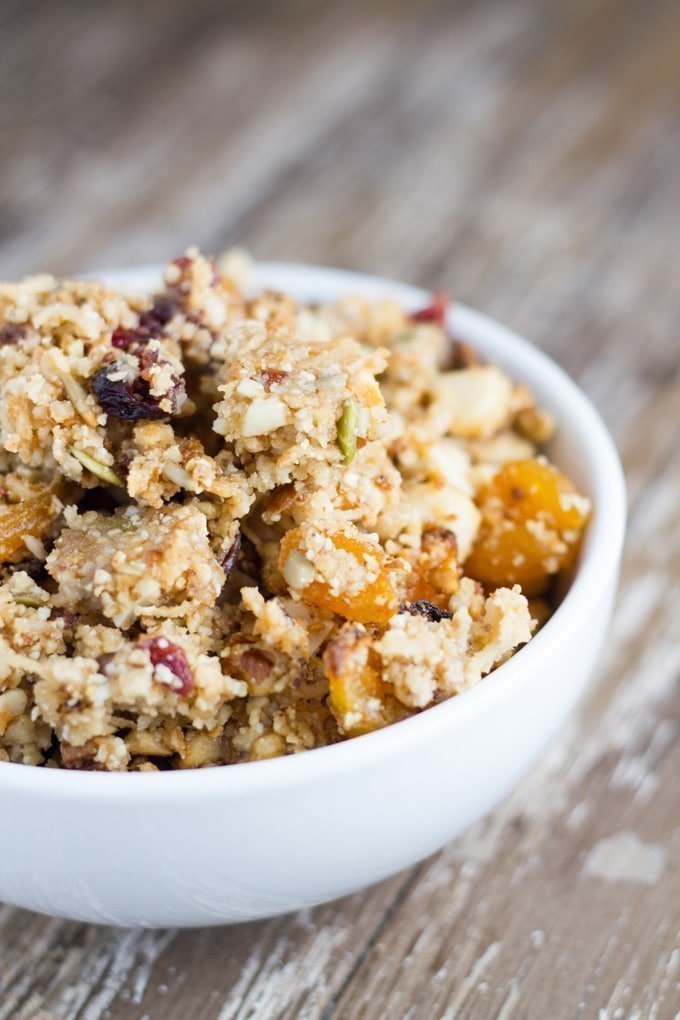 Gone are my days of eating cereal, but when I did, I was fan of Special K, Fibre Plus and Weetbix. Sadly, they contain quite a lot of sugar, salt (yep you read that right) and are highly processed.
When I first gave up processed foods back in 2012, I still ate oats occasionally for breakfast. In terms of sugar, traditional oats, rolled oats and quick oats tend to have either no sugar or a very small amount. So if you do eat cereal, oats are definitely your better option.
When I first started Becomingness back in December 2014, I shared a granola recipe that contained oats in it and was one of my favourite breakfasts. But for the majority of this year, I have stopped having oats for breakfast, as I have adopted more of a Paleo lifestyle (with the occasional quinoa, buckwheat and dairy).
So it was only fitting that I made up a Gluten Free Granola that was suitable for Paleo and also for Vegan. I think this one is an improvement on my original granola recipe, as this granola forms clusters once it has cooled down after cooking and it won't get soggy when you add almond or coconut milk to it.
What I really love about granola is that you can make it on the weekend and have it for your breakfast during the week. So if you are short on time in the mornings, then I suggest making up a batch on the weekend!
My Gluten Free Granola is one of the elements of my Chia Berry Parfait and makes a really impressive breakfast (or snack)!
Enjoy
Ness xo