Welcome to the latest edition of my Friday Foodie series, where each week I feature my favourite health and wellness stars. Each week, they share their tips for healthy living and their favourite recipe.
This week I am featuring Jo Anderson from The Luminous Kitchen and FoodActually. Jo is another one of the amazing inspirational ladies that I met through the Bright-Eyed and Blog-Hearted course. Jo is an amazing photographer and her food styling is just stunning. I am a such a fan and hope to one day attend one of her food styling workshops.
Tell us a little bit about yourself, your family, what you do and what inspired you to lead a healthier lifestyle?
Hi I'm Jo Anderson I am a photographer, freelance food stylist, food blogger and very new mumma to Marley (3 months old). Together with my hubby we also run a health food business called FoodActually, which makes convenient health food products. After spending most of my twenties working as a chef on yachts around the world and leading a very carefree, but party lifestyle I moved to the Gold Coast in Australia when I married my Aussie husband, Corey. We were on a path of self discovery and personal development and we very quickly discovered that feeling good definitely stems from eating well.
What tips would you give to someone who has just commenced living a healthier lifestyle?
Focus on what makes you feel good and do more of that. It's easy to get swept up in the latest diet lifestyle and fads , but you need to pay attention to what makes you feel your best. Go easy on yourself and try to incorporate as much fruit and vegetables in your diet as possible.
Do you have any tips for eating well on a budget?
Buy your produce from farmers markets and fruit and veg shops but shop around to find good suppliers. I have a fruit and veg shop I use on the GC where a trolley full of veg costs half of what I would pay at the supermarket. Think about going direct to farms as well, especially for good quality, organic meat. (we're about to invest in a chest freezer for this exact purpose). Then its also all about storing food well so that it lasts and not wasting anything. Almost every Sunday I make a huge pot of Moroccan Vegetable Soup with all the left over vegetables in the fridge and any wholegrain I happen to have in the cupboard. We ate it for Sunday dinner and most of Monday so that by Tuesday when the freshest produce comes into the shops I am ready.
How do you deal with food struggles from your children and/or family?
My father in law is not really into healthy eating so when I make dinner for him I always try and sneak healthy things in without him knowing. I once passed quinoa patties off as chicken patties and he thought they were delicious. Marley is still on breast milk only, but I really want to educate her from an early age about why eating well is so important and make it fun at the same time. I can't wait to have her sitting up on the counter top with me while I cook just the way I did with my mom.
What is your favourite food?
Recently I've been a little obsessed with chia puddings. We had a couple of kilos of chia seeds left over from some product development for Food Actually so I've making them every day and seeing how many different topping I can come up with. My favourite so far has been peanut and maple glazed cashew and buckwheat clusters.
Who is your favourite foodie and why?
By far my favourite foodie is Jamie Oliver. I love his passion, enthusiasm and simple good food recipes. I love cooking with his style, using fresh ingredients to create flavour packed meals. I also have major crushes on Katie Quinn Davies and Izzy Hossack (who is only 19 and absolutely nailing it) their food styling and photography is next level amazing.
What is something that you enjoy doing when you have some 'me' time?
I can't remember what "me" time is with a 3 month old haha. No I'm super lucky because at the moment we live with my in laws while we are building a house so there are always lots of babysitters on hand to watch Miss Marley while I get to go for a walk. It's my favourite thing to do. I pop on some inspirational talks from 8tracks and hit the pavement. Where we live we're surrounded by water everywhere you turn so it's really relaxing and its my time to dream and visualize all the things I want to make happen in this life.
What is your favourite recipe to cook? Can you share the recipe with us?
I adore Thai flavours and this Thai beef salad is so fresh and filling as well. Tamarind and it's sourness is another one of my foodie obsessions.
Print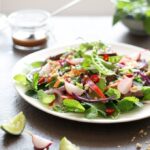 Thai Beef Salad
Author:

Yield: Serves

4

1

x
---
Scale
Ingredients
2

grassfed eye fillets

1

Tbls olive oil

5

radishes, quartered

1

handful sweetpeas, halved lengthways

1

carrot, julienned

1/4

red cabbage, thinly sliced

1

red pepper, thinly sliced

1

fresh red chilli, thinly sliced

1/2 cup

roasted peanuts, crushed

2 cup

s fresh basil leaves

1

+

1/2 cup

s fresh mint leaves

1/2 cup

fresh coriander

100

g baby spinach
Dressing:
1

+

1/2

Tbls tamarind paste
Juice of

1

lime

1

Tbls fish sauce

1

Tbls honey
---
Instructions
Combine the ingredients for the dressing, mix well and set aside.
Heat a pan on high until almost smoking. Brush the eye fillets with olive oil and fry on one side for 2 minutes then turn them and cook for another 1 minute, then remove from the pan, cover with foil and allow to rest before seasoning with salt and pepper and slicing thinly.
Combine the radishes, sweetpeas, carrot, cabbage, red pepper, basil, mint, baby spinach and coriander in a bowl and toss well. Place the salad ingredients over a serving platter, then place the thinly sliced beef over and top with crushed peanuts and sliced chilli.
Drizzle with tamarind dressing just before serving.
---
A little bit more about Jo and where you can find her
Jo Anderson is a food and lifestyle photographer, freelance food stylist and passionate self taught foodie. After years working as a chef in the Mediterranean and the Caribbean she settled in Australia with her Aussie husband where they started a health food business, Food Actually to give people more choice over processed foods. Her blog, The Luminous Kitchen is where she shares her experiments in the kitchen and her passion for food styling and photography. Having worked on numerous cookbooks and food apps she now teaches food styling workshops where she shows it's not about a fancy camera and expensive equipment that makes a good food stylist, but an understanding of it takes to compose a beautiful photo and how to have the confidence to execute your vision.
Blog: theluminouskitchen.com/
Instagram: https://www.instagram.com/jo_anderson_photography/
Facebook: www.facebook.com/pages/The-Luminous-Kitchen-with-Jo-Anderson/