Since making my Vanilla Chia Breakfast Pudding, I have been testing out different flavour combinations and one combination that I really love and have to share with you is my Coconut & Kiwi Fruit Chia Pudding.
Kiwi fruit (or kiwi cute, as my daughter calls it) is in season here in Australia and my kids absolutely love eating them, as do I. Kiwi Fruit are full of many nutrients, including vitamin C, potassium, vitamin E, copper, vitamin K, choline, magnesium and phosphorus. In fact, kiwi fruit has more vitamin C than any other fruit.
Kiwi fruit and coconut are really a match made in heaven and if you haven't tried them together, you are seriously missing out!
Ness xo
Yield: Serves 1
Coconut & Kiwi Fruit Chia Pudding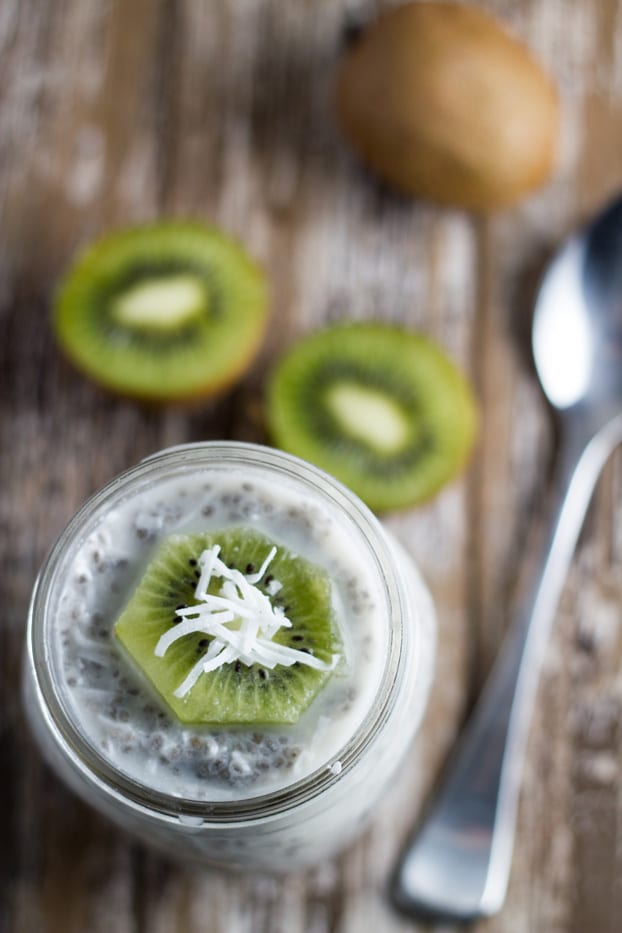 Ingredients
¼ cup black chia seeds
¼ cup organic shredded coconut
1 cup coconut milk
1 teaspoon vanilla extract
1 kiwi fruit, peeled and sliced
Instructions
Place all ingredients (except kiwi fruit) in a small bowl or mason jar and stir until well combined.
Place in the refrigerator and store for a minimum 2 hours, preferably overnight.
Remove from the refrigerator and top with kiwi fruit.
Enjoy.
Notes
The cook time does not include the time it takes for the chia seeds to gel.
PIN FOR LATER