Oysters Kilpatrick with Healthy Worcestershire Sauce
These Oysters Kilpatrick are made with a healthy Worcestershire Sauce and they are totally delicious.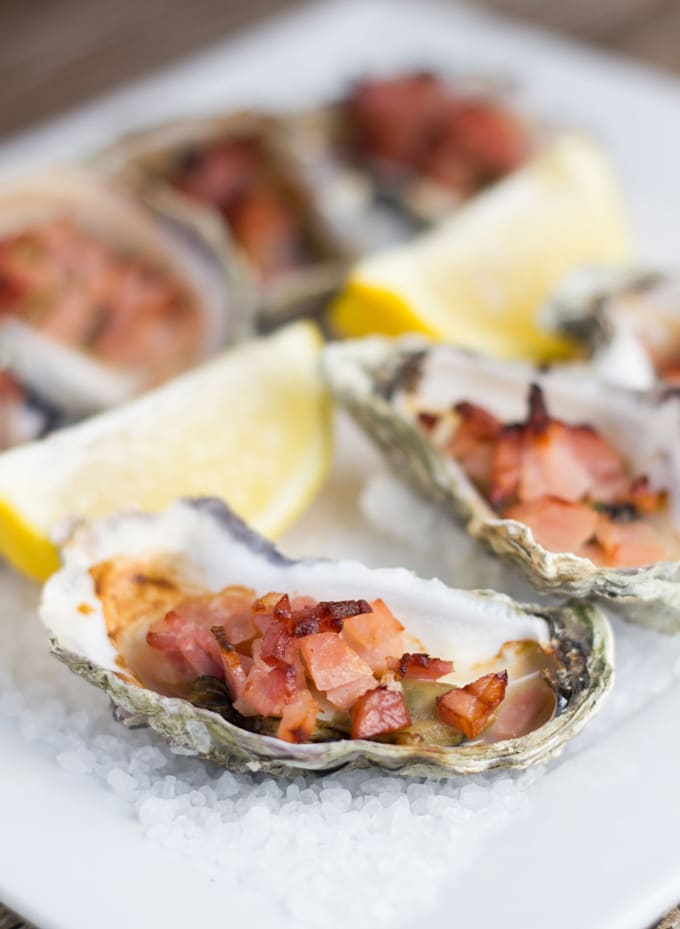 Demand for seafood is at an all time high and as a result, overfishing and damaging fishing practices are depleting seafood stocks. There is also impacting the already fragile marine ecosystem, as often other marine species are harmed in these fishing practices. There is a great website that lists what species of seafood are sustainable and has lots of great tips. It is called GoodFishBadFish and I highly recommend you check it out.
Oysters are a very sustainable seafood as they are farmed, which has very little impact on surrounding ecosystems. In Australia there are three common types of oysters – Sydney Rock Oyster, Pacific Oyster and Native Oysters. So it is great to know that oysters are one species of seafood that you can enjoy and know that it is not damaging the marine ecosystem.
Oysters Kilpatrick is my favourite way to have oysters, for a number of reasons:
I don't really like the texture of uncooked oysters (much to the dismay of the rest of my family)
Mmmmmm bacon
I can make them Paleo-friendly with my Worcestershire sauce recipe.
I hope you enjoy the recipe!
Yield: Serves 2 - 4
Oysters Kilpatrick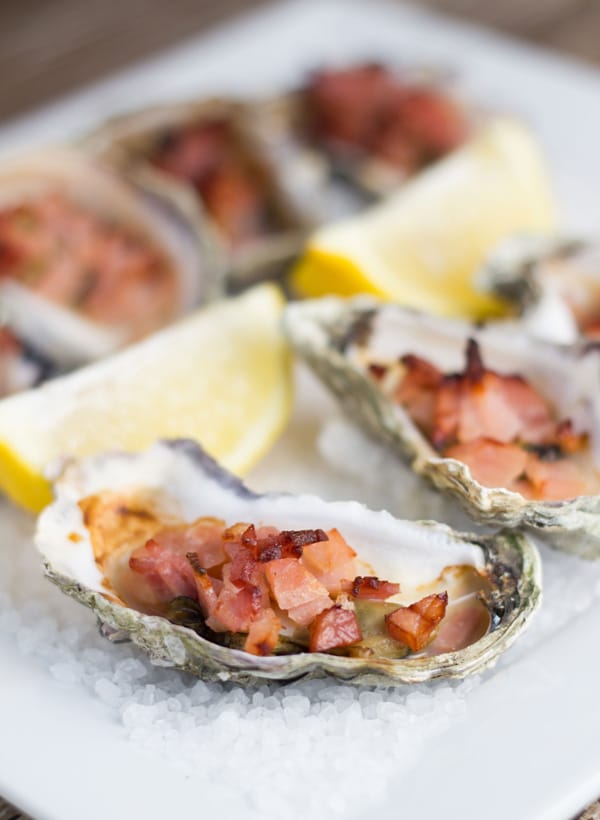 These Oysters Kilpatrick are made with a healthy Worcestershire Sauce and they are totally delicious.
Ingredients
2 cups rock salt
24 oysters, shucked (I used Sydney Rock Oysters)
1/2 cup Worcestershire sauce (see below)
100g bacon rashers, diced
lemon wedges, to serve
Instructions
Preheat grill on medium high heat
Place rock salt in a thick layer on a baking tray.
Place the oysters face-up on the baking tray and top each oyster with the Worcestershire sauce and bacon.
Place in the grill and cook for 5-8 minutes, or until the bacon has started to brown on top and is crispy.
Remove from the heat and serve with the lemon wedges
Notes
WORCESTERSHIRE SAUCE
INGREDIENTS
½ cup raw, unfiltered apple cider vinegar
2 tablespoons water
2 tablespoons coconut aminos
2 tablespoons coconut vinegar 'balsamic style'
¼ teaspoon ground ginger
¼ teaspoon ground mustard
¼ teaspoon garlic powder
¼ teaspoon onion powder
⅛ teaspoon ground cinnamon
⅛ teaspoon black pepper
INSTRUCTIONS
Add all ingredients to a small saucepan and whisk to combine.
Slowly bring to a boil over medium heat, then reduce heat to low and simmer for 2 minutes.
NOTES
You will have some Worcestershire sauce left over. You can keep in the fridge in an airtight jar or container.
Nutrition Information:
Yield:
4
Serving Size:
1
Amount Per Serving:
Calories:

394
Total Fat:

16g
Saturated Fat:

5g
Trans Fat:

0g
Unsaturated Fat:

9g
Cholesterol:

175mg
Sodium:

57663mg
Carbohydrates:

24g
Fiber:

1g
Sugar:

4g
Protein:

37g