Greek Lamb Pizza is an easy to make delicious pizza. You can make it on any base, but for a quick meal use two slices of Mountain bread.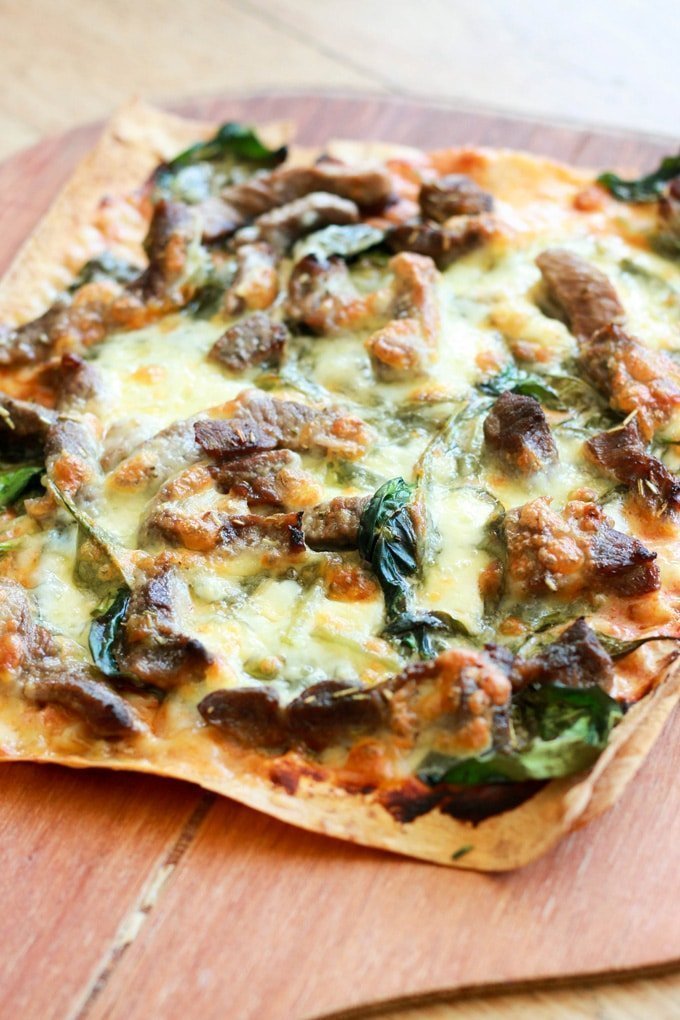 Greek lamb pizza has to be one of my favourite meals since I made the change to eat better.
After cutting out most breads and pastas, this became my treat meal which my husband and I would eat on a Friday night instead of getting takeaway pizza. It is so easy to prepare and is a great one to serve to guests. The ingredients that I have listed below are to make one pizza, which is ideal for one person.
Greek Lamb Pizza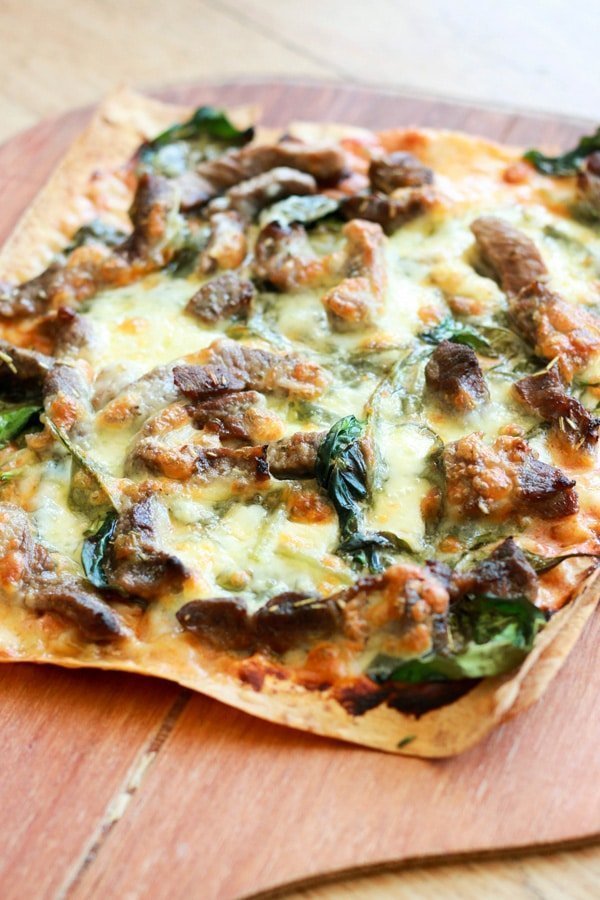 Ingredients
2 mountain bread rye wraps (one is just too thin)
½ tablespoon tomato paste
150-200gms lamb cut into thin strips (I use leg lamb steak)
1 lemon
1 tablespoon olive oil
2 cloves of garlic
Half tablespoon of dried oregano (rosemary works well too)
Baby spinach leaves (as much as desired)
Bocconcini (I usually have three of larger sized ones)
Greek yogurt, approx ½ cup
Instructions
Combine the lamb, juice from half the lemon, olive oil, 1 garlic cloves (crushed) and oregano in a bowl
Marinate in fridge for approximately 30 minutes
Pre-heat oven to 200 degrees (fan forced)
Cook lamb in frying pan on medium heat and cook till meat is just browned all over (be careful not to overcook)
To prepare your base, place one wrap on top of the other wrap and spread the tomato paste over your base and also put a little between the two wraps, so that the wraps hold together well
Layer on baby spinach leaves, lamb, and bocconcini
Place in oven on a pizza stone (or baking tray) for approximately 10 minutes or until the bocconcini is golden on top
To make the yoghurt dressing, mix greek yogurt with the other garlic clove (crushed) and about a tablespoon of water, so it is slightly runny
To serve, drizzle the garlic yogurt over the top (as much as desired) and then squeeze the other half of the lemon on top.
Notes
It is a knife and fork type of pizza 🙂