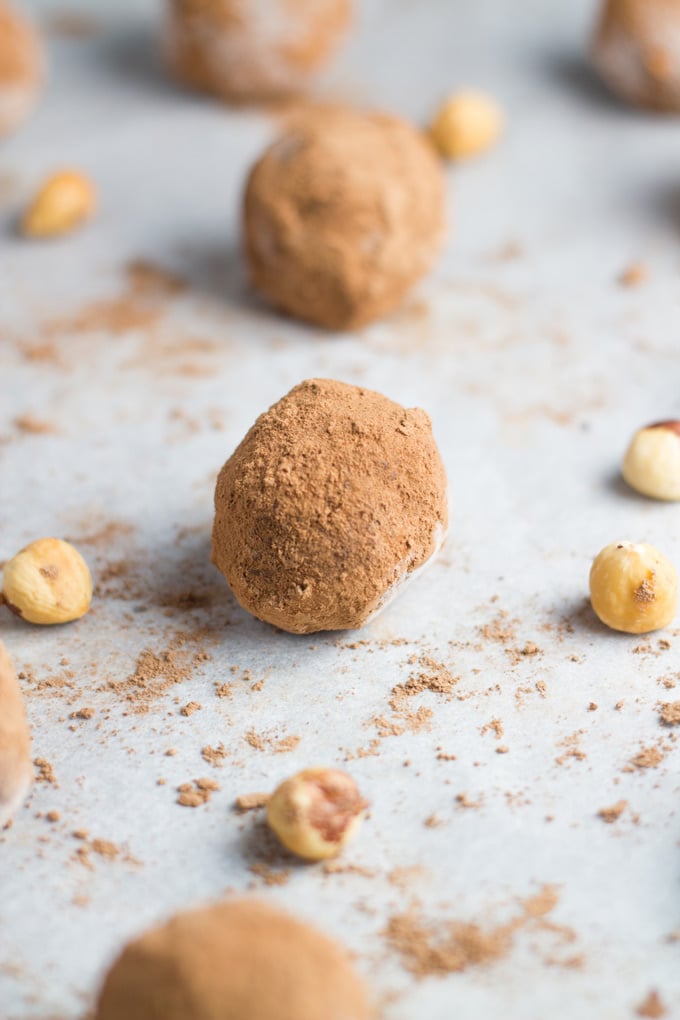 As you know, I have been in a truffle and bliss ball frenzy these past few months.
Some of the recipes that I have made include; Raw Chocolate Peppermint Truffles, Raw Caramel Macadamia Bliss Balls, Raw Carrot Cake Bliss Balls and NOW these Raw Nutella Truffles.
To be honest, I have been thinking about all my desserts and wondering whether I could turn them into bliss balls or truffles.
What I love about making bliss balls and truffles is that they are so easy to make.
You simply mix all the ingredients in a mixing bowl, blender or food processor and then simply roll into balls and place in the fridge or freezer to firm up.
Sometimes, you will find that the mixture is a bit too soft, so you need to firm up before you are able to roll into balls. But still, that is so much easier than preparing 2-3 layers, and the flavours are still amazing.
Back to these Raw Nutella Truffles. They are my amazing healthy interpretation of the uber popular chocolate nutty spread.
I hope you like.
Ness x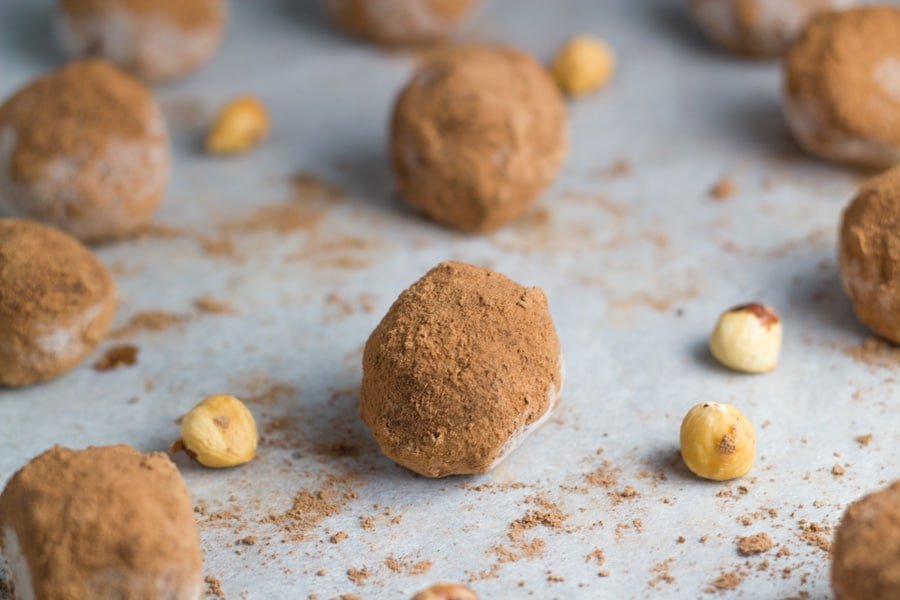 Yield: Makes 20 -24
Raw Nutella Truffles
Ingredients
200 grams raw hazelnuts
3 tablespoons cacao powder
8 tablespoons coconut milk
2 tablespoons organic maple syrup (or rice malt syrup)
1 teaspoon vanilla extract
¼ cup cacao powder (for coating)
Instructions
Preheat oven to 180 degrees celsius and line a baking tray with baking paper.
Once the oven has heated, place the hazelnuts in a single layer on the baking tray and bake for about 5 to 8 minutes until the skins have darkened and are easy to remove. Rub the hazelnuts between your hands or in a tea towel to remove as much of the skins as possible. Don't stress if you cant get all the skin off.
Place the hazelnuts into a high-speed blender and process until they form a smooth paste. Add in all of the other ingredients and process until combined and smooth. Place the mixture in a bowl and place in the freezer to firm up, approximately 1 hour.
Remove from the freezer and roll into small balls and then coat in the cacao powder. Place back in the freezer until ready to eat.
Notes
Store in an airtight container in the freezer and remove 5 minutes before eating.
The cook time does not include the time it takes for the truffles to set in the freezer.