This gluten free Christmas Fruit Cake is super easy to make, is made with healthy wholefood ingredient and is packed full of flavour.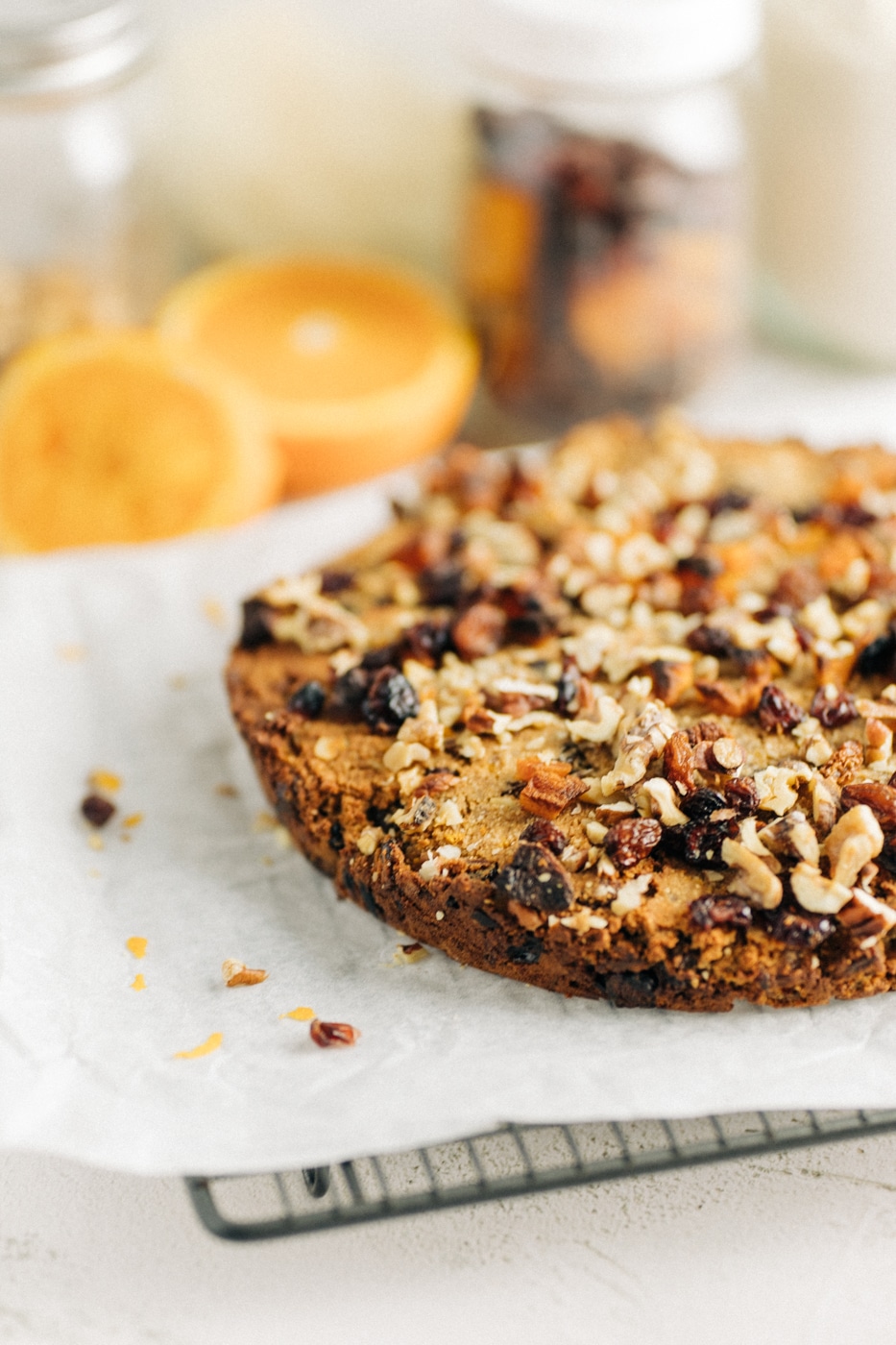 Who says you need to miss out on dessert at Christmas time when you can make this amazing gluten and dairy free fruit cake.
RECIPE FEATURES
Gluten free – is suitable for those with a gluten intolerance as it is made using almond meal and coconut four.
Dairy free – it is also suitable for those with a dairy or lactose intolerance.
Easy to make – this cake requires no soaking of fruit beforehand and only takes a handful of steps to make.
Healthy wholefood ingredients - which are easy to find at any supermarket, health food shop, market or online store.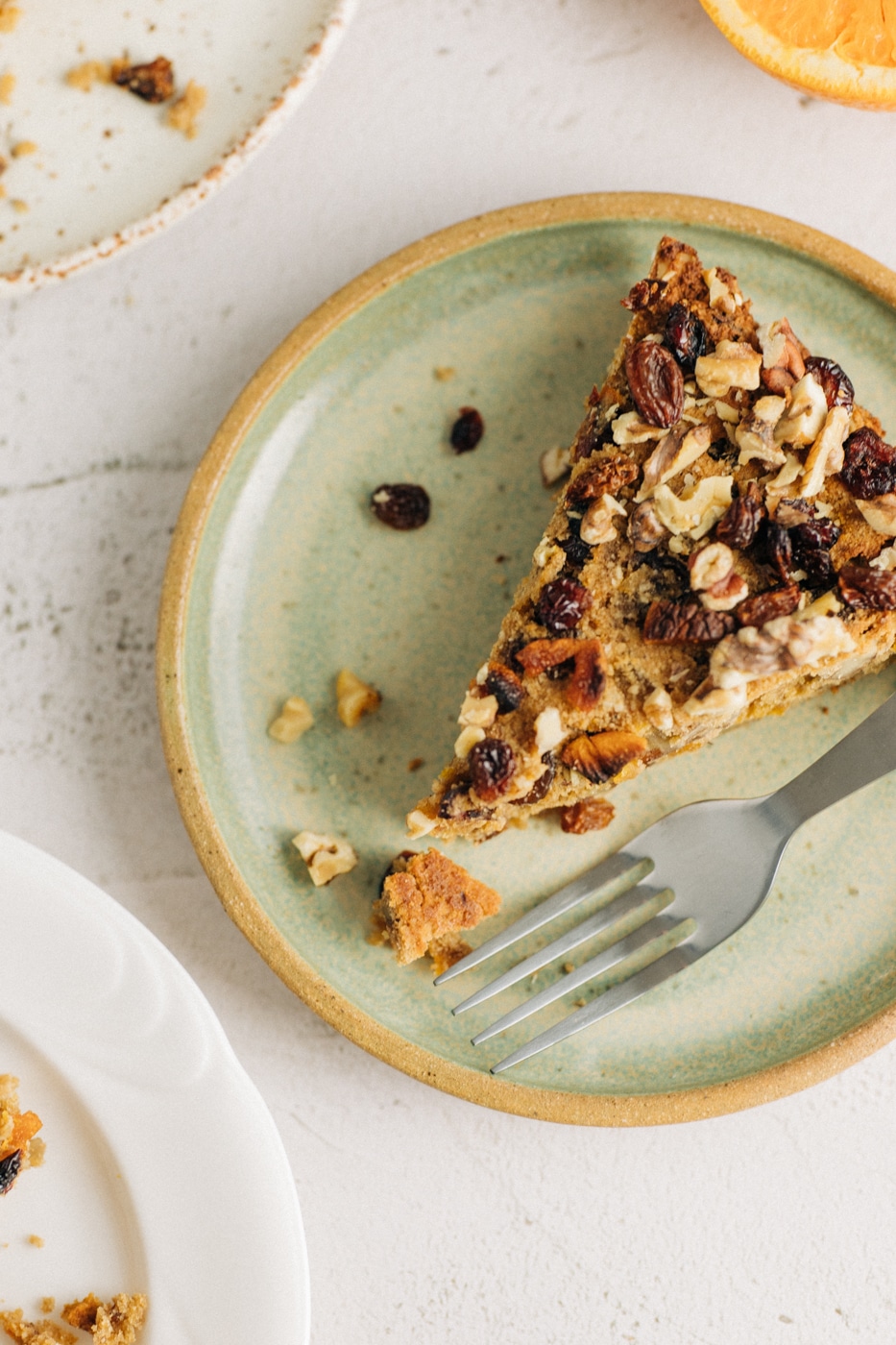 RECIPE INGREDIENTS
Dry Ingredients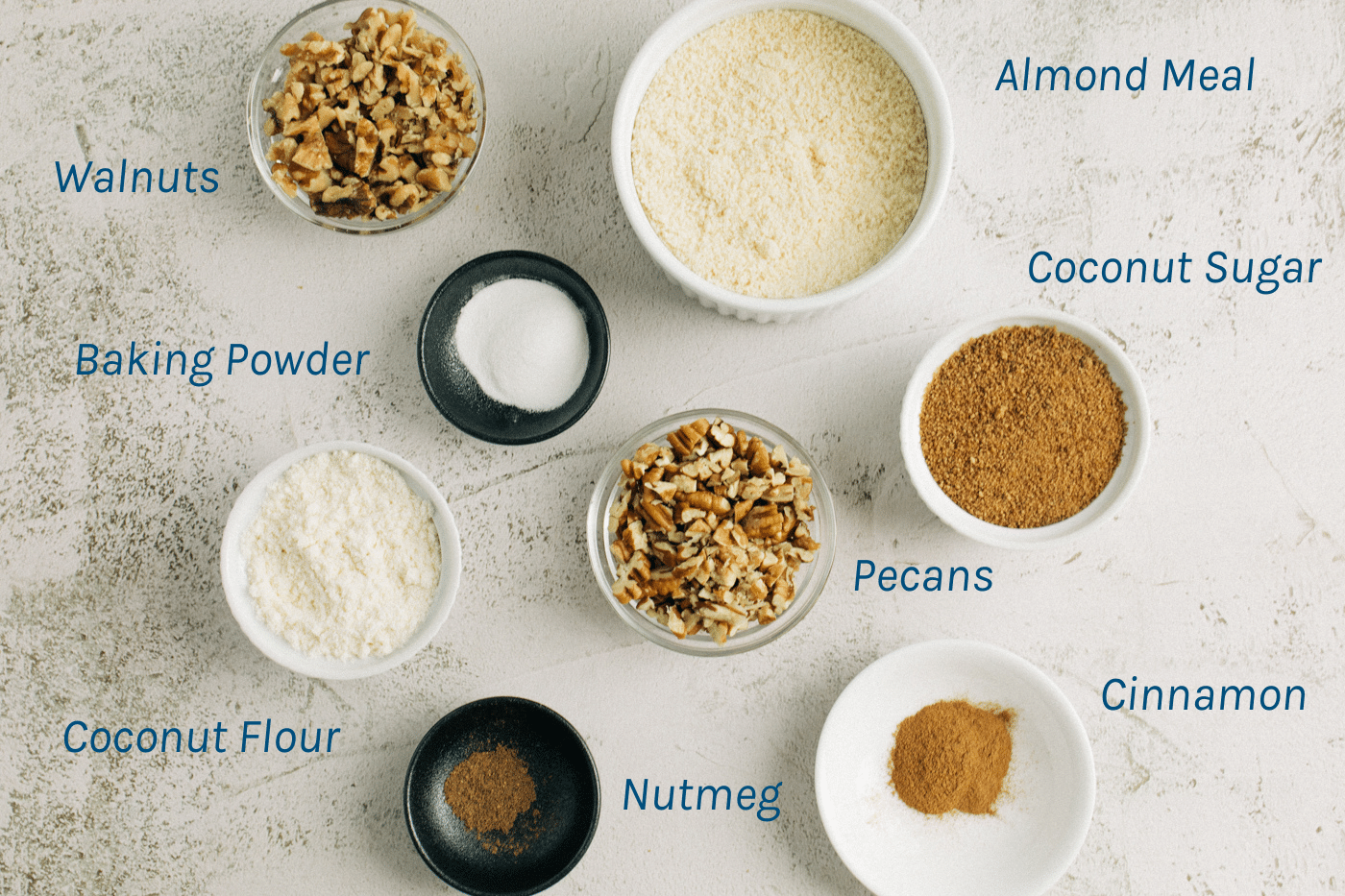 Pecans & Walnuts - you can substitute with any nut of choice.
Other Gluten Free flours - I have not tested this cake with other gluten free flours.
Fruit & Wet Ingredients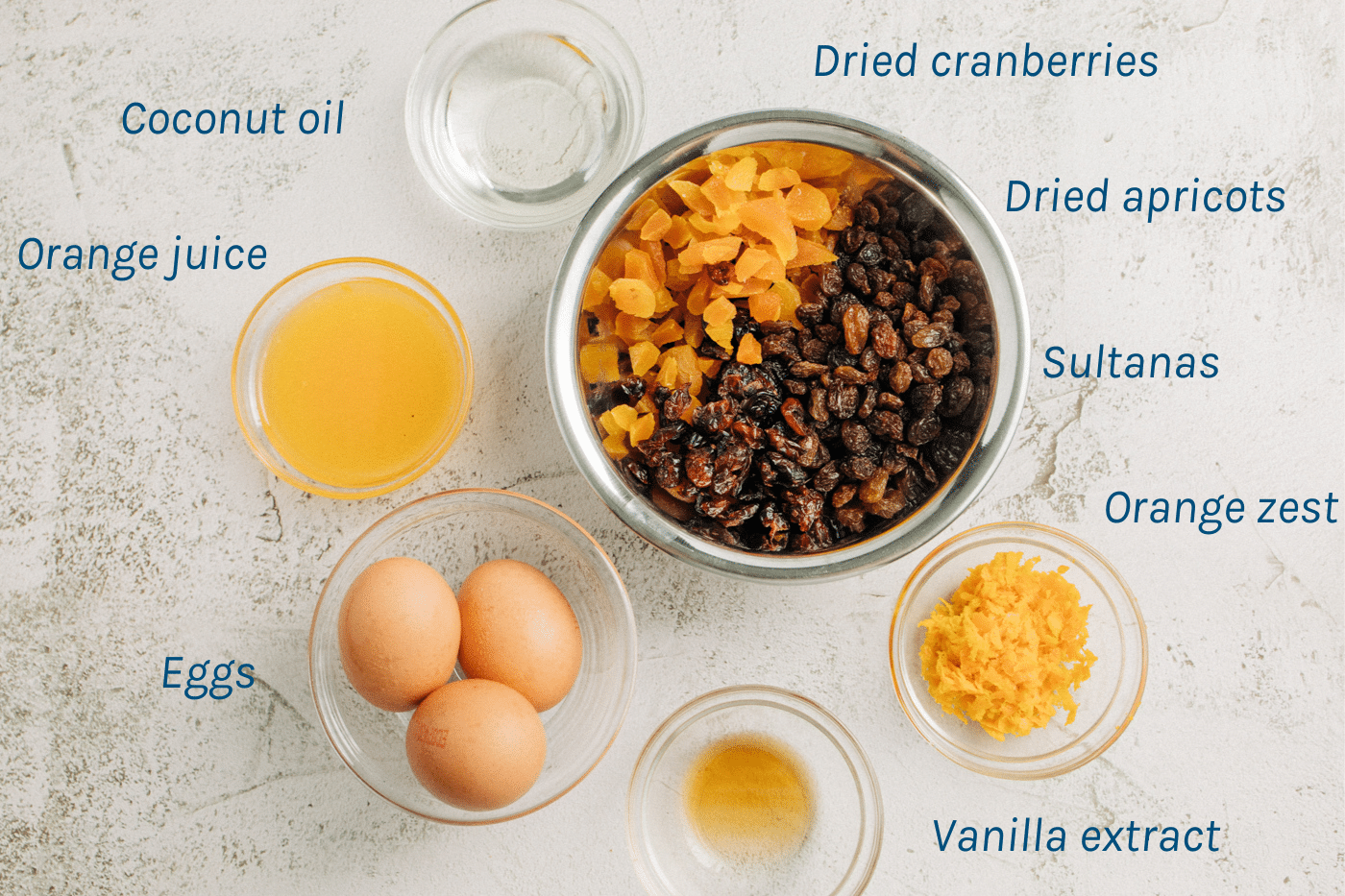 Dried fruit - you can use any dried fruit you wish. I chose dried apricots, dried cranberries and sultanas in my cake as they go really nicely together.
STEP BY STEP INSTRUCTIONS
STEP 1. Mix dry ingredients. Add ingredients to a large mixing bowl and mix well to combine.
STEP 2. Mix fruit and wet ingredients. Add ingredients to another mixing bowl and mix well to combine.
STEP 3.Combine wet and dry ingredients. Combine wet and dry mixtures and mix really well.
STEP 4. Cook cake. Spoon batter 20cm round tin and top with extra nuts and dried fruit and cook in oven for 60-70 mins, covering with foil for last 30 mins to prevent the top from overbrowning.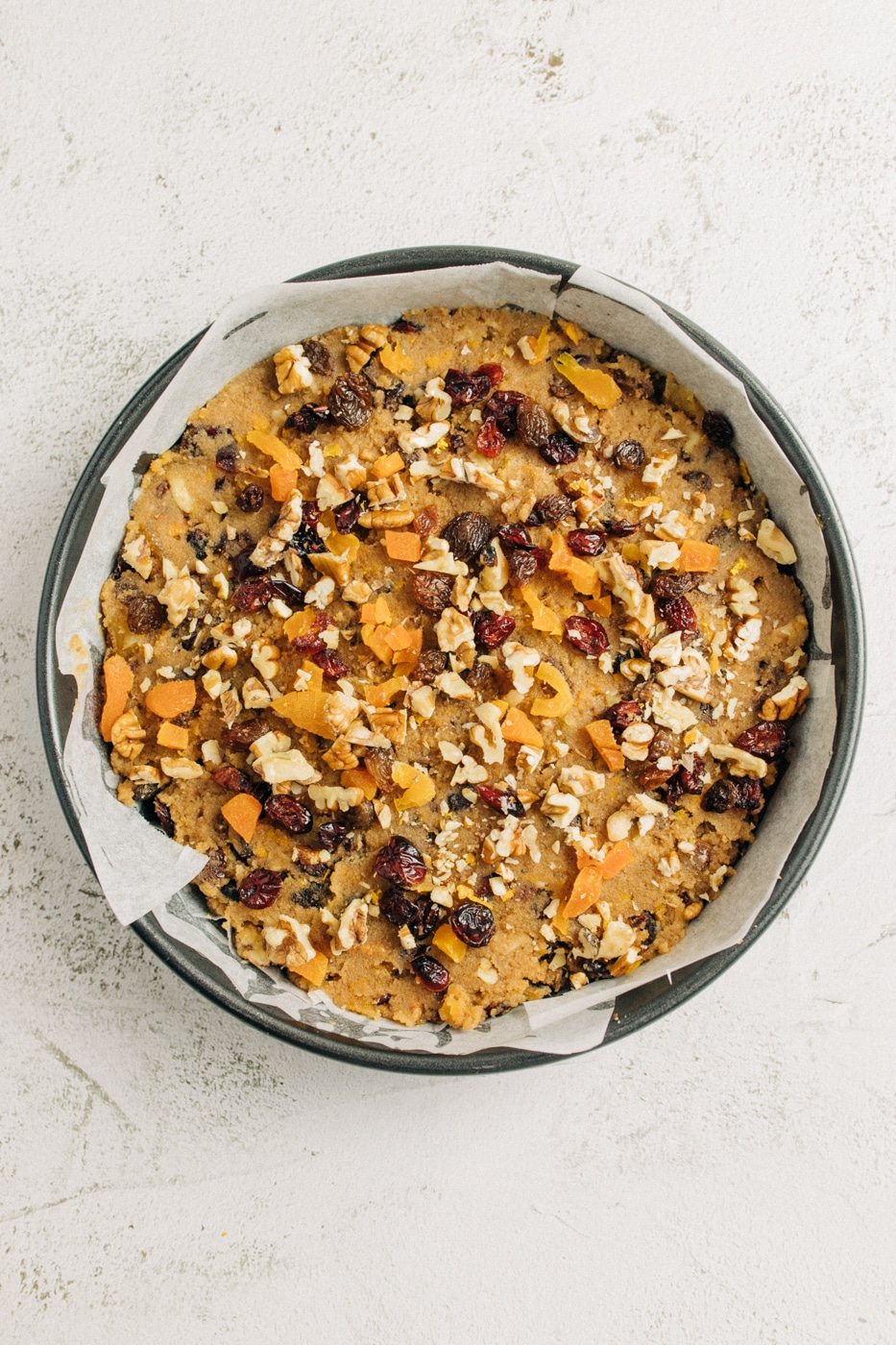 TIPS & FAQS
Soaking fruit and/or cake
I prefer not to soak the fruit cake, so that everyone in my family can enjoy it, however if you are wanting add some alcohol, I have included an optional step in the recipe notes below
Cake tin
I used a 22cm round cake tin to make this fruit cake, however you could use a square tin. Any size from 18cm - 22cm will work.
Storage
You can store this cake for ages in the fridge (up to 3 months) and in the freezer (up to 1 year).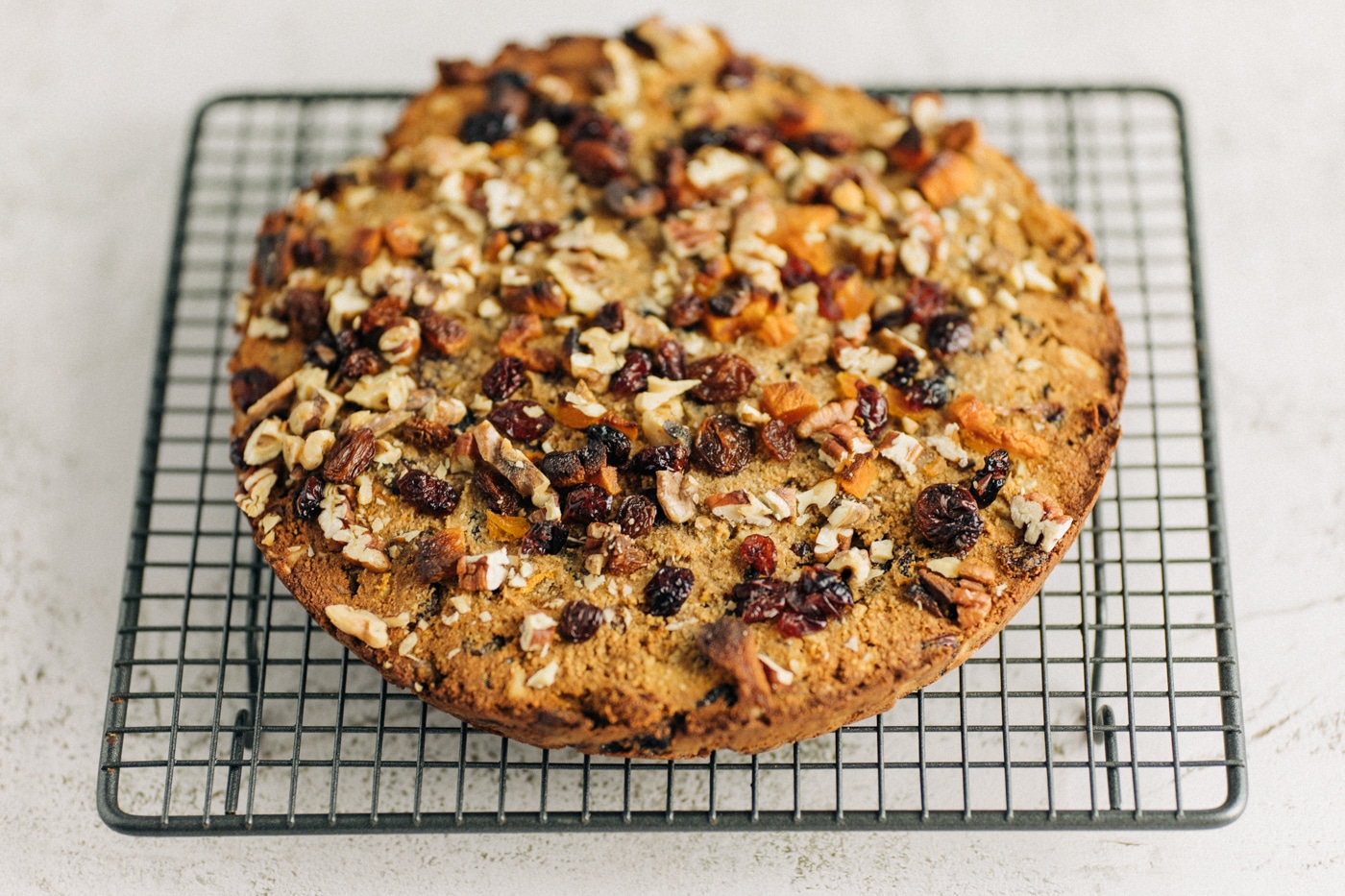 MORE CHRISTMAS RECIPES TO TRY
---
Want More? Subscribe to my newsletter or follow me on Facebook, Pinterest or Instagram for all my latest recipes and updates.