These easy to make Gluten Free Christmas Desserts will be a hit with your family and friends over Christmas. There are cakes, cookies, meringue and of course rocky road.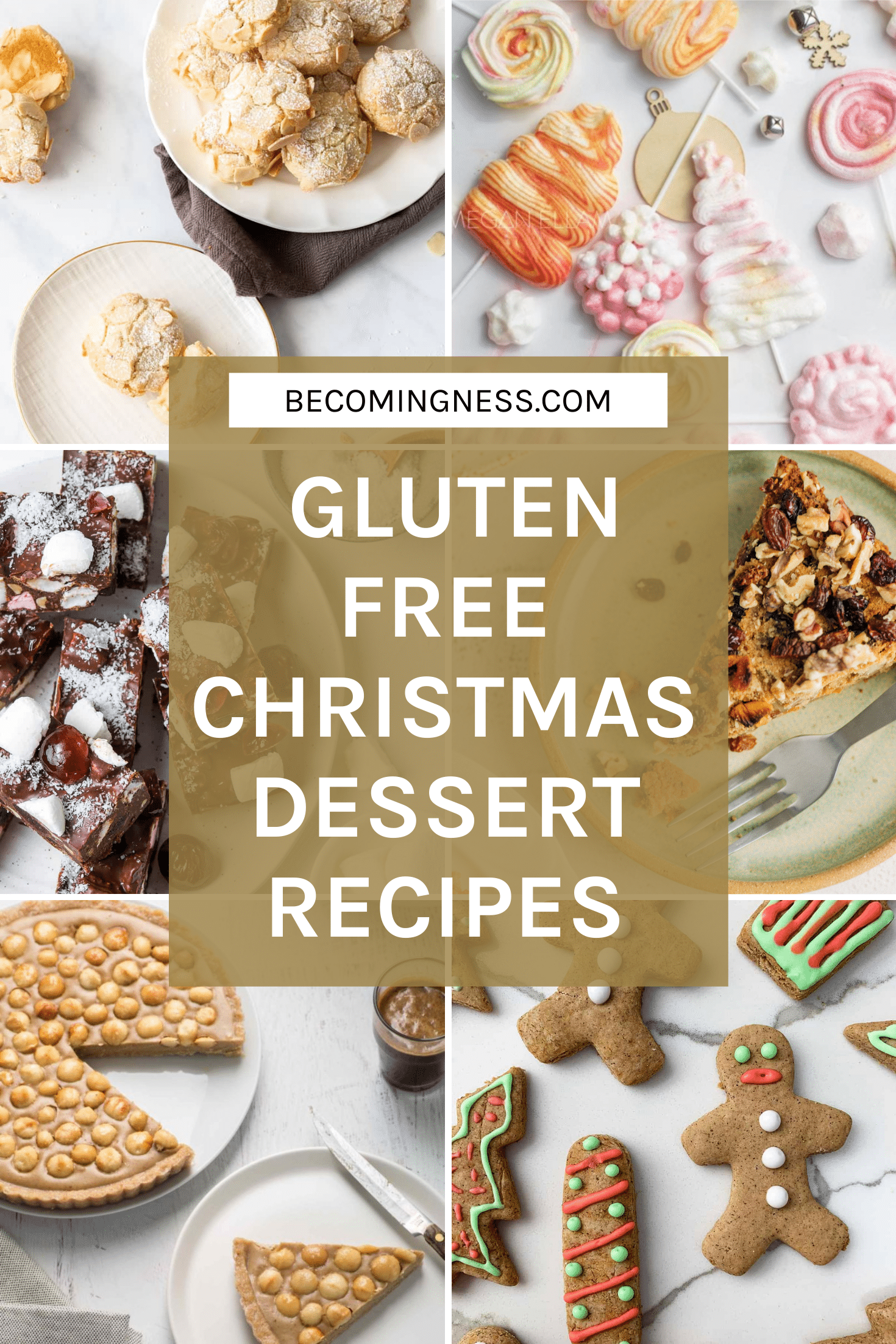 There are so many options when it comes to what desserts you can make on Christmas day, like Gluten Free Christmas Fruit Cake, Dairy Free Berry Trifle, or even Homemade Ferrero Rocher Chocolates.
Some desserts require a lot of preparation and that can be hard when you are busy. But you can still make some really impressive and tasty desserts with minimal preparation time.
This collection of Christmas recipes have been put together for anyone that is stuck on time. There are lots of different delicious options that you can make and they can be made at the very last minute.
Photo Credit: www.mrsjoneskitchen.com
These Italian almond cookies with crispy shells, called Ricciarelli, are made with almond meal, flavoured with orange zest, and are a delicious gluten free Christmas biscuit.
Photo Credit: itsnotcomplicatedrecipes.com
This easily made, no-bake slice is popular with adults and children alike. It is ideal for an afternoon sweet treat, serve with coffee after dinner, make some for a bake sale or package in cellophane bags as very welcome gifts.
This gluten free Christmas Fruit Cake is super easy to make, is made with healthy wholefood ingredient and is packed full of flavour.
Photo Credit: themerrymakersisters.com
This salted raw caramel macadamia tart is grain free, dairy free and refined sugar free.
Photo Credit: www.abakingjourney.com
This naturally gluten-free Pear Cake makes a great Autumn and Winter dessert to enjoy with your afternoon tea or serve as a dinner party dessert.
Photo Credit: www.keep-calm-and-eat-ice-cream.com
These buttery sweet gluten free shortbread cookies are a delicious update on traditional shortbread cookies. Made with gluten free flour that are perfect for those who can't have gluten.
Photo Credit: plantbasedfolk.com
This gluten free gingerbread cookie recipe is simple to make which can be baked to yield hard or soft & chewy cookies.
Photo Credit: www.mrsjoneskitchen.com
Zimtsterne, 'cinnamon stars', are traditional German Christmas cookies made from ground almonds (almond meal), eggs whites, sugar and cinnamon.
Photo Credit: madcreationshub.com
These Keto Meringues will blow your mind. 0 carb and no baking involved! This amazing recipe gives you the best crispiest sugar free meringue.
Photo Credit: itsnotcomplicatedrecipes.com
My Almond Cookies are an easy and delicious recipe to make, and best of all, they are both gluten-free and dairy-free.
This gluten free flourless orange and almond cake is moist and packed full of delicious flavour. It is made using simple ingredients and is one of the easiest cakes to make.