These delicious Christmas Mince Pies by Pete Evans will be a hit at Christmas and best of all they are gluten, dairy & refined sugar free.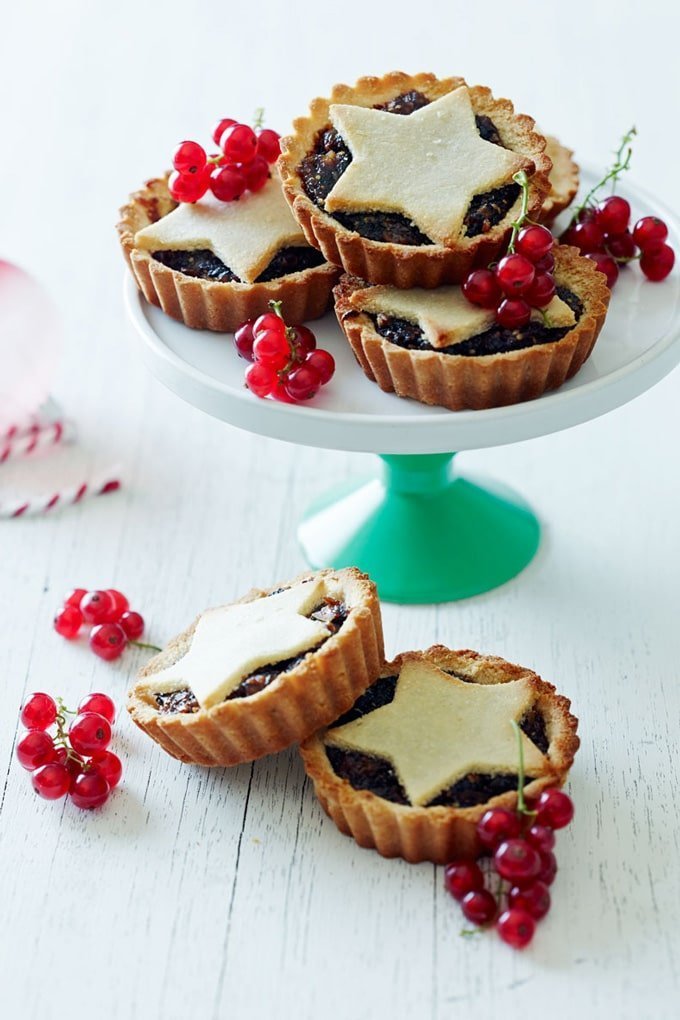 Welcome to my Christmas Recipe Series, where I will be sharing recipes from some of my Friday Foodies, as well as a few from myself.
Be prepared for healthy, mouth watering recipes that will help you to cater for all your festive season parties, dinners and get together's. Each recipe is gluten, dairy and refined sugar free.
These Christmas Mince Pies appear courtesy of Pete Evans.
What Pete says:
"Cinnamon spice and all things nice go into mince pies.
It seems to be a bit of a tradition for handing out mince pies to family members and friends, so why not up the ante and make some gluten-, dairy-and refined-sugar-free ones and get them thinking.
I guarantee everyone will be asking you to share the recipe because they will want to create something that an uncle or cousin or someone who has a food intolerance or allergy can eat as well.
The pastry in this recipe can also be used as a savoury pastry that you can use for pies and quiches. Simply omit the honey and add a few pinches of sea salt."
MORE CHRISTMAS RECIPES TO TRY
Crispy Skinned Salmon with Strawberry Basil Pistachio Salsa
Yield: Makes 10
Christmas Mince Pies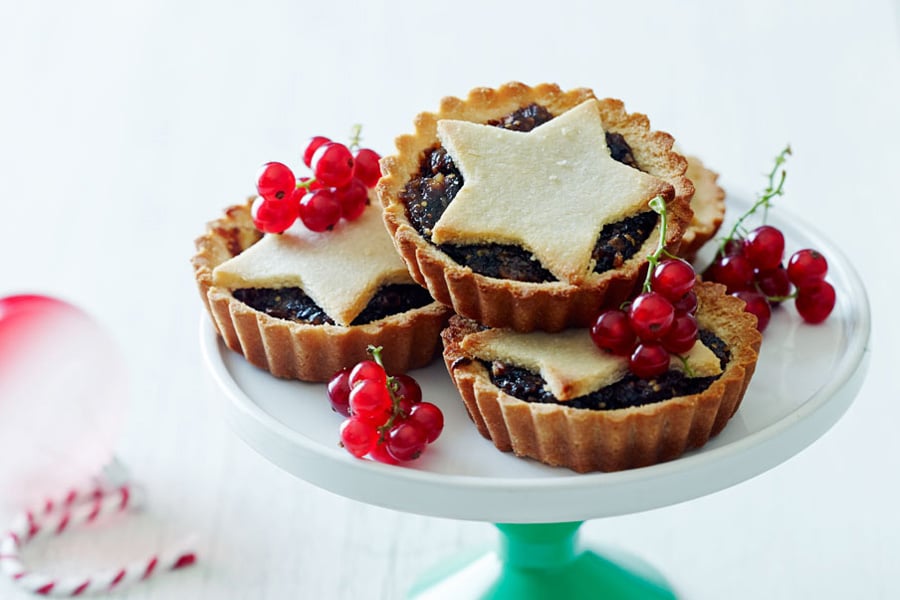 These delicious Christmas Mince Pies by Pete Evans will be a hit at Christmas. Best of all they are gluten, dairy & refined sugar free.
Ingredients
Sweet Pastry
100 g (1 cup) almond meal
100 g (⅓ cup) coconut flour
60 g (½  cup) arrowroot
210 ml coconut oil, chilled
6 tablespoons honey or coconut sugar
2 eggs
Mince Filling
100 g raisins
100 g sultanas
50 g dried cranberries
50 g (⅓ cup) currants
50 g golden sultanas
1 granny smith apple, core removed, finely chopped
100 g pineapple, chopped
3 tablespoons honey
1 teaspoon ground cinnamon
½  teaspoon freshly grated nutmeg
½  teaspoon ground ginger
zest and juice of 2 oranges
Instructions
To make the sweet pastry, mix the almond meal, coconut flour and arrowroot in a bowl. Cut the coconut oil into small pieces and work it into the almond meal mixture using your fingertips to form fine crumbs. Add the honey and eggs and mix until it forms a dough. Transfer to a surface dusted with arrowroot and knead until smooth (the dough will be slightly sticky). Wrap the dough with plastic wrap and refrigerate for 30 minutes, or until it is firm enough to roll out. (The dough can be stored refrigerated for up to 1 week and in the freezer for up to 3 months.)
To make the mince filling, place all the ingredients in a saucepan over low heat and stir to combine. Gently simmer, stirring occasionally, for 30 minutes. (Do not boil or it will burn and become bitter.) Turn off the heat, transfer the mixture to the bowl of a food processor and pulse a few times until coarsely chopped. Set aside to cool.
Preheat the oven to 160°C. Grease ten 7.5 cm flan tins.
Place the dough between two sheets of baking paper and roll out until 5 mm thick. Transfer the pastry and baking paper to the refrigerator, and chill for 5 minutes to slightly firm. Remove the top layer of baking paper and, using a 9 cm round cutter, cut out 10 rounds. Reroll the offcuts and cut out ten 7 cm star shapes.
Line the prepared flan tins with the pastry rounds and trim to ensure you have smooth clean edges. Because this dough does not contain gluten it will feel quite different to regular dough and may crack a little more easily. If cracks do form when lining the tins, simply bind the dough together with your fingers to seal. Add 2 tablespoons of mince to each pastry case and spread with the back of a spoon until level. Place a pastry star on top of each pie and transfer the pies to a baking tray. Bake for 15 minutes, or until the pastry is golden. Set aside for 5 minutes to cool before removing from the tins and transferring to a wire rack to cool completely.
Notes
This recipe is from www.thepaleoway.com... 
The Paleo Way 10 Week Activation Program is a vibrant health, weight management and fitness program, tailored to a Paleo lifestyle. It teaches you the synergy between eating good food, moving your body every day and looking at the positive sides to life. The secrets to a healthier and happier life. 
Reclaim your health at www.thepaleoway.com
More about Pete
Pete is the only person who cares and talks this much about food. Which sees him right at home in his career as both an internationally renowned and household name chef. A love of food saw Pete begin his career as chef and restaurateur at the age of 19, opening numerous award-winning restaurants nationally as well as cooking in some of the finest restaurants globally.
Pete has not only cooked for the general public, but he's also cooked a royal banquet for the Prince and Princess of Denmark, a private dinner for Martha Stewart, and even represented his hometown at the gala G'Day USA dinner for 600 in NYC.
Pete's career has moved from the kitchen into the lounge room with many TV appearances including Lifestyle Channel's Home show, Postcards from Home, FISH, My Kitchen Rules, Moveable Feast, and his latest The Paleo Way… stay tuned for Food is Medicine which is in pre-production now!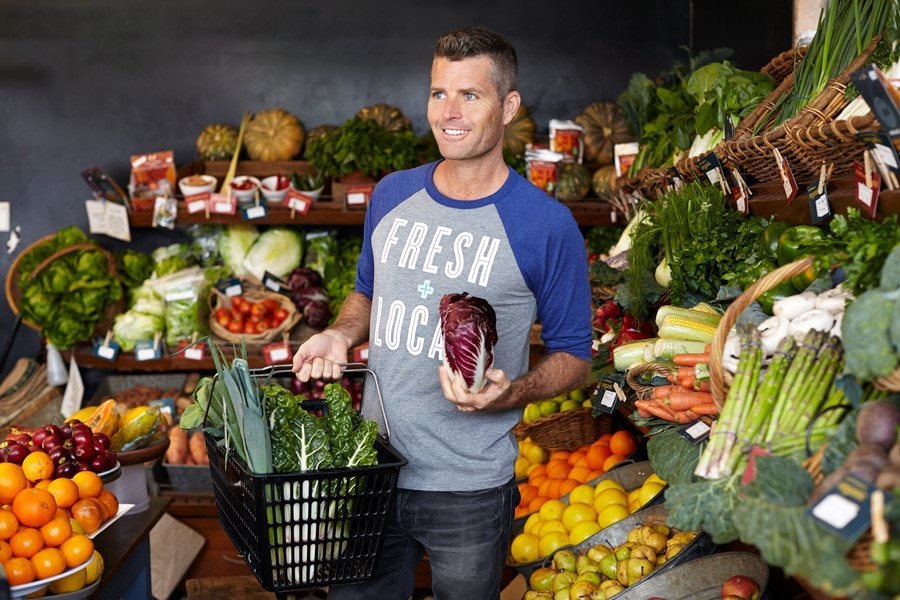 It's safe to say he knows his stuff, with over 10 bestselling cookbooks inspiring individuals and families in their kitchens around the world.
Pete's also a simple guy. He loves his family, the ocean, surfing and maintaining his own healthy lifestyle. When he changed his life to The Paleo Way of living, an abundance of mental, physical, and emotional changes followed. This paved the way for Pete's belief that food can be medicine, and that it should be our first port of call for a healthier life.
They say the proof is in the pudding, and if hearing Pete speak about The Paleo Way isn't enough to get you excited, almost nothing will.
As a certified health coach with qualifications from the Institute for Integrative Nutrition, Pete wants to change the lives of everyone around him, including you.
To keep up to date with Pete's adventures, recipes and information, follow him via the website -peteevans.com