This delicious no-bake naw nutella slice is made with my version of the super popular choc nutty spread. But with way less sweetener (non-refined too) plus it is super easy to make. Nutella slice for the win!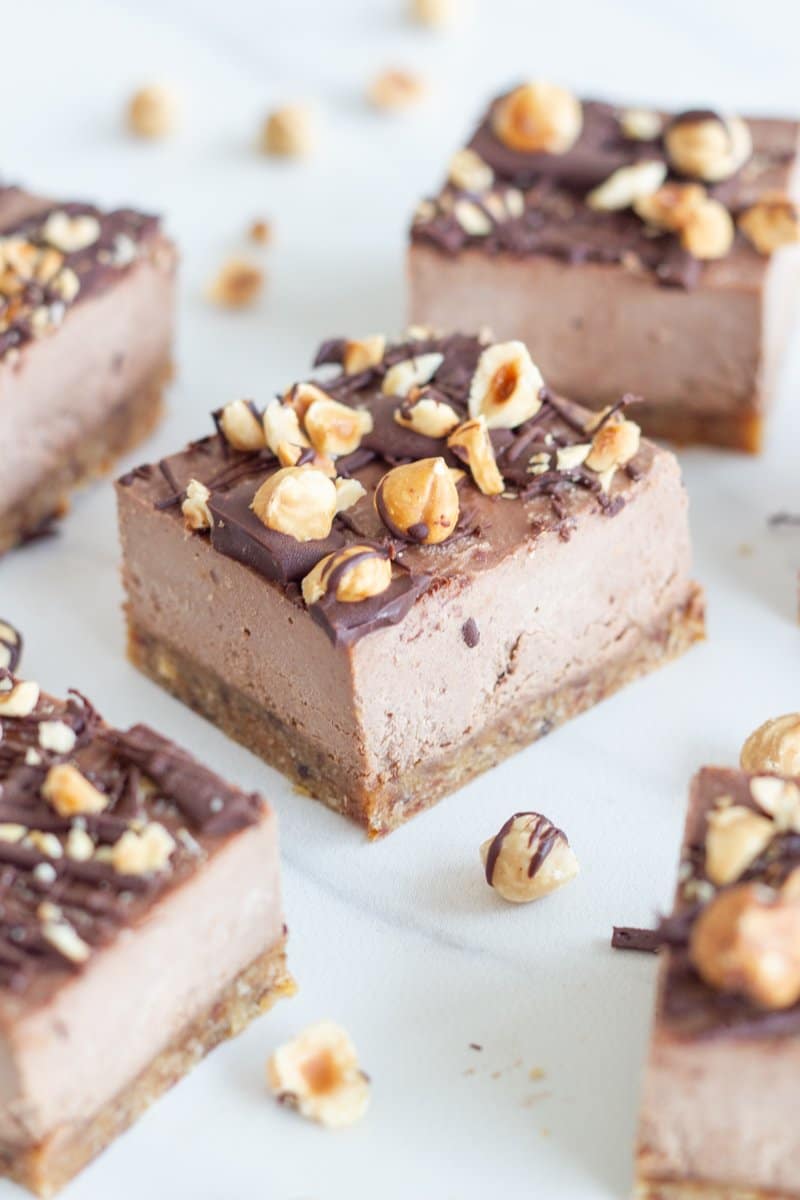 I grew up eating Nutella and fondly remember when I used to sneak into the pantry with a spoon and eat it straight out of the jar. I wonder if my mum ever knew this?
These days I try to avoid processed foods wherever possible and sadly this hazelnut spread fits in this category.
Nutella contains more than 50% sugar and is on par with store bought chocolate. The two ingredients that you would think (or hope!) make up the majority of this product, hazlenuts and cocoa powder, only make up approximately 20%.
RECIPE FEATURES
Gluten & Dairy Free - suitable for people with gluten and dairy/lactose intolerances.
Easy to Make - this recipe involves three layers which are all very easy to make. All you need is a food processor or a high speed blender to make each layer.
Healthy wholefood ingredients - which are easy to find at any supermarket, health store, food markets or on-line store.
RECIPE INGREDIENTS
BASE
Medjool dates - if you use regular dates, the base most likely will not stick together
Almond meal
Sea salt
NUTELLA LAYER
Raw hazelnuts (with the skin off)
Raw cacao powder
Coconut cream
Maple syrup
Vanilla extract
OPTIONAL TOPPINGS
Organic dark chocolate
Crushed roasted hazelnuts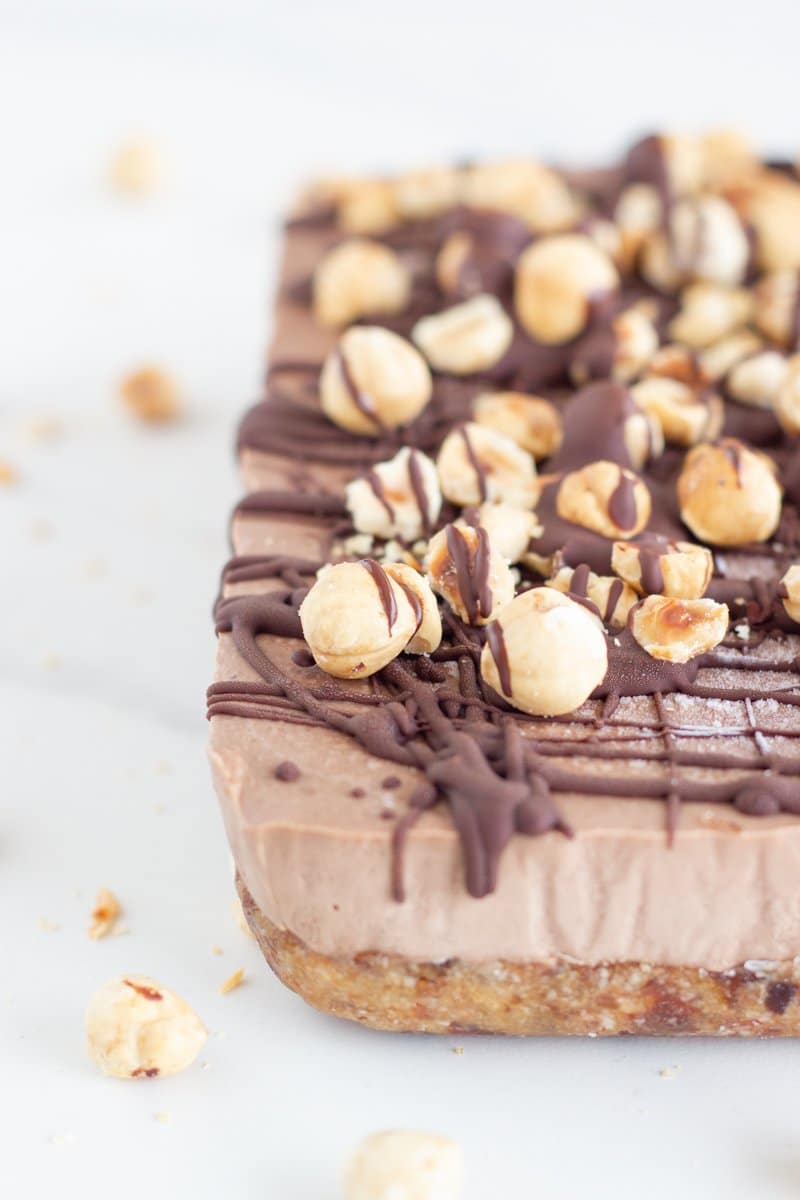 TIPS & FAQS
What are the best dates to use to make the base?
I highly recommend using Medjool dates to make the base of this raw slice. Medjool dates are sticky so they really bind together all the ingredients really well.
If you use regular dates, you will most likely find that the mixture will not hold and you will need to use a little bit of coconut oil or nut butter for the base to stick together.
How to make the topping awesome?
You can drizzle melted organic dark chocolate and add some crushed roasted hazelnuts on top. This is great if you wanted to make it look that extra it more special. Especially if you are going to serve it to guests!
Check out The Spruce Eats for some tips on melting chocolate.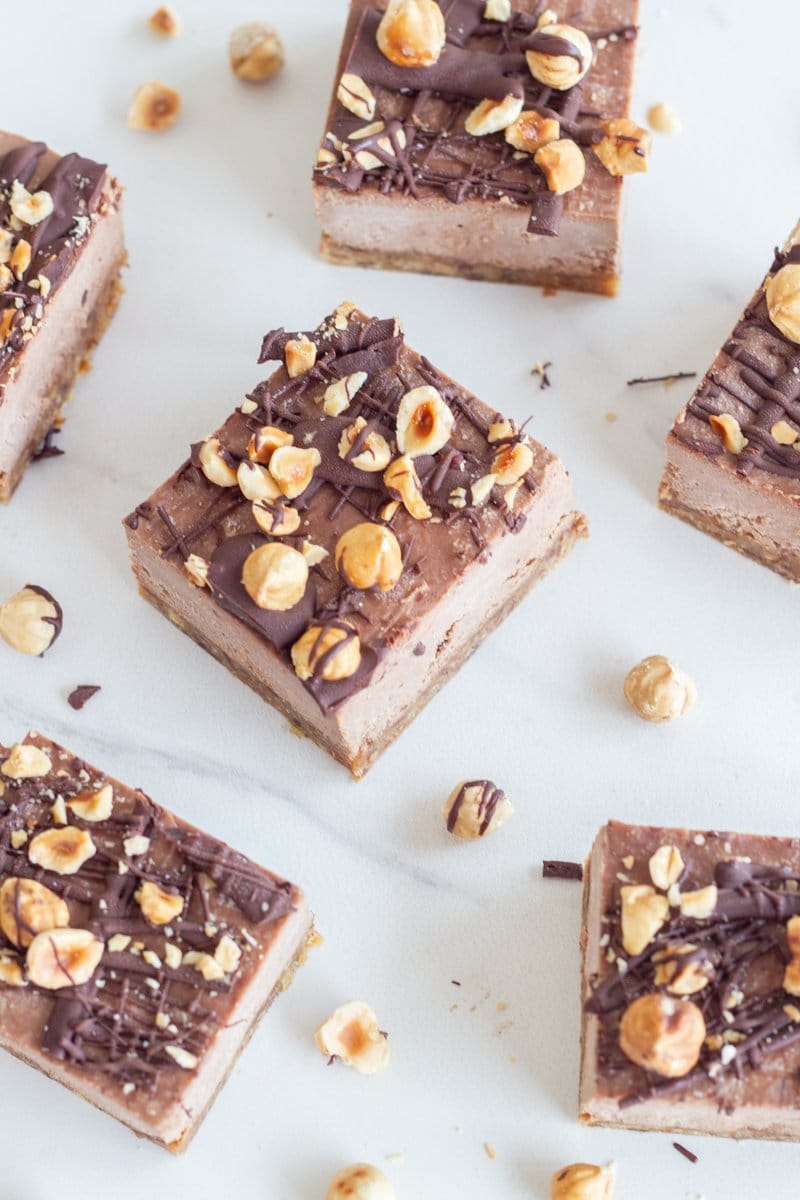 Looking for other raw slices to make? Try these:
BEST EVER RAW CARAMEL BROWNIE SLICE
Lastly, I would love to hear from you if you make this recipe. You can either leave a comment and/or give this recipe a rating! If you do make this recipe, please tag me on Instagram! It really makes my day when I see your creations of my recipes.
RELATED RECIPES
Want More? Subscribe to my newsletter or follow me on Facebook, Pinterest or Instagram for all my latest recipes and updates.