Raw Berry Chocolate Brownie Slice
This Raw Berry and Chocolate Brownie Slice combines your favourites berries with a raw brownie base.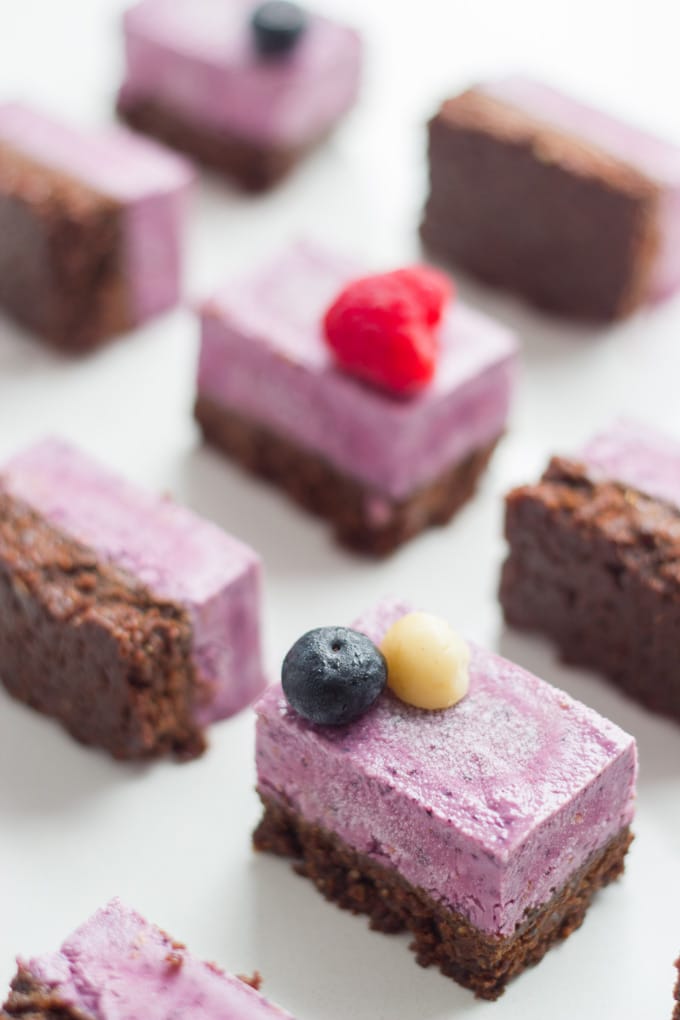 I have been working on this dessert for a few weeks now and have made a few different versions.
Originally, the chocolate layer was a lot thinner and there was more of the berry layer.
I think this version is much better and provides a good balance of the chocolate and the berries.
This slice is also gluten and refined sugar free and also vegan and paleo friendly.
Yield: Makes 20 - 24
Triple Berry and Chocolate Slice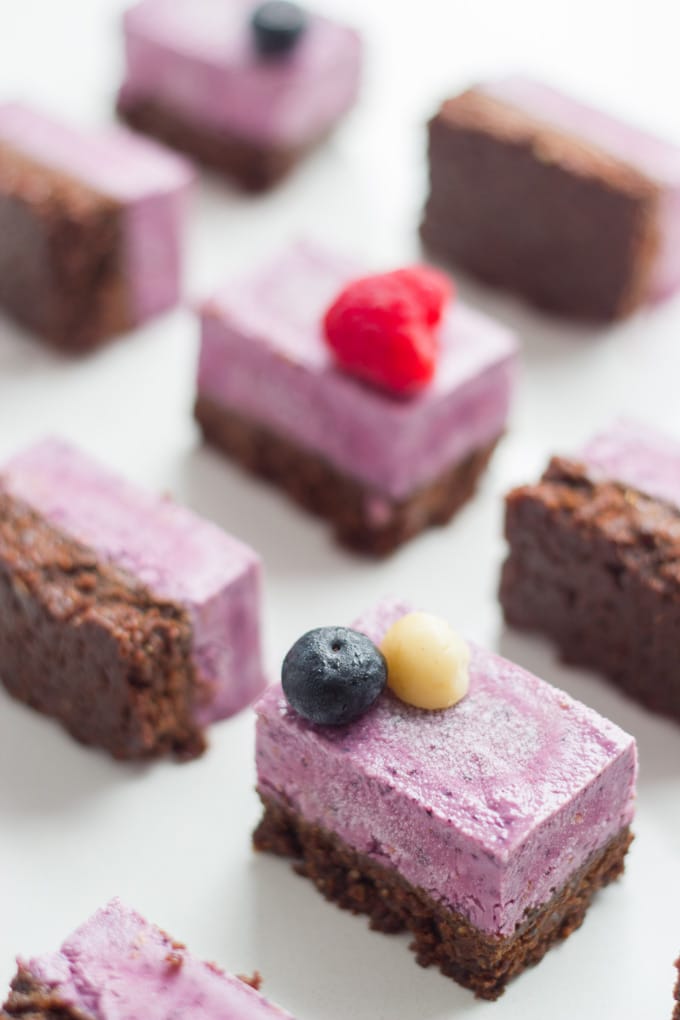 This Raw Berry and Chocolate Brownie Slice is a WINNER!!! It is packed full of flavour and super healthy too!
Ingredients
Chocolate Layer
2 cups pecans (walnuts also work)
1 + 1/2 cups medjool dates (or soft organic dates)
1/3 cup raw cacao powder
1 teaspoon vanilla paste (or extract)
Pinch of sea salt
Triple Berry Layer
1 + 1/2 cups raw macadamias (or cashews), soaked for a minimum 4 hours
1/2 cup fresh strawberries, washed and tops removed
1/2 cup fresh raspberries, washed
1/2 cup fresh blueberries, washed
1/2 cup pure maple syrup
1/2 cup coconut milk (canned variety preferably)
1 teaspoon vanilla paste or extract
Instructions
To make the chocolate layer, process the pecans in a food processor until they resemble fine crumbs. Next, add the cacao powder, vanilla and sea salt and process until well combined. Then, add the dates and process until a sticky dough is formed. Spoon mixture into a lined square baking tin and smooth with the back of a spoon
For the triple berry layer, place all the ingredients in a food processor and process until the mixture is smooth. Pour over the chocolate layer and place in the freezer for a minimum two hours to set.
Remove 5 minutes prior to serving to allow it to thaw a little.
Notes
Keep stored in the freezer
The cook time does not include the time it takes for the slice to firm up in the freezer, approximately 2 hours.