Stuffed Beef Tenderloin. A absolutely delicious and suprisingly easy meal to make!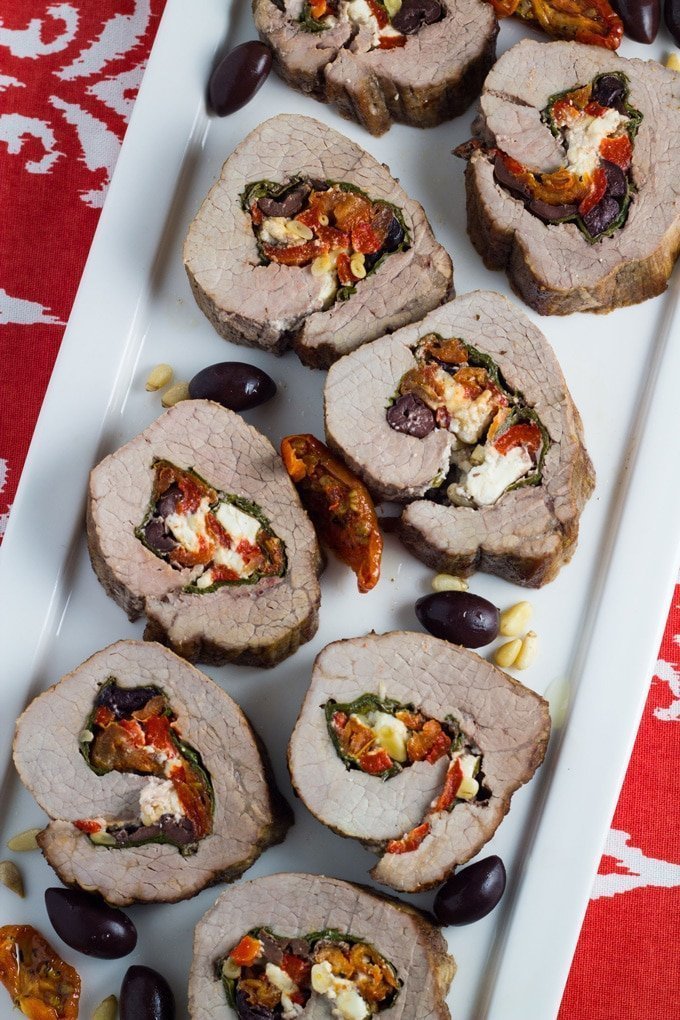 I have to be honest here: I love my Mum's Stuffed Beef Tenderloin. I loved it as a child and I still love it now.
I am really lucky that my mother is an amazing cook and this is one of the many awesome meals that she would (and still does) whip up in the kitchen.
Up until recently, I had never made it myself, but I always knew it would be an important dish to revisit on my journey to share classic recipes with you (particularly the ones I grew up eating).
HOW TO MAKE
I need to explain the preparation process as it can be tricky. I was lucky enough to have my mother come over and show me the first time that I made it. Which made it so much easier when I made it again recently.
You need to take care when preparing the beef  – you need to cut horizontally through the center of the beef tenderloin, cutting to – but not through – the other side. Then you open it flat like a book and then cover with cling wrap and flatten with a meat tenderizer.
There are several other ways that you can cut the beef tenderloin to get the same result, but I think that this is the easiest one for me to explain in this post.
Once you flatten the beef tenderloin, you need to place the other ingredients on top (like shown in the picture below), making sure you leave some space free at all the ends (like shown). Once you have placed all the ingredients, you then roll it up and secure it with either toothpicks or kitchen twine.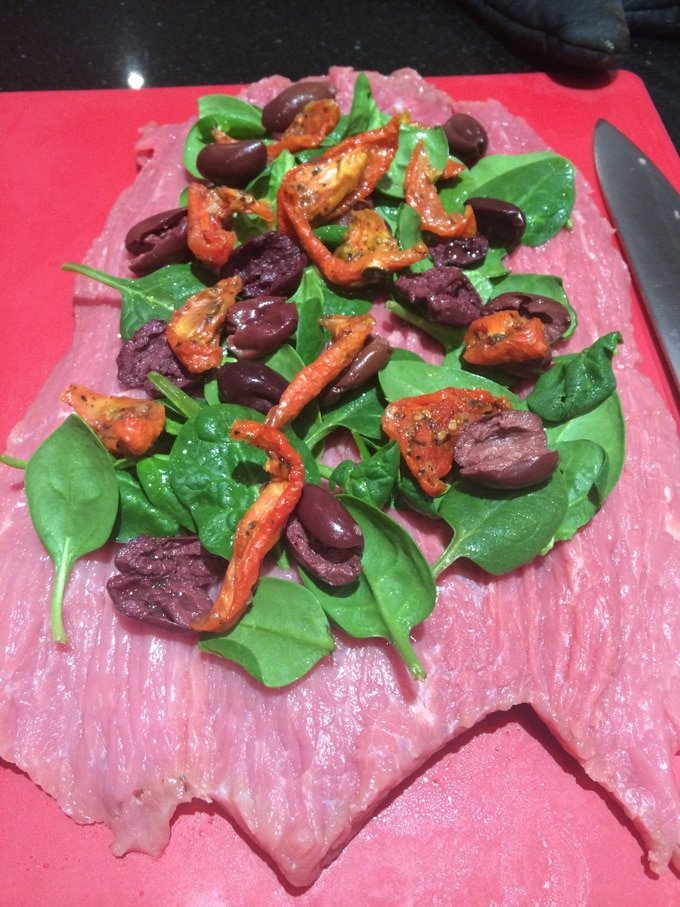 I hope you enjoy making this dish. There are many other stuffing variations that I plan on bringing you over time, but this one has a great combination of flavours. Putting this one in the memory back for the next time we have guests!
Ness xo
Yield: dependent on size (1kg serves 4-6)
Stuffed Beef Tenderloin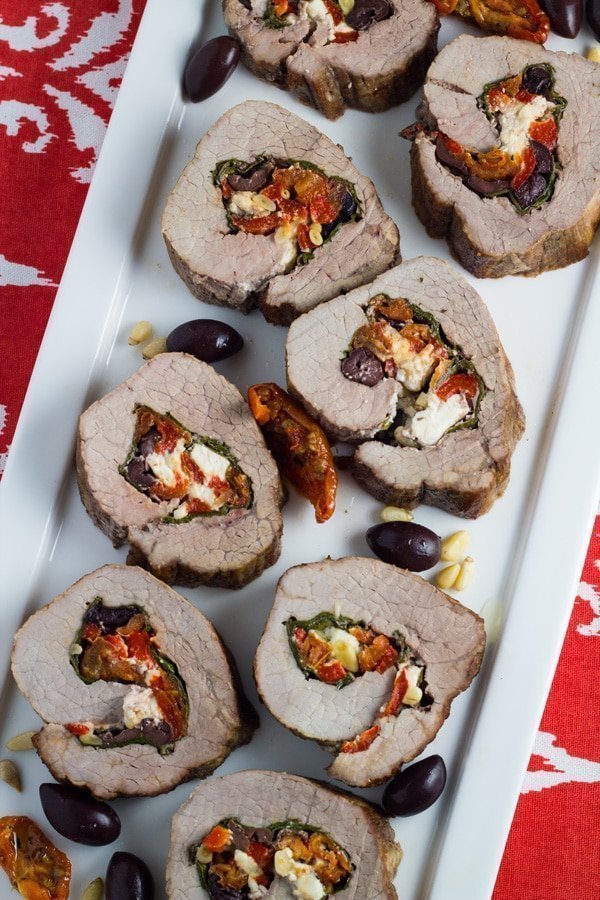 Ingredients
1 beef tenderloin (grass fed, grass finished, approximate size 1 - 1.5 kg), trimmed
1 cup baby spinach
1 small red capsicum, roasted, peeled, seeded and sliced thinly
16 Kalamata olives, pitted and sliced in half
12 semi dried tomatoes
1/3 cup pine nuts (optional - nut free version)
1/2 cup crumbled feta or parmesan cheese (optional - dairy free)
1-2 tablespoons olive oil
Salt and pepper, to season
Instructions
Pre-heat oven to 215 degrees Celsius.
Cut horizontally through the center of the beef tenderloin, cutting to, but not though the other side. Open flat like a book and then cover with cling wrap and flatten with a meat tenderiser.
In the following order, place the baby spinach, red capsicum, semi-dried tomato, Kalamata olives, pine nuts and feta cheese (or grated parmesan).
Tightly roll up beef, beginning with long side and either pin with toothpicks or secure with kitchen twine, making sure the stuffing is secure.
Rub olive oil over the surface of the meat. Season with salt and pepper.
Place in a baking tray and bake, uncovered for 40 - 55 minutes depending on how you like your meat cooked. The meat thermometer should read 60°C; rare, 71°C; medium, 77°C well done.
Remove from the oven and let the meat rest for 15 minutes before serving.
Serve and enjoy.
Notes
You may need to increase or decrease the quantities of the ingredients, based on your size of your beef tenderloin.