These raw blueberry slice bites are made with three amazing layers and are gluten free, dairy free and refined sugar free.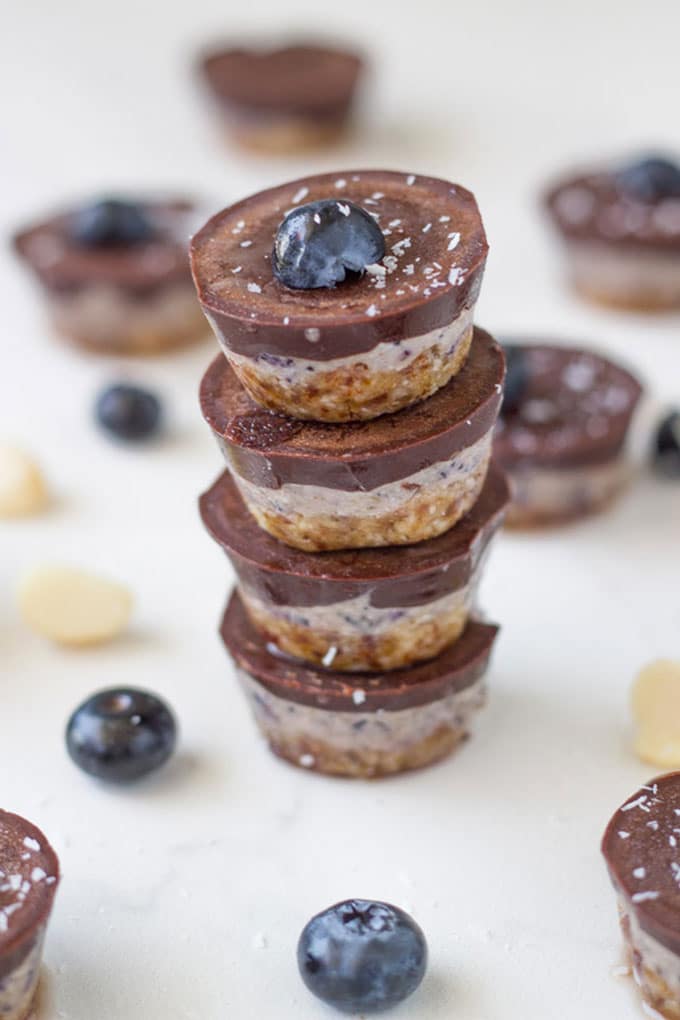 What can I say about these raw blueberry slice bites!
I love making raw treats! They are my favourite recipes to make!
I have shared so many different flavour combinations over the past few years, with my favourites so far being: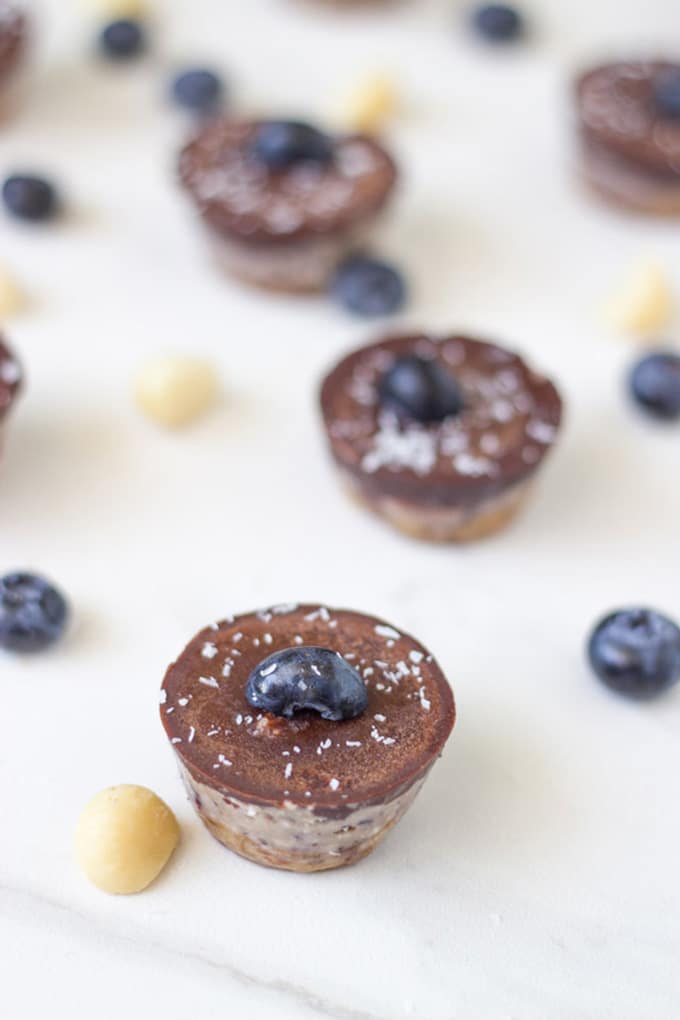 Chocolate and blueberry can now be added to that list.
So yummy!!
As usual, these raw blueberry slice bites are gluten, dairy and refined sugar free, as well as being suitable for vegan and paleo lifestyles.
Enjoy
Ness x
Yield: Makes 24
Raw Blueberry Slice Bites
Ingredients
Base
½ cup macadamias
6 dates, pitted
⅛ cup desiccated coconut
Middle
1 + ¼ cup blueberries
⅓ cup macadamias
2 tablespoons maple syrup (or rice malt syrup)
2 tablespoons desiccated coconut
1 teaspoon vanilla extract
Top
⅓ cup coconut oil
2 tablespoons pure maple syrup (or rice malt syrup)
⅓ cup raw cacao powder
Instructions
To make the base: add the base ingredients to a high speed blender or food processor and blend until it resembles fine crumbs and sticks together when pressed. Spoon mixture into a 24 mini muffin pan (see note below) and press down with the back of a teaspoon. Place it in the freezer.
To make the middle layer, blend all middle layer ingredients in a high speed blender until smooth. Add to the bases and smooth over with the back of a teaspoon and place into the freezer for at least 1 hour to set.
To make the top layer, melt the coconut oil in saucepan on low heat. Once melted, remove from heat and add the maple syrup. Whisk briskly until well combined. Then add the cacao powder, stirring until well mixed through. Pour the chocolate on top of the middle layers. Place back into the freezer and let it set completely, approximately 2 hours.
Note: This slice is best left in the freezer as it will soften quickly.
Notes
I recommend using either a mini silicon muffin tray or cut out little strips of baking paper to use as tabs at the bottom of the regular mini muffin tray, to make it easier to remove them from the muffin tray.
Cook time does not include the time it takes for the raw blueberry slice bites to freeze — approximately 3 hours, depending on the temperature of your freezer.