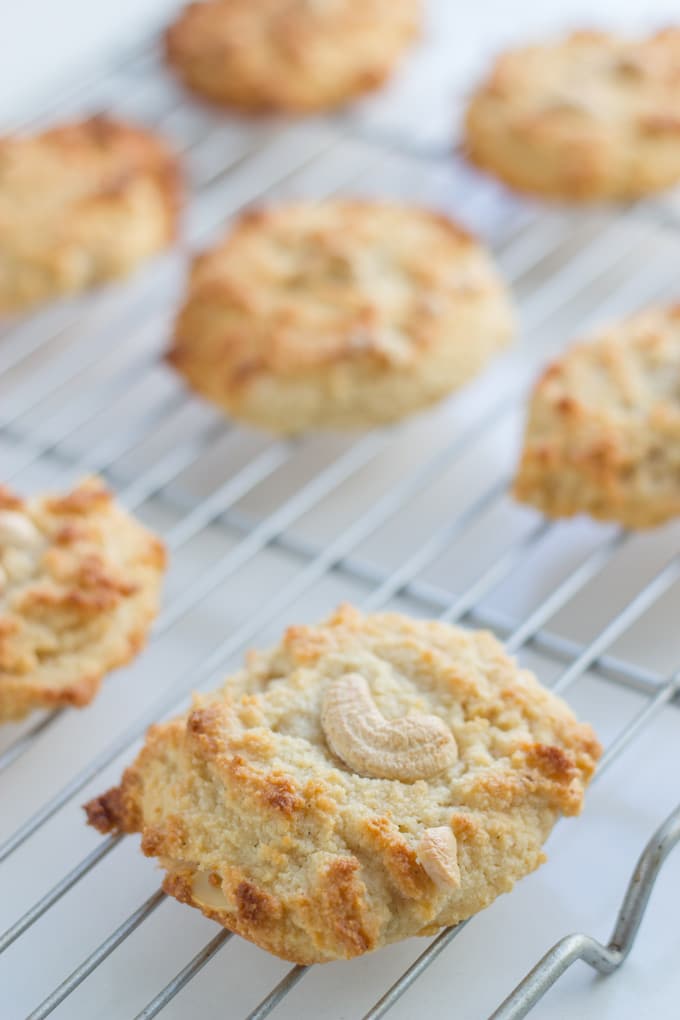 I have been on a bit of a cookie and biscuit making mission as of late.
First I made Cranberry + Macadamia Cookies, then ANZAC Biscuits (For ANZAC Day) and now these Lemon Cashew Cookies.
These cookies are gluten, dairy and refined sugar free.
They are super yummy, easy to make and they did not last long in my house, so I recommend making a double batch.
I think next on my cookie making agenda are chocolate chip cookies, so watch this space!
But for now, enjoy my Lemon Cashew Cookies.
Ness x
Yield: Makes 12
Lemon Cashew Cookies
Ingredients
2 cups almond meal
1 teaspoon baking powder
¼ cup coconut oil, melted
¼ cup pure maple syrup
¼ cup lemon juice
1 teaspoon vanilla extract
⅓ cup raw cashews, roughly chopped plus 12 to put on top
Instructions
Pre-heat oven to 170 degrees
Add almond meal and baking powder to a bowl, mixing to combine. Next, add the coconut oil, maple syrup, vanilla extract and lemon juice to the dry mixture, stirring well to combine. Then, add the cashews and fold through the mixture.
Using ⅛ cup measurement or soup spoons, scoop mixture on lined baking tray and flatten with hand or back of spoon. Place one cashew on top of each cookie before placing in the oven for approximately 15 minutes or until they start to brown. Transfer to a cooling rack and allow to cool completely.
Notes
The Cook Time does not included the time it takes for these cookies to cool down.