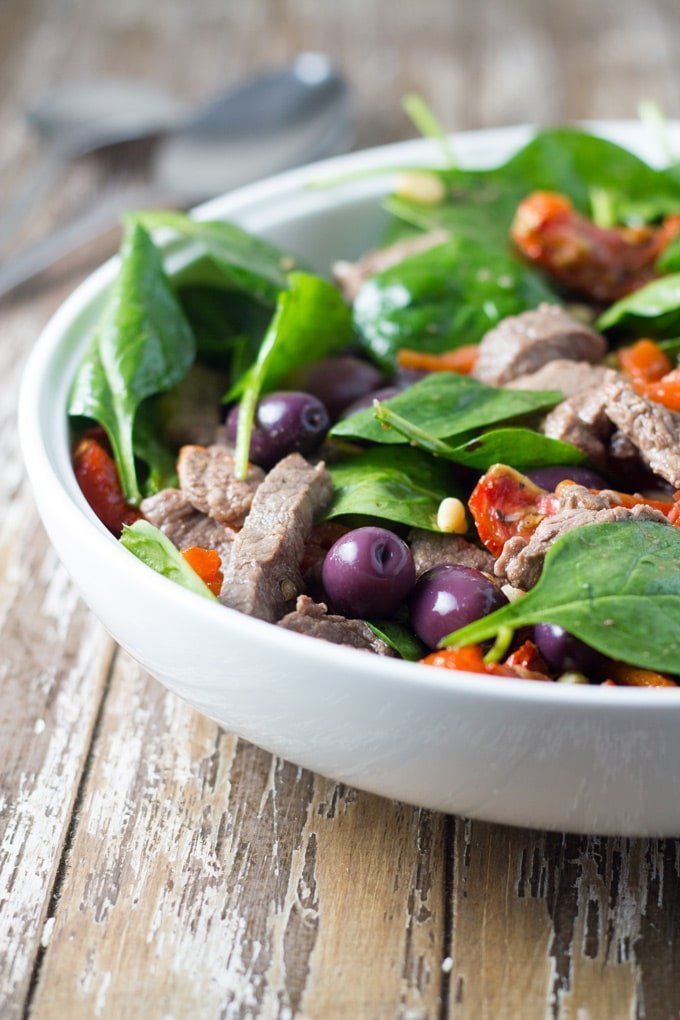 Here in Australia, we are heading into my favourite season of the year: Spring. Looking back through my recipes, I realised that I haven't included many salads or lighter meals - and I think it's high time I addressed the situation!
It's probably no surprise that Mediterranean flavours are a favourite of mine - as you may have seen with my Veal Pizziola, Slow Cooker Osso Bucco or Gluten & Dairy Free Chicken Parmigiana - no doubt a result of growing up in a family with strong Mediterranean influences.
This recipe is quick and easy - but if you want to marinate the lamb beforehand, you may need to plan a little further ahead (it's worth it). Check out my Greek Lamb Pizza recipe for a good marinade.
This Greek Lamb Salad provides a great mix of ingredients from a nutritional perspective - there's nothing unhealthy hiding away in there, and it provides a good mix of protein from the lamb, and vitamins and minerals from the vegetables, in particular Vitamin A, Vitamin C, Calcium and Iron.
In basic form, this meal suits a wide range of eating plans, and avoids most of the common allergens. I have added feta and pine nuts as optional ingredients - I recommend adding them if they suit your eating preferences or requirements, they certainly round out the flavours of the dish nicely.
I hope you enjoy my latest salad.
Ness xo
Yield: Serves 3 -4
Greek Lamb Salad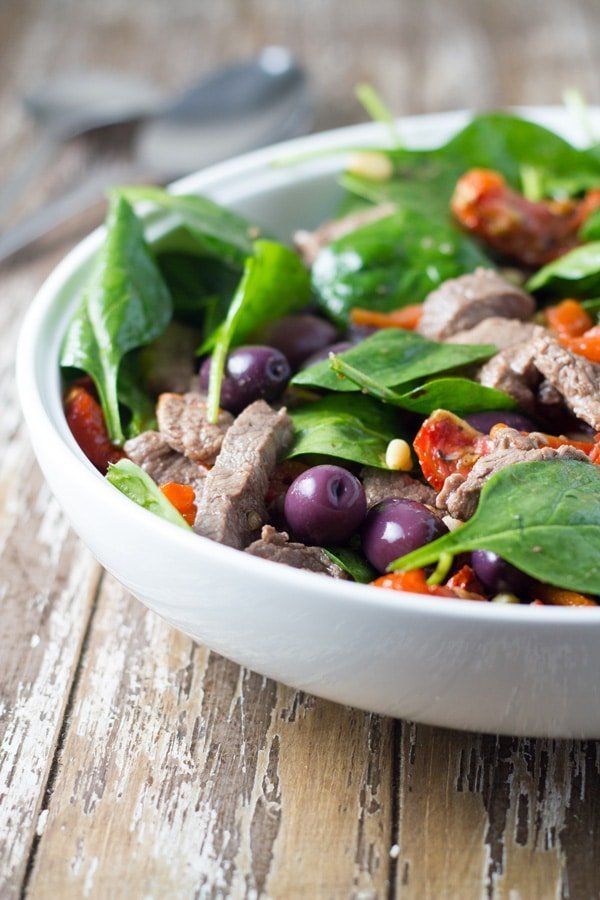 Ingredients
600 grams lamb leg steak, sliced thinly
1 tablespoons olive oil
Salt and pepper to season
2 cups baby spinach
1 red capsicum, roasted (see HERE for roasting recipe), sliced thinly
1 cup semi dried tomatoes
1 cup kalamata olives, pitted
Optional - 1 packet organic greek feta, cut into cubes
Optional - ¼ cup pine nuts
Dressing - lemon juice or olive oil and coconut vinegar (balsamic style)
Instructions
Rub lamb with oil and season with salt and pepper (If you have marinated your lamb ignore this step).
Cook lamb in fry pan on medium-high heat for four minutes each side (medium rare).
Remove from fry pan, cover with foil and let it rest while you prepare the rest of the salad.
Add baby spinach, roasted capsicum, semi dried tomatoes and olives to a large salad bowl.
Add the lamb, your favourite dressing and feta (optional) to the salad bowl and toss to combine.
Serve and enjoy.
Notes
The prep time does not include the time it takes to marinate the lamb, if you choose to do this extra step.