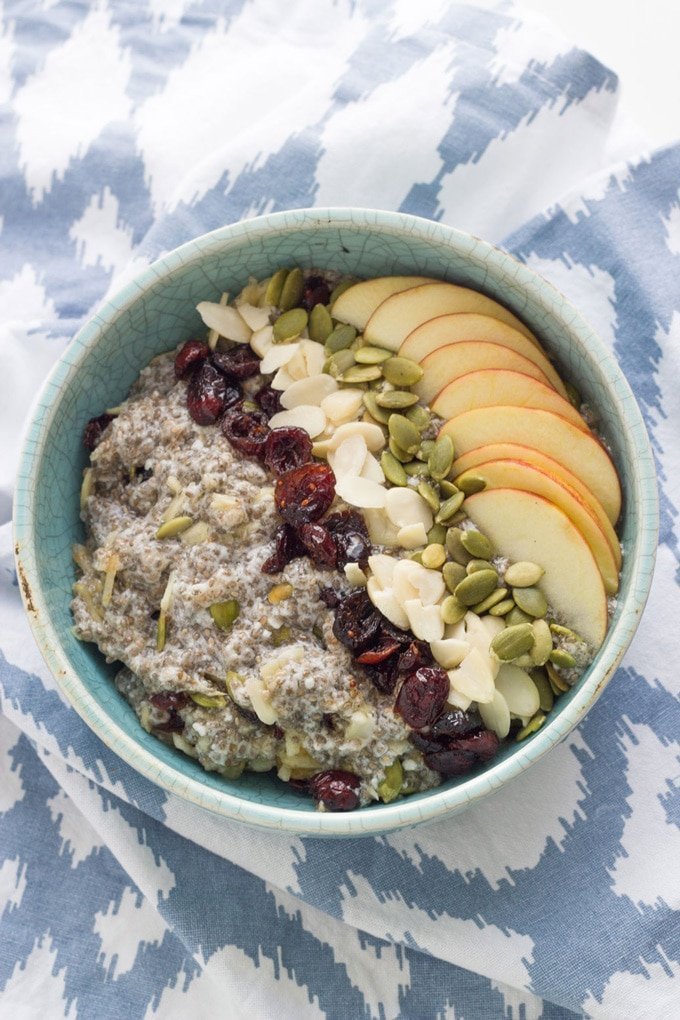 This gluten free chia bircher muesli is will make an amazing addition to your breakfast menu.
It is packed full of healthy ingredients, is really easy to make (as are most of my recipes) and tastes delicious.
I had the idea to make a gluten free bircher muesli after going on a cruise recently on the Carnival Spirit.
They had a yummy bircher muesli as one of their breakfast options in the bistro area.
It had cranberries, almond flakes and pepitas and it was a nice alternative to having eggs.
It got me thinking about how could make this into a recipe to share on my website. And I decided to try it with chia seeds. I
am a big fan of chia puddings and have shared quite a few recipes on Becomingness, like my Apple & Walnut Chia Pudding, Strawberries & Cream Chia Pudding, Blueberry & Macadamia Chia Pudding and Chia Berry Parfait.
Enjoy
Ness xo
Yield: Serves 4
Gluten Free Chia Bircher Muesli
Ingredients
1/2 cup chia seeds
2 cups organic apple juice
1 teaspoon vanilla extract
1 teaspoon cinammon
1 cup coconut yogurt or coconut cream
1 medium apple, grated
1/4 cup almond flakes
1/4 cup pepitas
1/3 cup cranberries
Instructions
Place the chia seeds in a bowl. Add the apple juice, vanilla extract and cinnamon and mix well. Cover and place in the refrigerator to set overnight.
Remove from the refrigerator and check that the chia seeds have gelled. Add the coconut yogurt (or cream), grated apple, pepitas, almond flakes and cranberries and mix until thoroughly combined.
Serve immediately.
Note: You can keep in the fridge for up to 2 days
Notes
The cook time does not include the time the chia pudding to set.