Welcome to the latest edition of my Friday Foodie series, where each week I feature my favourite health and wellness stars. Each week, they share their tips for healthy living and their favourite recipe.
This week I am featuring Pete Evans, who really requires no introduction. I have been a big fan of Pete's way before he appeared on our TV screens on My Kitchen Rules. However, it was not until my husband and I went along to the Sydney event of The Paleo Way tour last year, that I learned what Pete was all about. His passion and commitment for improving people's health is truly inspiring. I hope you enjoy what Pete has to say.
Tell us a little bit about yourself, your family, what you do and what inspired you to lead a healthier lifestyle?
My family are the most important thing in the world to me and, a bit over four years ago, I really started focusing on eating as healthy as I could each and every day. Although I'd always been pretty conscious about the ingredients I used to cook with and, thanks to the fact I was a chef, had a good palette for different flavours, there were still a few bits and pieces that weren't quite clicking for me.
Sure, I followed the dietary guidelines – consuming lots of whole grains, fruit, veges, meat and fish, as well as a bit of dairy and pasta. But I still I just didn't feel like I was firing on all cylinders. Then one day Nic came across a very well-researched book written by world-renowned American author and nutritional expert Nora Gedgaudas. You see, Nic grew up on a farm in Christchurch, New Zealand, so has always been pretty connected to her food sources and that interest is what led her to discover Primal Body, Primal Mind: Beyond The Paleo Diet For Total Health and A Longer Life, written by Nora. I started asking questions. She suggested I have a read for myself and once I began, I couldn't stop. So much of the information in the book resonated with me and that was when I ditched starchy carbs, refined sugar, toxic oils, dairy and legumes and began to embrace a new world of nourishing alternatives. It's a book I now highly recommend to anyone interested in a Paleo way of life because it really delves into the science behind it.
For me, as soon as I read it, I jumped right in and cut out dairy, sugar and gluten completely for three months. I felt the changes pretty much straight away. My energy levels increased, I was able to focus for much longer periods of time and my memory and mental alertness increased ten fold. Within a month, the digestion issues and skin irritations that I had suffered from all my life disappeared. I really thought I had a good diet but once I discovered the path to total health and optimal wellbeing, I realised how little energy I used to have back then and how sluggish I often felt after my meals.
As a family, we are just so much healthier than we were before because we eat a diet that's abundant in seasonal vegetables, moderate amounts of protein from quality animal sources from land and sea, good fats and oils, along with having a daily dose of fermented foods, such as sauerkraut or drinking coconut water kefir. All of these things have helped to build up our immune and digestive systems, in particular, allowing us to live in the best possible health we can.
What tips would you give to someone who has just commenced living a healthier lifestyle?
Congratulations and go well because you've made the decision that counts – just to do it. Now it's about remembering that it's the choices you make every day that count and to stick at it and be kind to yourself because the rewards are rich and great. This isn't about a 'diet' or following a trend or coming down on yourself hard by counting calories.
Commencing a healthier lifestyle is as simple as listening to your body, living in a holistic way and enjoying the empowerment that comes from making healthy choices each and every time you eat. The reason I advocate Paleo is because, as a qualified health coach, I know it's a wonderfully simple way to love your body, nourish your mind and exist in a way that looks after our planet as well as honouring its animal and plant life. And of course, while Paleo might be the blueprint and provide some of the framework, it's important to know that everyone is an individual so it's all about experimenting and finding out what works for you and what doesn't.
I speak from experience when I say it's pretty awesome once you start to connect with your body and begin to understand what the best choices are for you because you start to reap the benefits of great health, more balanced moods and a general sense of true wellbeing.
Do you have any tips for eating well on a budget?
Plan ahead and make the most of leftovers. I love leftovers because I reckon our secret to making a Paleo way of life work as a busy family is the fact that Nic and I create double and triple serves of everything so there's always something we can reach for in the fridge or freezer when we are peckish. It's the way we make the ingredients we buy from our local producers go as far as possible (and means we don't have to shop as often). We'll have soup for breakfast, bacon, poached eggs and spinach for dinner and meals mixed around all different ways. Don't be afraid to fit out, not fit in, and eat the things that you love when you want to eat them.
Another big tip I have for stretching your food dollars further is to really plan your meals well, to shop in season and to be inventive and experimental with the ingredients you use. For example, often cheaper cuts of meat are much more nutritionally dense so that's why a good budget tip is to buy less expensive cuts of better quality meat. I like to spend my money on secondary cuts like cheek, tail and leg because they are bursting with flavour. It's a great chance to experiment with slow cooking or chop up some liver into your bolognese or roast a chicken and then use the bones to make a broth. This then forms the basis of quick mid-week meals that can be made just by adding some seasonal veges (now that it's winter I'm loving silverbeet, bok choy and broccoli right now), seafood or meat and a few herbs and spices into the broth for a delicious soup. For a stew, you could add some tomatoes or other veges to thicken the brew.
At our place, we also plan for busy weeks by spending an afternoon in the kitchen where we'll do a big roast, boil down stock and Nic will do a bit of her amazing baking for the girls' lunches for the week (and for me to grab when I'm on the run!). She's doing these really incredible cookies with turmeric at the moment that we lovingly call Tookies. They are so delicious! The whole idea with all of this prep is that then we've got lots of good nutrient-dense foods on hand to eat when we are busy so that we can be healthy at the most important times our bodies need it.
How do you deal with food struggles from your children?
Like me, Chilli is intolerant to gluten and both girls don't do well on dairy so they've learnt to omit those ingredients that don't serve her health well. What I've found interesting is that the more I get the girls into the kitchen experimenting with different ingredients, the more they are interested in educating themselves about what foods they do and don't like to eat. The bunny technique has also worked wonders. You see, I bought Chilli and Indii a bunny each and told them that for the bunnies to be healthy one of the ways that they could help was to ensure that we feed them the foods they have evolved to eat like grass and water. Then I asked the simple question, "What would you feed them?" They answered grass and water, of course. I then told them, "What if the bunnies wanted to eat lollies because the other bunnies in the street were and there was a chance that maybe their bunnies would get sick or not live as long or be in pain, would you ever feed your bunnies the lollies?" Both said "NO, we wouldn't feed the bunnies the lollies".
Then I told them that they were my 'bunnies' and I would do everything I could to make sure they did not get sick through choosing foods that would not cause their little bodies harm. I said to them that they need to think of themselves as 'bunnies' and hopefully they will learn to make wise choices when it comes to what they feed themselves.
What is your favourite food?
I love so many different types of food, I actually don't have a favourite.
Who is your favourite foodie and why?
There are so many foodies that I've been fortunate to meet over my almost 26 years as a chef that it's hard to choose just one so that's why my favourite foodies really are anyone who believes that if you're going to eat, eat well and nourish your soul. There's nothing more important than that.
What is something that you enjoy doing when you have some 'me' time?
Surfing, surfing and more surfing. Honestly, I'll spend four or five hours in the water at any one time because today I'm in better shape than I've ever been and have as much energy as I used to when I was a teenager. My biggest reward from enjoying good health is having the fitness (and energy) to surf endlessly. My potential in the water feels limitless.
What is your favourite recipe to cook?
Right now, one of my favourite recipes would be Balinese Roast Pork. It's full of good fats, lots of medicinal herbs and spices to help reduce inflammation throughout the body and, most importantly, it's jam-packed with exotic flavours.
Print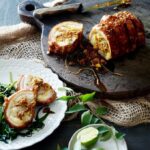 Balinese Style Roast Pork
Author:

Prep Time:

20 minutes

Cook Time:

2 hours (plus 15 minutes resting time)

Total Time:

2 hours 20 minutes

Yield: Serves

6

1

x
---
Scale
Ingredients
2

kg (4lb 6½ oz) free-range pork belly, skin on

½ tablespoon

sea salt

2 tablespoon

coconut oil, duck fat, tallow or other good quality fat, melted

3

kaffir lime leaves, in chiffonnade (finely shredded)

3

curry leaves, in chiffonnade (finely shredded)
Spice Mix
1 teaspoon

sea salt

4

garlic cloves, crushed

2

cm piece of ginger, finely grated

100

g (3½ oz) fresh turmeric, grated

6

birds eye chillies, deseeded and finely chopped

6

golden shallots, peeled and chopped

4

kaffir lime leaves, finely sliced

4

curry leaves, finely sliced

2

lemongrass stalks, white parts only, finely chopped

1½ tablespoon

s coriander seeds, crushed

3 tablespoon

s duck fat, lard or other good quality fat, melted

1 tablespoon

s black peppercorns, finely crushed

2

cm piece galangal, coarsely chopped
---
Instructions
Preheat the oven to 220°C. Gently pour 250 ml of boiling water over the pork skin and pat the pork belly skin and meat dry with paper towel. Discard the water. Drizzle the pork skin with 1 tablespoon of oil or other fat and rub over the salt, covering the skin evenly and set aside.
To make the spice mix paste, process all the ingredients in a food processor to the consistency of a thick, fine paste.
Heat a frying pan with the remaining coconut oil over medium heat. Add the spice paste and fry for 3 minutes until fragrant. Remove from the heat and allow to cool.
Place the pork skin-side-down on a working bench. Spread a layer of the spice paste over the pork belly, then spread a thin, even layer of the shredded lime and curry leaves over the paste lengthwise. Carefully roll the pork belly, starting from the long side to form a tight roll. Tie the pork belly at 5 intervals with kitchen string or twine and set aside.
Place the pork on a rack set in a roasting tray and roast the pork for 30 minutes or until the roast starts to crackle. Reduce the heat to 180°C (350°F/Gas 4) and cook for a further 1 – 1½ hours, or until cooked through and the pork juices run clear when inserting skewer into the thickest part of the pork. Baste the pork occasionally with the juices from the pan. Once the pork has cooked, allow to rest for 15 minutes before carving.
Serve with Asian greens and fresh lime.
---
---
Notes
This recipe is from www.thepaleoway.com… 
The Paleo Way 10 Week Activation Program is a vibrant health, weight management and fitness program, tailored to a Paleo lifestyle. It teaches you the synergy between eating good food, moving your body every day and looking at the positive sides to life. The secrets to a healthier and happier life. 
Reclaim your health at www.thepaleoway.com
A little bit about Pete and where you can find him
Pete is the only person who cares and talks this much about food. Which sees him right at home in his career as both an internationally renowned and household name chef.
A love of food saw Pete begin his career as chef and restaurateur at the age of 19, opening numerous award-winning restaurants nationally as well as cooking in some of the finest restaurants globally.
Pete has not only cooked for the general public, but he's also cooked a royal banquet for the Prince and Princess of Denmark, a private dinner for Martha Stewart, and even represented his hometown at the gala G'Day USA dinner for 600 in NYC.
Pete's career has moved from the kitchen into the lounge room with many TV appearances including Lifestyle Channel's Home show, Postcards from Home, FISH, My Kitchen Rules, Moveable Feast, and his latest The Paleo Way… stay tuned for Food is Medicine which is in pre-production now!
It's safe to say he knows his stuff, with over 10 bestselling cookbooks inspiring individuals and families in their kitchens around the world.
Pete's also a simple guy. He loves his family, the ocean, surfing and maintaining his own healthy lifestyle. When he changed his life to The Paleo Way of living, an abundance of mental, physical, and emotional changes followed. This paved the way for Pete's belief that food can be medicine, and that it should be our first port of call for a healthier life.
They say the proof is in the pudding, and if hearing Pete speak about The Paleo Way isn't enough to get you excited, almost nothing will.
As a certified health coach with qualifications from the Institute for Integrative Nutrition, Pete wants to change the lives of everyone around him, including you.
To keep up to date with Pete's adventures, recipes and information, follow him via the website – peteevans.com – Facebook @paleochefpeteevans or Instagram @chefpeteevans