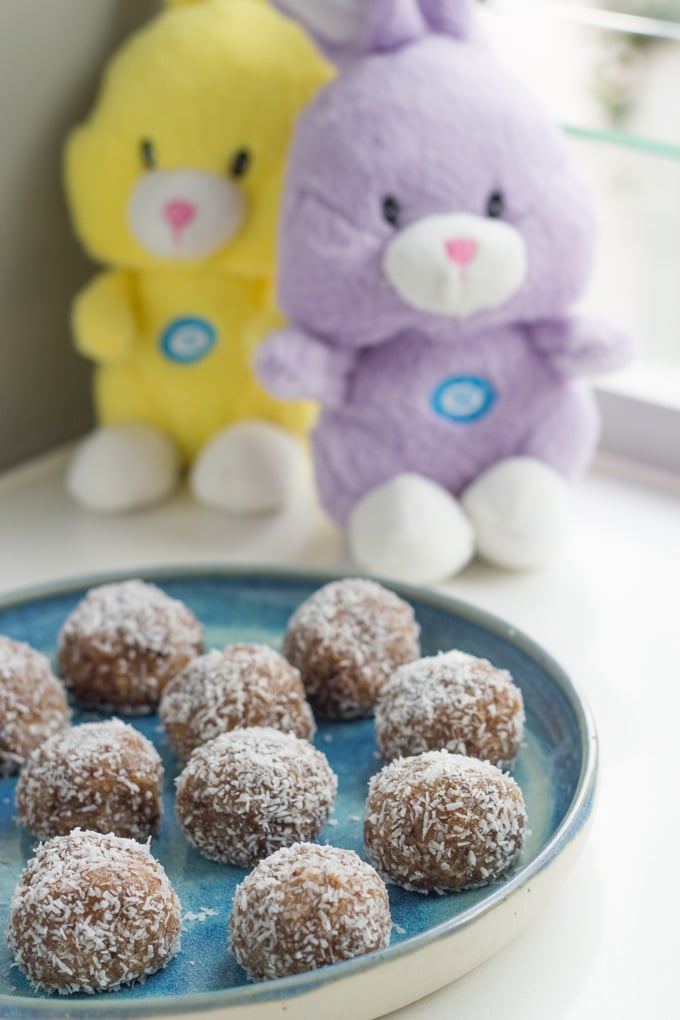 Hot cross buns and chocolate are probably the two most common foods that people enjoy over Easter.
Do you agree?
So, for this Easter, I decided to make two different bliss balls recipes that I believe represent these two popular foods.
My Easter Bliss Balls are my interpretation of a hot cross bun made into a bliss ball. The only thing missing is a little cross on the top, which is why I did not name them hot cross bun bliss balls. Something to work on for next Easter!!
These bliss balls are gluten, dairy and refined sugar free and totally delicious.
You can check out my other easter bliss ball recipe, my Chocolate Fudge Bliss Balls here.
Happy Easter
Ness xx
Yield: Makes 12
Easter Bliss Balls
Ingredients
¾ cup macadamias
¾ cup organic desiccated coconut, plus extra for coating
2 tablespoons coconut oil
2 tablespoons pure maple syrup or rice malt syrup
1 teaspoon vanilla extract
1 teaspoon cinnamon
½ teaspoon nutmeg
½ teaspoon allspice
½ cup organic sultanas
Instructions
Add all ingredients (except sultanas) to a high speed blender or food processor and process until completely combined. Add the sultanas and pulse a few times. You want to ensure that the sultanas are only slightly processed.
The mixture will be quite soft, but you can still roll the mixture into small balls and place on a lined baking tray in the freezer to firm up for 5 - 10 minutes. Then, remove from the freezer and roll in the desiccated coconut. You may need to reshape the balls first as they may have flattened out in the freezer.
Then place in the refrigerator for a minimum of 10 minutes to set.
Notes
Keep stored in the refrigerator
The cook time does not include the time it takes for the bliss balls to set in the freezer