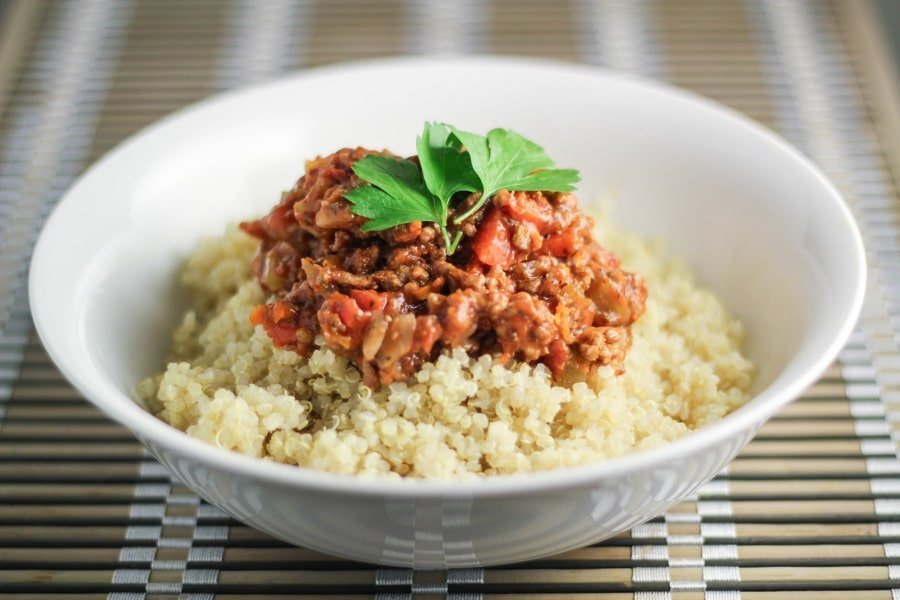 Being raised in an Italian-Australian family, I could say that bolognese sauce is part of my heritage. Every week, my mum would make a pasta dish involving bolognese sauce. One week, it might be spaghetti bolognese, the next week gnocci bolognese and the week after, lasagne.
Yep, as I may have mentioned before, I was a pretty lucky child growing up to a mum that cooks some amazing food.
These days, I rarely eat pasta as I do not like how it makes me feel afterwards; lethargic, tired and bloated are a few symptoms that come to mind.
With that in mind, I realised that my family don't need to miss out on the sauce (which as you will see below, is packed with vegetables, high-quality organic mince, and tasty herbs) if we could find something suitable to serve it with.
Enter quinoa.....
Last week, during my cooking with quinoa week, I decided to make Quinoa Bolognese. So maybe it's not quite as sumptuous as freshly made pasta; it tastes great, has a lighter texture, and doesn't make me want to curl up and go to sleep twenty minutes later. I strongly recommend that you give it a try – it's just become a staple in the Becomingness kitchen.
If you are a fan of quinoa, then you must try my Chicken & Vegetable Soup with Quinoa, Chocolate & Blueberry Breakfast Quinoa or Quinoa & Chia Seed Bread.
Enjoy
Ness xo
Yield: Serves 4 - 6
Quinoa Bolognese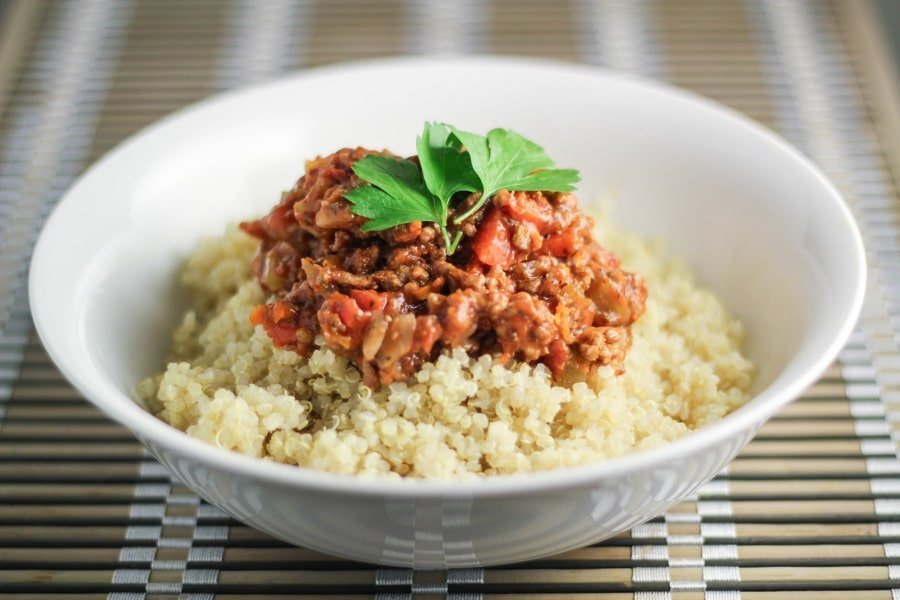 Ingredients
500 grams organic mince
1 carrot, diced
1 celery stick, washed and diced
1 onion, peeled and diced
2 garlic cloves, minced
2 400gm tins organic diced tomatoes
1 tablespoon organic tomato paste
1 tablespoon of dried basil and/or dried oregano
Salt and pepper to taste
1-2 tablespoons olive oil
Quinoa
2 cups Quinoa, rinsed
½ teaspoon sea salt
Instructions
Heat oil in a large saucepan over medium-high heat and add onion and garlic and cook for three minutes or until the onion starts to soften.
Add carrot and celery and cook for five minutes.
Add mince and crumble with a wooden or metal spoon and cook until the mince is browned.
Add herbs and mix though the sauce.
Add tomatoes and tomato paste and bring to the boil.
Reduce heat to low and simmer uncovered for 30 minutes or until the sauce has thickened. (Don't be afraid to leave it cooking for up to an hour, the flavour will only get better)
Meanwhile, bring quinoa and salt to a boil in a medium saucepan. Turn heat to low and simmer, covered for 15 minutes, or until the water is fully absorbed. Then take off the heat and let sit for 5 minutes. Fluff with a fork.
To serve, divide quinoa among bowls and add sauce on top. You may also want to add some grated parmesan cheese (if you are ok with dairy).