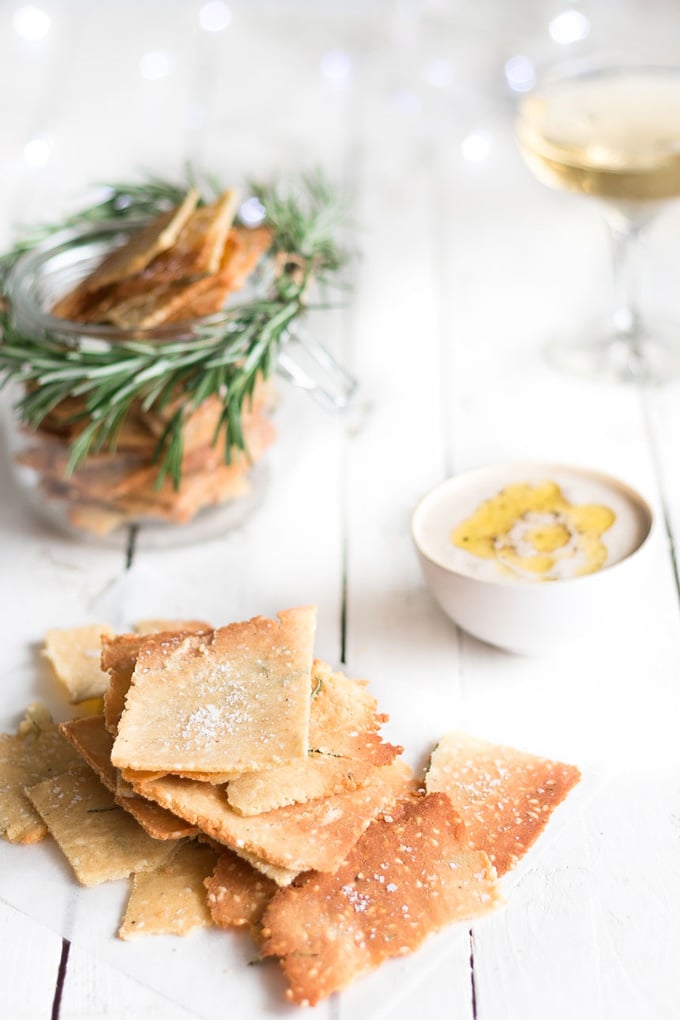 Welcome to my Christmas Recipe Countdown, where each day leading up to Christmas, I will be sharing recipes from some of my Friday Foodies, as well as a few from myself.
Be prepared for healthy, mouth watering recipes that will help you to cater for all your festive season parties, dinners and get togethers. Each recipe is gluten, dairy and refined sugar free.
On day 9 of my countdown, I am featuring Rosemary and Sea Salt Grain Free Crackers from Jo Anderson of The Luminous Kitchen.
What Jo says:
"The festive season is all about people coming together, sharing great food, belly laughs, appreciation, sun, celebrating life, honoring family and relationships, giving and gratitude.
I love giving special gifts at Christmas time and I think a really great gift is not determined by the price tag, but by the thought and love behind it.
Every year I make up jars of all sorts of things to hand out because cooking is my love language.
Today, I am sharing the recipe for my Rosemary and Sea Salt Grain Free Crackers. In the coming days, I will share a few more recipes."
Jo featured as my Friday Foodie back in May, where she shared her Thai Beef Salad recipe.
Enjoy
Ness xo
Yield: Makes 18 crackers
Rosemary and Sea Salt Grain Free Crackers
Ingredients
3 tablespoons tahini paste
1 tablespoon coconut oil
1 egg
2 tablespoons sesame seeds
2 sprigs rosemary (leaves picked from the stems)
½ teaspoon sea salt flakes
½ teaspoon ground black pepper
2 + ½ tablespoons coconut flour
Instructions
Preheat the oven to 170C
Combine the tahini paste, coconut oil, egg, sesame seeds, rosemary, salt and pepper in a bowl and mix well.
Add the coconut flour and mix until a thick "dough" forms.
Turn the mixture out onto a 40cmx40cm piece of wax proof paper and using your hands, pat into a disc shape.
Cover with another piece of wax proof paper the same size and roll out the dough to about 3mm.
Discard the top piece of wax proof paper, then using a sharp knife, cut the dough into vertical and horizontal lines. Keeping it in tact on the wax proof paper, place the dough on a baking sheet
Bake on the middle shelf in the oven for 12 minutes. Remove the outer crackers as they start to brown first, then return the baking sheet to the oven to cook for a further 3 minutes, until the rest of the crackers are a lovely golden colour.
Place the cooked crackers on a cooling rack and once cool, store in an airtight container. ( They don't stay crisp forever so best to make just before you give them or share them at a party.)
More about Jo
Jo Anderson is a food stylist, photographer and passionate foodie.
Originally from Cape Town, South Africa – she now resides with her husband and baby girl on the Gold Coast.
After many years working as a cook on yachts around the world, Jo's styling and photography talents are sought after for ebooks, cookbooks and recipe apps.
Jo is passionate about teaching all that she has learnt along her journey and helping others develop faith in their own foodie talents – something she focuses on in her in person workshops and upcoming eCourse.
Website: www.theluminouskitchen.com
Facebook: The-Luminous-Kitchen-with-Jo-Anderson
Instagram: the_luminous_kitchen