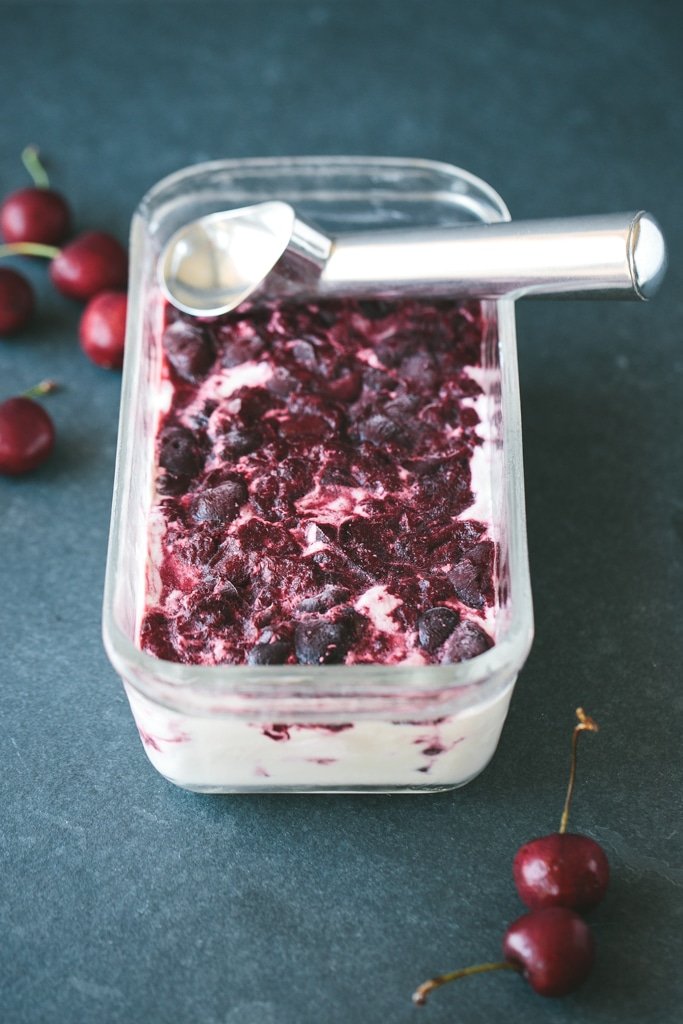 Welcome to my Christmas Recipe Countdown, where each day leading up to Christmas, I will be sharing recipes from some of my Friday Foodies, as well as a few from myself.
Be prepared for healthy, mouth watering recipes that will help you to cater for all your festive season parties, dinners and get togethers. Each recipe is gluten, dairy and refined sugar free.
Day five's recipe, Roasted Cherry Cardamon Ice Cream appears courtesy of Lisa Bryan from Downshiftology.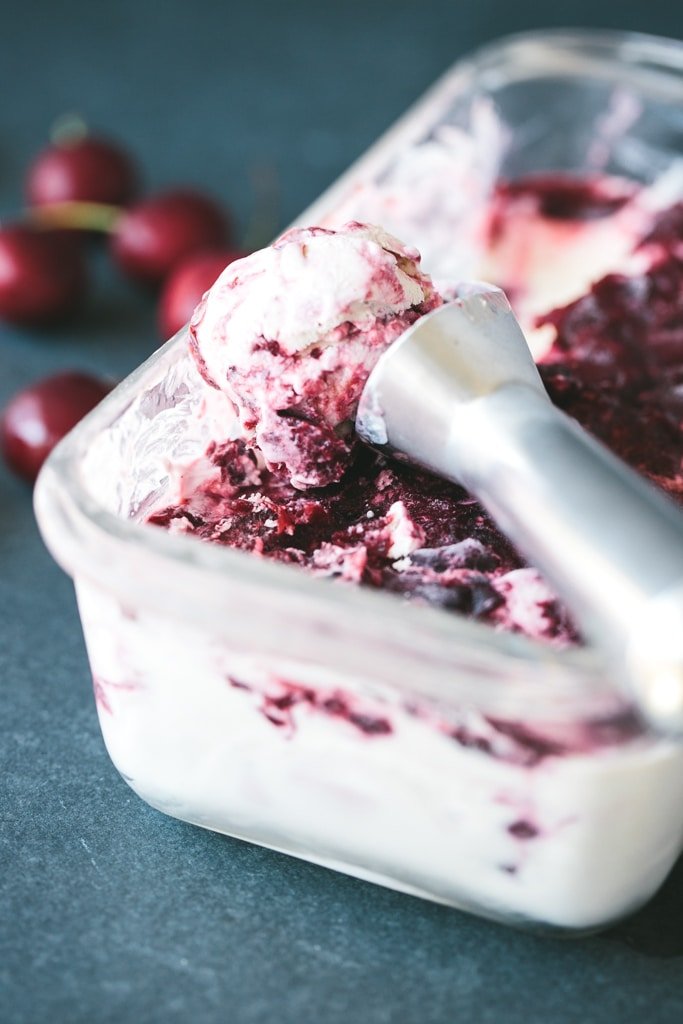 What Lisa says:
"In recent years I've become slightly obsessed with cardamom.
It's a beautifully fragrant and delicious spice that works well in so many recipes.
But have you tried pairing it with cherry? And ice cream? Oh my goodness!
Once you do, you may never go back to plain ice cream again!
But what's even better with THIS ice cream recipe is that it's healthy, dairy-free and refined sugar-free.
So feel free to indulge. It's absolutely worth it. "
Lisa featured as my Friday Foodie back in August, where she shared her Dark Cherry Smoothie Bowl recipe.
Enjoy
Ness x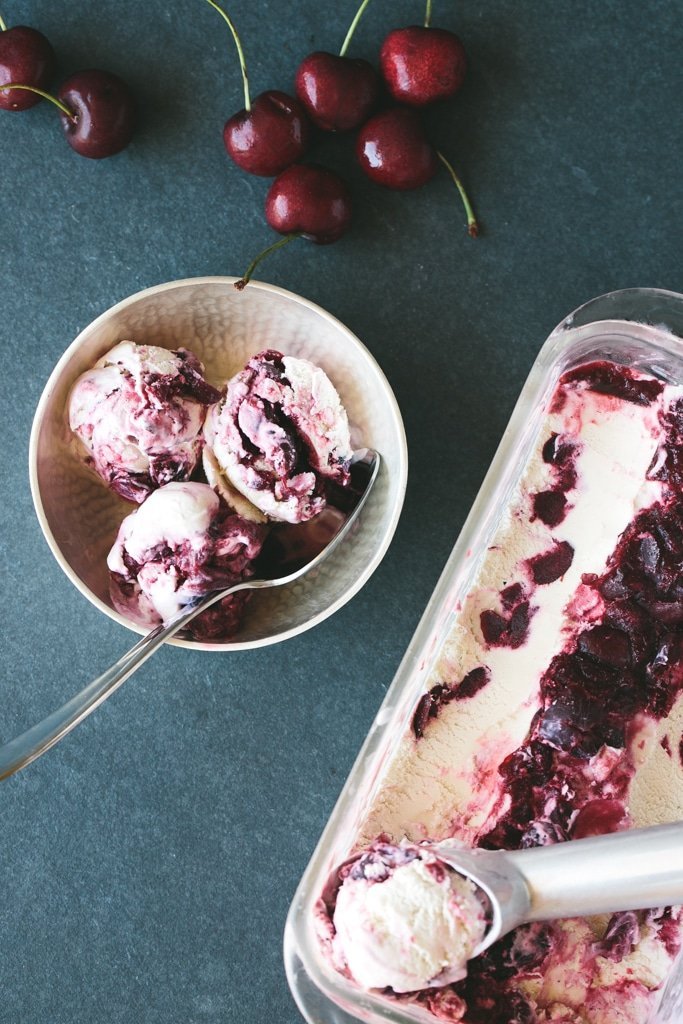 Roasted Cherry Cardamon Ice Cream
Ingredients
Ice Cream
1 cup raw cashews (soaked overnight)
1 can (13.5 oz) full fat coconut milk
3 tablespoon coconut oil
⅓ cup maple syrup
1 teaspoon vanilla extract
¼ teaspoon sea salt
Roasted Cherries
2 cups pitted cherries
2 tablespoon maple sugar
½ teaspoon ground cardamom
Instructions
Preheat the oven to 400 degrees fahrenheit.
In a small bowl, add the cherries, maple sugar and cardamom. Stir to combine and evenly coat the cherries.
Place the cherries on a small, rimmed baking sheet and place in the oven. Cook for 10 minutes, stir, then cook 5 minutes more.
Remove the cherries from the oven and transfer the cherries and their juice into a glass container (I use this one). Slice the cherries with a knife, so they're approximately quartered in size. Place in the refrigerator.
Add all of the ice cream ingredients to a high-powered blender. Blend until smooth and creamy. Transfer the ice cream base to a covered bowl and place in the refrigerator for at least 4 hours. The more chilled the better.
Pour the ice cream base into an ice cream maker and proceed according to maker directions.
Place half of the ice cream base into a small loaf pan, then spread half of the cherry mixture on top. Add the remaining ice cream and top with the remaining cherry mixture.
Place in the freezer and freeze for at least 3-4 hours.
Remove from freezer 10 minutes before eating to more easily scoop the ice cream.
More about Lisa
Lisa Bryan is a certified health coach, wellness blogger, recipe developer and motivator for vibrant living.
She's a former corporate gal (healthcare/biotech executive) turned wellness lover after taming multiple autoimmune diseases with real food and positive lifestyle behaviors.
All of her delicious recipes are nutrient-dense while being gluten-free, grain-free and refined-sugar free.
You can find her at www.downshiftology.com – chatting about healthy living, eating and travel.
Are you a wellness-inspired wanderluster? If so, sign up on www.downshiftology.com to be notified when my new healthy travel ebook launches in December.  Roaming Free is a whole food approach to healthy and happy gluten-free travel. It's for the dreamers, explorers and seekers who are insatiably curious, fueled by discovery and who dream about far off lands. If you're a gluten-free globetrotter (or desire to be!) - this book is for you!
Website: www.downshiftology.com
Instagram: www.instagram.com/downshiftology
Facebook:www.facebook.com/downshiftology
Pinterest: www.pinterest.com/downshiftology
Twitter: www.twitter.com/downshiftology