Get your chocolate cravings sorted over Christmas with this amazing Rawky Road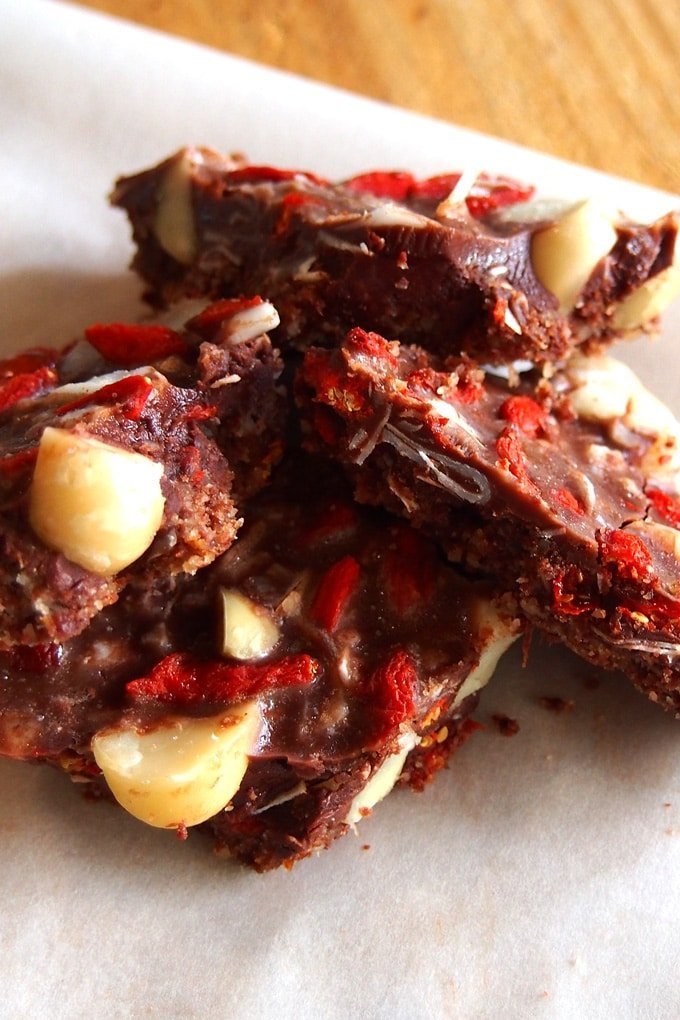 Welcome to my Christmas Recipe Series, where I will be sharing recipes from some of my Friday Foodies, as well as a few from myself.
Be prepared for healthy, mouth-watering recipes that will help you to cater for all your festive season parties, dinners and get together's. Each recipe is gluten, dairy and refined sugar free.
This Rawky Road is by Amelia Harvey.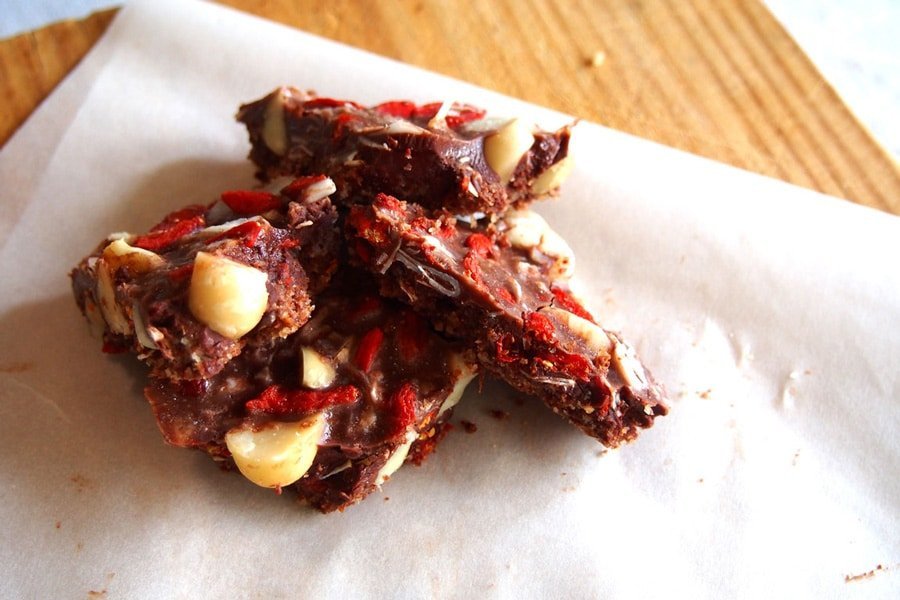 What Amelia says:
"This is one of my favourite raw chocolate recipes because it's super easy and ready to be eaten in under 20 minutes.
You don't need any fancy equipment and there is no cooking required! It makes the perfect home made healthy Christmas gift!"
Amelia featured her coconut flour carrot cake  as my Friday Foodie
Enjoy
Ness x
Rawky Road
Get your chocolate cravings sorted over Christmas with this amazing Rawky Road
Ingredients
¾ cup coconut oil
1 cup cacao
½ cup maple syrup
⅔ cup coconut flour (desiccated coconut works too)
½ cup chopped macadamia nuts
½ cup dried goji berries
½ cup coconut flakes
Himalayan salt
Instructions
If your coconut oil is solid, pop the jar into hot water until it liquefies. Combine the coconut oil with the cacao, maple syrup and coconut flour to make your chocolate base. Stir through the nuts, goji berries and coconut flakes.
Pour the mixture into a small baking tray or plate lined with baking paper.
Sprinkle your Rawky Road with a good pinch of salt and put it into the freezer to set – it'll be ready in about 10 minutes.
Break or cut it into chunks and keep it in the fridge.
Eat, share, and enjoy!
More about Amelia
Amelia Harvey is a Life Coach specialising in building and supporting self esteem and emotional balance.
She inspires women to connect with their hearts and align with their true selves so that that can live their most radiantly healthy and gorgeously happy life with ease.
Amelia is the creator of the Happy, Healthy Ease Facebook Community, the journaling guide From the Heart, and her blog at ameliaharvey.com.au.
Her mission is to empower young women by providing with a toolkit for a joyful life on every level – body, mind, and spirit.
She believes that a healthy and happy life is all about practicing presence and compassion, trusting your intuition, and finding your sweet spot so you can do it all with ease.
Get to know Amelia on her blog ameliaharvey.com.au, or on Instagram @amelia_harvey_ Facebook /ameliaharveyhealth, and Pinterest /ameliaharvey50