Welcome to my Christmas Recipe Countdown, where each day leading up to Christmas, I will be sharing recipes from some of my Friday Foodies, as well as a few from myself.
Be prepared for healthy, mouth watering recipes that will help you to cater for all your festive season parties, dinners and get togethers. Each recipe is gluten, dairy and refined sugar free.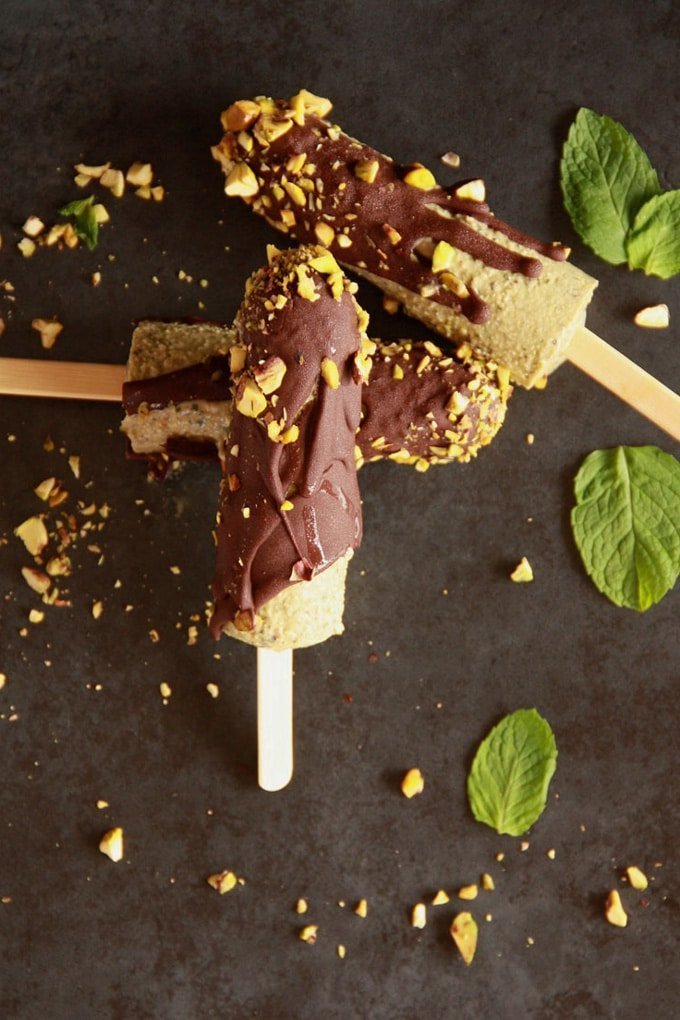 On day 10 of my countdown, I am featuring Matcha Mint Pistachio Pops from Kathy Gardiner of The Naked Gardiner.
What Kathy says.
"This is a refreshing antioxidant and nutrient dense dessert or treat that can be enjoyed on a hot summer Christmas day!
I personally use stainless steel popsicle moulds and re-useable bamboo sticks!
These are great yield very little environmental waste, have a long life and are super easy to clean!"
Kathy featured as my Friday Foodie in June, where she shared her turmeric shake recipe.
Enjoy
Ness xo
Yield: Makes 6
Matcha Mint Pistachio Pops
GF, DF, VGN, P, R, RSF (Contains nuts)
Ingredients
Pop Mixture:
1/2  cup pistachio nuts (raw)
1/2 cup cashews (raw)
1/2 cup shredded organic coconut
1 frozen banana
1 can of organic coconut cream (placed in the freezer for 3-4 hours)
1 bunch of mint leaves
2 teaspoons of matcha powder
2 teaspoons of vanilla extract
1/4 cup organic maple syrup
1-2 drops of peppermint oil (DoTerra)
3 tablespoons of melted extra virgin coconut oil
Toppings:
1 large block (approx 80g) Loving Earth Dark Chocolate
1/2 cup of pistachio nuts (raw and finely chopped)
Instructions
In a dry blender mill pistachio nuts, cashews and coconut to a fine ground.
If you are using a Thermomix: Add to the dry mixture ALL remaining ingredients, EXCEPT coconut oil. If you are using a wet blender: Ensure you commence with wet ingredients to enable the blades to move. In this case, pour coconut oil in to the blender first.
If you are using a Thermomix: Commence blending on a low speed while gradually adding the coconut oil.
Increase blender speed until a smooth creamy consistency is achieved. Please note the mixture won't be super-smooth but try to reach a smooth consistency without creating heat.
Transfer a portion of the wet mixture into a small milk jug, this will enable you to pout the mixture in to the mould easily.
Prepare popsicle moulds on to stand.
Transfer wet mixture into moulds allowing for approx 4 mm space at the top of the mould (for expansion of mixture as it freezes).
Insert paddle stick in each mould.
If your moulds have a stand ensure you have placed on a level surface in the freezer.
Freeze for 2-3 hours or overnight until set.
When popsicles have set you can begin preparing the chocolate topping.
Finely chop pistachios until desired consistency is achieved. I like mine to be slightly chunky.
Place a small stainless steel mixing bowl over a pot of boiling water on a stovetop.
Breaking the Loving Earth block of chocolate in to squares, begin slowly melting the chocolate ensuring you continue to mix the chocolate so that it does not burn. When chocolate has melted remove bowl from the heat and transfer melted chocolate into a small milk jug.
Remove the popsicles one-by-one from the moulds by placing under warm water for 2 seconds, the mould should remove easily.
Gradually pour chocolate mixture over the popsicle working quickly to sprinkle with pistachios before the chocolate starts to harden from the cold. Place popsicle gently into the stand.
Repeat this step for each popsicle.
Transfer moulds in stand to the freezer and freeze for 10 mins before ready to eat.
If you wish to store, remove the bottom of the popsicle mould from each popsicle and using a sheet of baking paper in a container, place for storage.
To ensure you don't experience freezer burn, place an extra sheet of baking paper over the top of the popsicles and secure the lid.
Notes
The popsicles are quite filling especially as they are dense with nutty-goodness, a great idea is to use a set of icetrays as the mould.  By doing so you can have bite sized pops and instead of a paddle-pop stick, cut a paper straw to size as this will act as the base. Place on a lined baking tray in the freezer to set.
More about Kathy
Kathy Gardiner is a speaker, a life lover; blogger; a whole-foods foodie; a cancer fighter; an awareness renegade; a soul seeker; a patient advocate and most importantly a fur-mama! Battling melanoma since the age of 25 and terminally diagnosed with Advanced Metastatic Melanoma, three days before her 33rd birthday, Kathy has undertaken a life transformation through mindfulness, clean eating and living, pursuing her foodie love by creating plant-based whole-food recipes; exploring eco and sustainable products and fashion while navigating a path of self-love, positivity and inner healing as she shares her honest and 'Naked' journey with the world through The Naked Gardiner.
Granted compassionate access to ground-breaking immunotherapy treatment, Kathy continues to fight her prognosis while on a personal mission to advocate for melanoma patients in Australia and abroad and supporting local producers and suppliers. In October 2015, Kathy received a 'no evidence of disease' result; presently she takes each day as it comes. Kathy's mantra in life is to open the world's eyes to living a positive; joy fulfilled and nourished life by following her mantra to... Love. Accept. Believe. Nourish. Live.
The Naked Gardiner-www.thenakedgardiner.com
Facebook - https://www.facebook.com/kathymgardiner.tng?ref=hl
Instagram - https://instagram.com/thenakedgardiner/
Twitter - https://twitter.com/nakedgardiner
Photos
Family Photo Credit: Trent and Jessie Photographers