Welcome to my Christmas Recipe Countdown, where each day leading up to Christmas, I will be sharing recipes from some of my Friday Foodies, as well as a few from myself.
Be prepared for healthy, mouth watering recipes that will help you to cater for all your festive season parties, dinners and get together's. Each recipe is gluten, dairy and refined sugar free.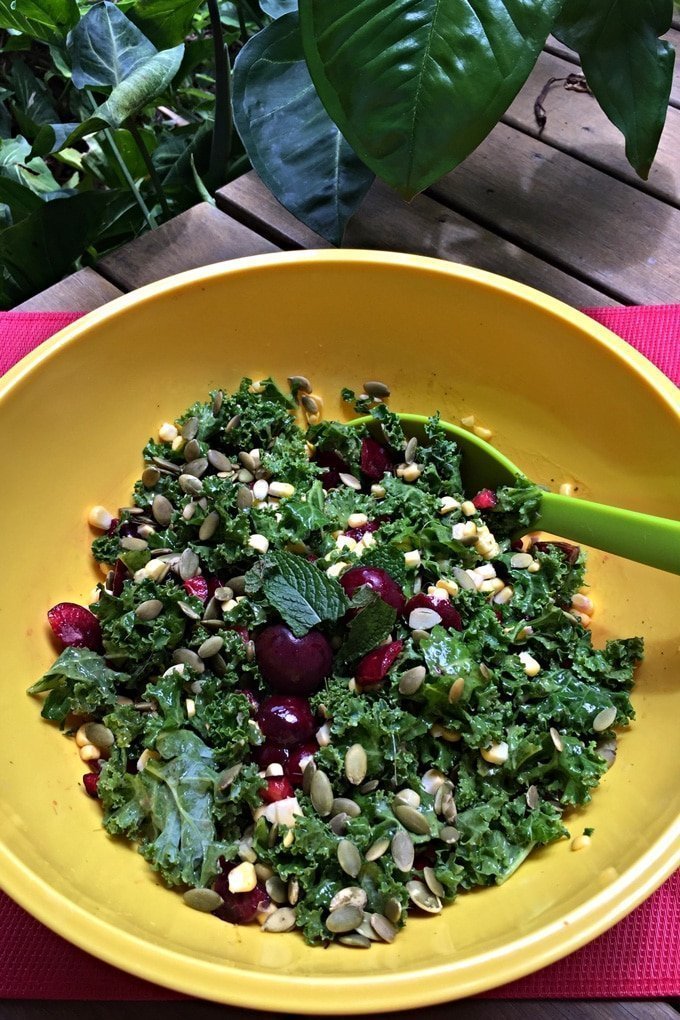 On day 21 of my countdown, I am featuring Kale and Cherry Salad with a Mango-Mint Dressing from Melanie Eager of Eager For Life.
What Melanie says:
"The combination of kale, cherries and mangoes make this a powerhouse of a salad. Perfect for summer! Fresh, healthy and nutritious."
Melanie featured as my Friday Foodie back in October, where she shared her passionfruit chia pudding recipe.
Enjoy
Ness xo
Yield: Serves 2
Kale and Cherry Salad with a Mango-Mint Dressing
Ingredients
Dressing
1 Mango (approximately ¾ cup), cut into pieces
½ cup cucumber, roughly chopped
½ cup loosely packed mint
Squeeze lime juice
Salad
3-4 cups kale, cut into small pieces
2 fresh corn on the cobs, with kernels cut off
15 cherries roughly chopped. Stone removed
Topping
Handful Pumpkin seeds (Pepitas)
Instructions
Salad Dressing
Blend cucumber, mango, mint and fresh lime (in a high speed blender)
Set aside
Salad
Massage about half salad dressing into the kale to soften it
Note: Can add 1 tsp olive oil to soften the kale
Add cherries and corn sliced off cob
Mix together all salad ingredients
Notes
Top with pepitas and extra salad dressing if desired
Will serve 2-3 as main salad or 3-4 as side salad
More about Melanie
Melanie's youthful presence belies a deep belief in helping others. With two science degrees from London University, a science career spanning nearly two decades and an ever increasing knowledge in the role of nutrition and complementary therapies Melanie is uniquely placed to guide you through the maze of wellness options. Sharing her personal journey from chronically fatigued to running an ultra-marathon Melanie will inspire you to get your health on track and offers a smorgasbord of options from tailored coaching sessions to vital nutritional guidance. Whatever options you choose with Melanie you will find her energy and commitment to you will leave you Eager for Life.
Although Melanie is located in Queensland, all coaching is carried out via skype and Melanie currently has clients all over Australia
Website - www.eagerforlife.com.au
Facebook - www.facebook.com/eagerforlife
Instagram - https://instagram.com/eager.for.life