This crispy skinned salmon with strawberry pistachio basil salsa with it's festive flavours makes the perfect Christmas dinner recipe.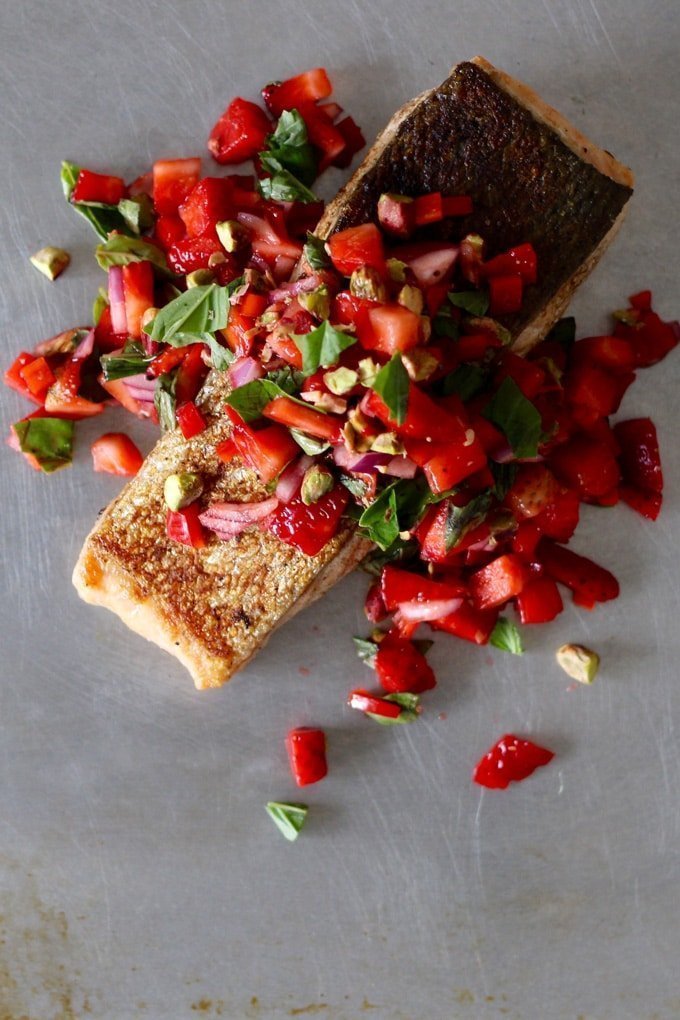 Welcome to my Christmas Recipe Series, where I will be sharing recipes from some of my Friday Foodies, as well as a few from myself.
Be prepared for healthy, mouth watering recipes that will help you to cater for all your festive season parties, dinners and get together's. Each recipe is gluten, dairy and refined sugar free.
This crispy skinned salmon with strawberry pistachio basil salsa recipe appears courtesy of Amy Crawford from The Holistic Ingredient.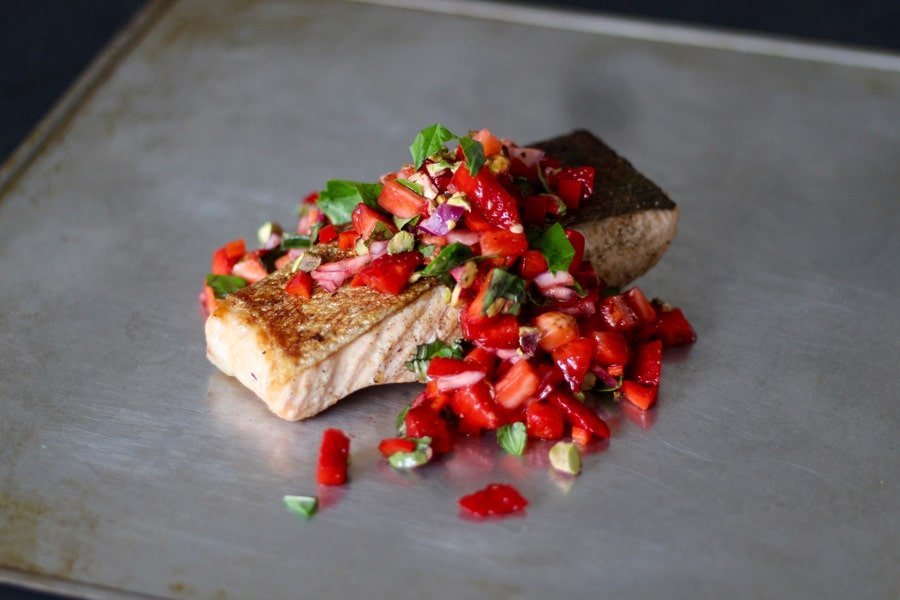 What Amy says:
"Often the richness of salmon can be difficult to manage, certainly in combination with lots of other rich, festive flavours.
Well not this Christmas!
Combine the oiliness of salmon with the fresh, sweet pop of strawberries, spicy chilli and the crunch of red onion and pistachios and you've a deliciously fresh, festive and 'light' salmon dish (that will have you wishing it'd never end).
This delightfully simple dish speaks summer barbeques, festive dinners, romantic interludes and nourishing goodness. Take your pick, just make sure the combo gets a run!"
Amy shared her Porcini Mushroom & Kale Buckwheat Risotto when she featured as my Friday Foodie.
MORE CHRISTMAS RECIPES TO TRY
Gluten Free Christmas Mince Pies
MORE ABOUT AMY
When chronic fatigue syndrome put a swift end to a million-mile-an-hour corporate career, it also created the most incredible life transformation imaginable.
Now free of CFS, Amy credits her return to health to a whole food, sugar/toxic free lifestyle combined with extensive energy healing and a range of therapies called CTC (Combined Therapy Cocktail) of which she is now a practitioner.
Amy's business The Holistic Ingredient and her whole foods eBooks, A Nourishing Kitchen & A Nourishing Morning and Nourishing Kids combine her passion for food and cooking, toxic-free living and healing therapies.
Website: www.theholisticingredient.com
Instagram: instagram.com/theholisticingredient
Facebook: facebook.com/theholisticingredient
Twitter: twitter.com/hol_ingredient
Pinterest: pinterest.com/theholisticing