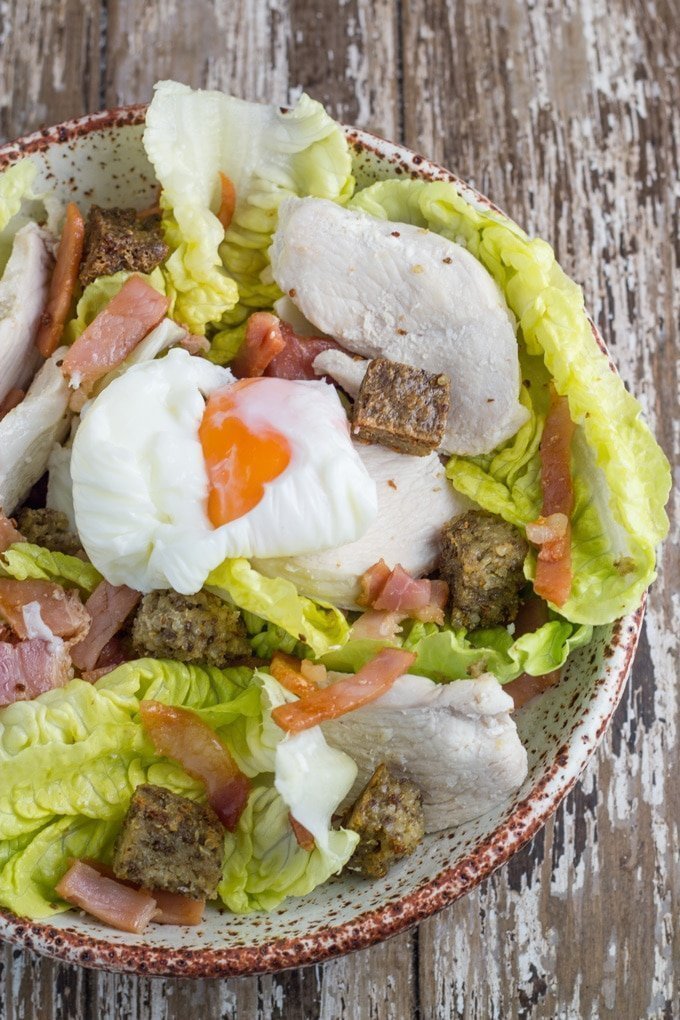 The first salad that I am sharing for 2015 is Chicken Caesar Salad with Gluten Free Croutons.
This is one of my favourite meals and used to be one of my regular choices when dining out.
However, in more recent years I tended to avoid it because the dressing typically contained additives, preservatives or ingredients I wanted to avoid, and croutons.
I added Caesar salad to my cooking wish list ages ago, but never got around to making it.
I ended up making other chicken dishes like my Slow Cooker Butter Chicken, Gluten Free Chicken Schnitzel and Slow Cooker Honey Chicken.
So it is only fitting that it is the first recipe that I bring you to start the new year off.
I used my Quinoa and Chia Seed Bread in this recipe which tasted amazing, but you could use any gluten free bread that is made using real food ingredients.
I found that the croutons did not crisp up like traditional croutons do, however they were still really tasty and a really nice addition to the salad.
Enjoy
Ness xo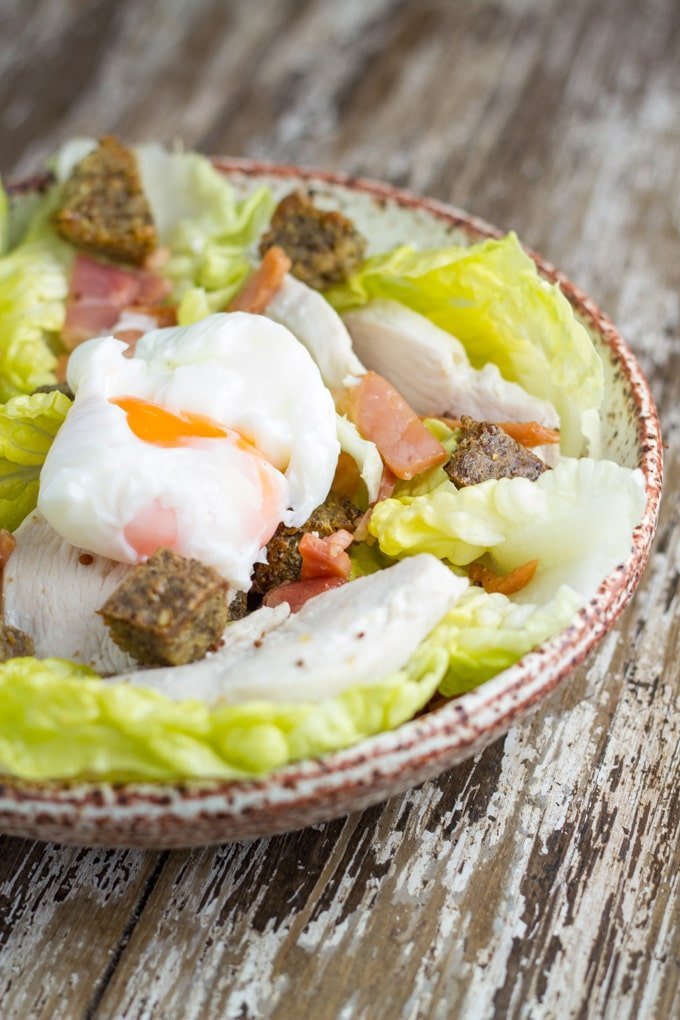 Yield: Serves 4
Chicken Caesar Salad with Gluten Free Croutons
Ingredients
1 tablespoon coconut oil
2 chicken breasts, thinly slice
4 rashers bacon, rind removed and sliced into thin strips
4 slices (1.5 - 2cm thickness) Quinoa and Chia Seed Bread, sliced into squares
1 tablespoon organic butter
4 poached eggs (check out my favourite method HERE)
1 cos lettuce, washed
Caesar Dressing
4 anchovy fillets
2 large egg yolks
2 - 4 tablespoons lemon juice
1 small garlic clove, minced
1/2 teaspoon Dijon mustard
Pinch of sea salt
Pinch of black pepper
1/2 cup olive oil
Instructions
Heat coconut oil in large fry pan on medium heat, add the chicken and cook for 4-5 minutes each side until cooked through. Remove from the pan and cover with foil on a plate.
Add bacon to the fry pan and cook until until slightly crispy. Remove from the fry pan and cover with foil on a plate.
Add the butter and bread and cook until the bread starts to crisp up. Remove from fry pan.
To make the dressing, add the anchovy fillets, egg yolks, minced garlic and Dijon mustard to a blender and blend for approximately 30 seconds, making sure that the anchovy fillets are processed. Then slowly add the olive oil and continue to blend until the dressing is well combined and creamy. Then add the lemon juice, salt and pepper to taste, mix until well combined.
To serve, divide the chicken, bacon, bread and cos lettuce among four bowls. Then, add the poached egg and top with the dressing.