Blueberry & Macadamia Chia Pudding is super yummy and has become one of my favourite chia pudding combinations! I have updated the recipe to include the keto/low carb version.
I remember when I first started Becomingness and I used to find it hard to source chia seeds. Well these days you can buys chia seeds from all the major supermarkets and the prices are also pretty good.
Chia seeds have come a long way since then!!!
So for anyone who still does not know much about chia seeds. They are made up of dietary fibre, protein and fat plus a tonne of minerals including calcium, magnesium, iron, and phosphorous.
It's also a versatile ingredient - I have included in recipes as diverse as Chia Berry Parfait and Quinoa & Chia Seed Bread.
I decided to try a new chia pudding flavour combination, and am happy to share my Blueberry & Macadamia Chia Pudding with you today.
This is definitely an awesome flavour combo and it has become one of my faves now!
I've also shared Vanilla Chia Seed Pudding and Coconut & Kiwi Fruit Chia Pudding, - if you've made another awesome flavour combo - let me know in the comments!
Enjoy
Ness xo
Yield: Serves 1
Blueberry & Macadamia Chia Pudding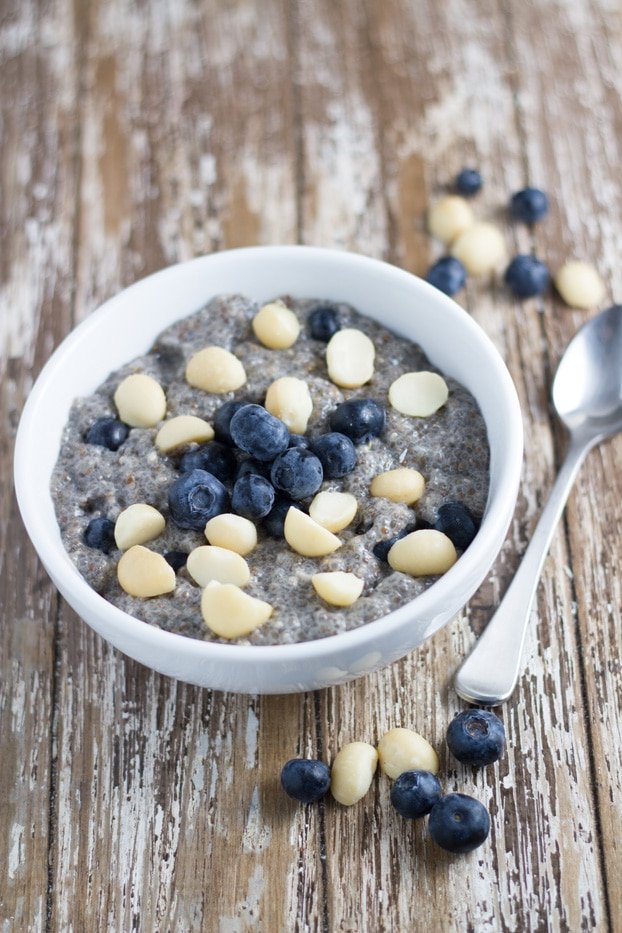 Ingredients
¼ cup chia seeds
1 cup coconut milk (The carton variety works best)
1 tablespoon maple syrup (or to make it keto, either go without or use liquid stevia to taste)
½ teaspoon vanilla extract
¼ cup fresh blueberries
⅛ cup raw macadamias
Instructions
Place the chia seeds in a small bowl. Add the coconut milk, maple syrup/liquid stevia (if using) and vanilla extract and stir to combine.
Place in the refrigerator and let it set overnight.
Remove from the refrigerator, check that the chia seeds have gelled.
Add your blueberries and mix through.
Top with macadamias and serve.
Notes
The cook time does not include the time it takes for the chia pudding to set.