Welcome to my Christmas Recipe Countdown, where each day leading up to Christmas, I will be sharing recipes from some of my Friday Foodies, as well as a few from myself.
Be prepared for healthy, mouth watering recipes that will help you to cater for all your festive season parties, dinners and get togethers. Each recipe is gluten, dairy and refined sugar free.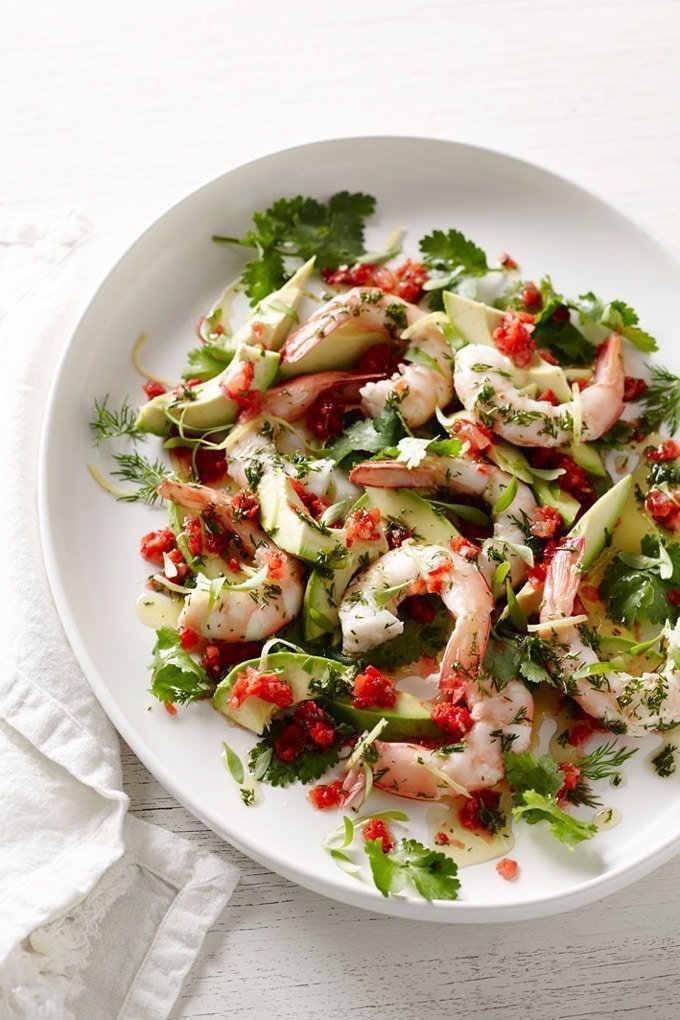 On day 17, I am featuring this King Prawns with Preserved Lemon Guacamole by Pete Evans.
What Pete says:
"Prawns and avocado are a divine combination and it is incredibly easy to create delicious variations of this simple recipe.
Start by sourcing the freshest, plumpest prawns you can get your hands on, find some gorgeous ripe avocados and then all you need to do is add your favourite dressing, marinade, sauce or mayonnaise.
Finish with some herbs and maybe some nuts and seeds and you have a pretty fabulous dish.
In this version, I've added preserved lemon for a unique twist on guacamole that will have your guests or family thinking you spent hours in the kitchen."
Pete featured as my Friday Foodie back in July, where he shared his Balinese style roast pork recipe.
Enjoy
Ness xo
King Prawns with Preserved Lemon Guacamole
Ingredients
16 raw king prawns
3 tablespoons lemon-infused extra-virgin olive oil, plus extra to serve
1 tablespoon lemon juice
1 teaspoon chopped dill
Sea salt and freshly ground black pepper
1 red capsicum, diced
1 handful of coriander leaves
1 handful of dill leaves
Guacamole
½ red capsicum
2 avocados, sliced
1 Roma tomato, deseeded and diced
1 small red chilli, deseeded and finely chopped
¼ red onion, finely chopped
1 tablespoon finely chopped preserved lemon
1 tablespoon chopped coriander leaves
2 tablespoons lemon juice
2 tablespoons lemon-infused extra-virgin olive oil
Instructions
Cook the prawns in salted boiling water for 2–3 minutes, or until pink and firm. Transfer to a bowl of iced water to cool completely. Peel and devein, keeping the tails intact.
Combine the olive oil, lemon juice and dill in a bowl and season with salt and pepper. Whisk to combine, then add the prawns and toss until well coated. Cover with plastic wrap and marinate for 5 minutes in the fridge.
Preheat the oven to 200°C.
To make the guacamole, place the capsicum, skin-side up, on a baking tray. Roast in the oven for 10–15 minutes, or until the skin blisters and blackens. Place the capsicum in a bowl, cover with plastic wrap and set aside to steam for 5 minutes. Peel and discard the skin, then chop the flesh. Combine the avocado, roast capsicum, tomato, chilli, onion, preserved lemon, coriander, lemon juice and olive oil in a bowl and gently mix. Season with salt and pepper to taste.
Spoon the guacamole onto a serving platter, top with the marinated prawns, garnish with the capsicum, coriander and dill and serve with a drizzle of extra oil.
More about Pete
Pete is the only person who cares and talks this much about food. Which sees him right at home in his career as both an internationally renowned and household name chef.
A love of food saw Pete begin his career as chef and restaurateur at the age of 19, opening numerous award-winning restaurants nationally as well as cooking in some of the finest restaurants globally.
Pete has not only cooked for the general public, but he's also cooked a royal banquet for the Prince and Princess of Denmark, a private dinner for Martha Stewart, and even represented his hometown at the gala G'Day USA dinner for 600 in NYC.
Pete's career has moved from the kitchen into the lounge room with many TV appearances including Lifestyle Channel's Home show, Postcards from Home, FISH, My Kitchen Rules, Moveable Feast, and his latest The Paleo Way… stay tuned for Food is Medicine which is in pre-production now!
It's safe to say he knows his stuff, with over 10 bestselling cookbooks inspiring individuals and families in their kitchens around the world.
Pete's also a simple guy. He loves his family, the ocean, surfing and maintaining his own healthy lifestyle. When he changed his life to The Paleo Way of living, an abundance of mental, physical, and emotional changes followed. This paved the way for Pete's belief that food can be medicine, and that it should be our first port of call for a healthier life.
They say the proof is in the pudding, and if hearing Pete speak about The Paleo Way isn't enough to get you excited, almost nothing will.
As a certified health coach with qualifications from the Institute for Integrative Nutrition, Pete wants to change the lives of everyone around him, including you.
To keep up to date with Pete's adventures, recipes and information, follow him via the website -peteevans.com -