Welcome to my Christmas Recipe Countdown, where each day leading up to Christmas, I will be sharing recipes from some of my Friday Foodies, as well as a few from myself.
Be prepared for healthy, mouth watering recipes that will help you to cater for all your festive season parties, dinners and get together's. Each recipe is gluten, dairy and refined sugar free.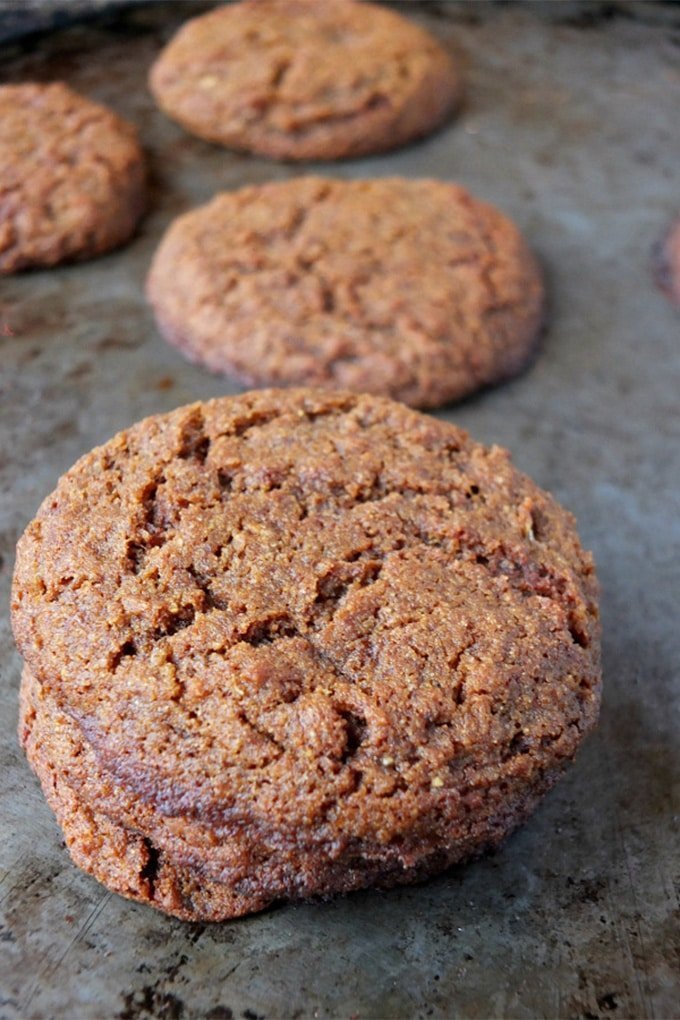 On day 18 of my countdown, I am featuring Chewy Paleo Molasses Cookie from Heather Resler of Cook It Up Paleo.
What Heather says:
"Hey everybody! Heather here from Cook It Up Paleo. Thanks so much to Ness for letting me guest post a Christmas recipe for her amazing recipe series!
The first time I ever had a molasses cookie, it was around the holiday season when I was probably ten years old and one of my friends handed me a molasses cookie because it was snack time during our playdate. Chewy and delicious, I've never forgotten how that cookie tasted.
So now that I'm eighteen years old and have celiac disease, what better time to eat molasses cookies, right??
Right!! Because these molasses cookies are legit. They are grain-free, nut-free, egg-free, and refined-sugar free!
I can hear it now… Oh, but Heather; don't they taste healthy?? (Like that's a bad thing)
Healthy meaning… AWESOME?? for sure! They are chewy and sweet and molasses-y and cookie-y and crispy on the outside and everything! So go make them now!!"
Heather featured as my Friday Foodie back in March, where she shared her healthy tacos recipe.
Enjoy
Ness xo
Print
Chewy Paleo Molasses Cookies
---
Ingredients
●     1/3 cup coconut sugar
●     1/3 cup coconut oil
●     1/4 cup molasses
●     1/2 green-tipped banana
●     1/2 cup tigernut flour (I use Organic Gemini brand)
●     1/4 cup coconut flour
●     1/2 teaspoon baking soda
●     1 teaspoon ground cinnamon
●     1/4 teaspoon ground nutmeg
●     1/4 teaspoon ground allspice
---
Instructions
1.    Preheat oven to 350° F.
2.    Grease a cookie sheet with a bit of coconut oil.
3.    In a mixing bowl, cream together the coconut sugar and coconut oil.
4.    Add the molasses and banana and mash together and mix it all until smooth.
5.    Add the tigernut flour, coconut flour, baking soda, cinnamon, nutmeg, and allspice.  Mix well.
6.    Drop by tablespoonfuls onto the cookie sheet and flatten out a bit.
7.    Bake for 10-15 minutes.
---
---
Notes
Note: For those who eat AIP, you may omit the nutmeg and allspice.
More about Heather

I'm an 18 year old celiac Wisconsin girl baking my way through life. I love re-creating favorite foods into versions suitable for all kinds of dietary restrictions. I make sure my versions still taste amazing! I have authored two ebooks, Grain-Free Family Favorites and Paleo Mug Muffins.
Come hang out with me on my blog, Cook It Up Paleo, or on Facebook, Instagram, Pinterest, YouTube, and Twitter.